Just Cause 4 is free on the Epic Games Store for a limited time, let's discover together some tricks and tips to start playing
Just Cause 4 is a title developed by Avalanche Software and published in Square Enix. A game that I have reviewed quietly but full of chaos and with so many things to do, especially if you have a little inventiveness. Freedom of action, explosions and destruction are the basis of this insane adventure immersed in the tropical nature of the island of Solis. This is certainly the most ambitious title in the series. The Epic Games Store made it free this game in the week between 16 and 23 April, come and get it and discover with us some tips and tricks to start playing Just Cause 4.
Where do we start to demolish
Rico Rodriguez's adventures lead us to face some very extreme situations and in this fourth chapter, even nature itself. Tornado e sandstorms they will tear down everything in their path, testing our gameplay skills. However by exploiting the footwear, grapple and by being familiar with the game system, they will quickly become part of our common destructive routine. Thanks to some tips and tricks, we explain how to rule the sky and the earth in Just Cause 4, now for free in the Fortnite creators shop.
The grappling hook that saves your life - Just Cause 4 free: tips and tricks
One of Just Cause's funniest tools is back here too with some improvements. The grapple is an accessory mounted on Rico's left arm that allows you to cling to any surface. It is useful for reaching difficult positions and gaining speed while flying. Those familiar with the game will probably already know this, but the grapple is also very useful for stop falls.
If we were falling very quickly from above we would risk doing ourselves a considerable amount of damage, or die directly. To save us from this inconvenience, just take advantage of the grappling hook and hook onto anything before reaching the ground, thus nullifying the damage. Among the various tips, the next is the one most related to the grapple allowing remarkable stunts, let's continue with the reading of these tricks for Just Cause 4 for free.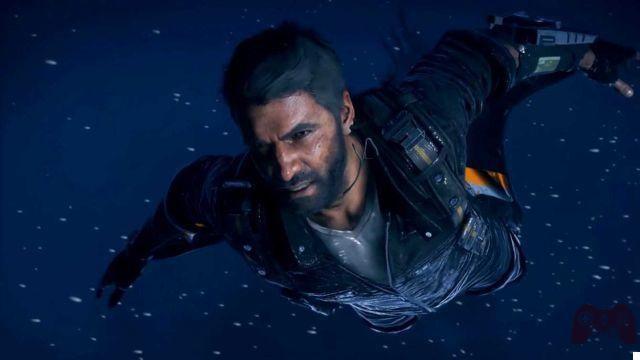 Fly like a squirrel with the Wingsuit - Just Cause 4 for free: tips and tricks
Together with the grappling hook there are other methods to save us from falls and reach apparently impossible destinations. One of them is the use of the wingsuit while we are in flight. This is a tool that allows us to do it glide and cover long distances, giving us minimal control over the trajectory. The suit can also be activated while using the grappling hook, paving the way for some spectacular acrobatic combos.
An important thing is to remember that, while using the Wingsuit, the descent will not always be smooth. We must therefore pay close attention to our landing places and open the parachute to soften the impact with the ground.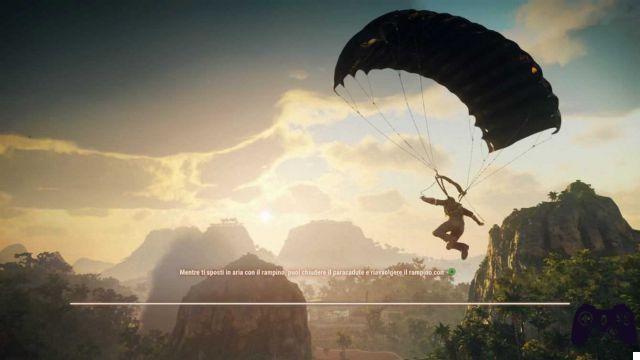 Weapon Boxes For Early Destruction - Just Cause 4 Free: Tips & Tricks
A feature present in Just Cause 3 returns to help us in our race to obtain new weapons. Scattered around the map we will find metal boxes with two red arrows pointing towards the opening of the box. Inside we can find three random weapons and tools. These crates are illuminated by small lights which make them visible during the night and some always reappear in the same position.
In particular, many of them contain rare-to-obtain supplies and armaments. This is the quickest way to get your hands on Grenade Thrower e Rocket launcher to start wreaking havoc from the very beginning of the game. Speaking of chaos, there's nothing better than destroying and getting points for doing it. Find out in the next paragraph how to get chaos points for free in Just Cause 4 thanks to our tips and tricks.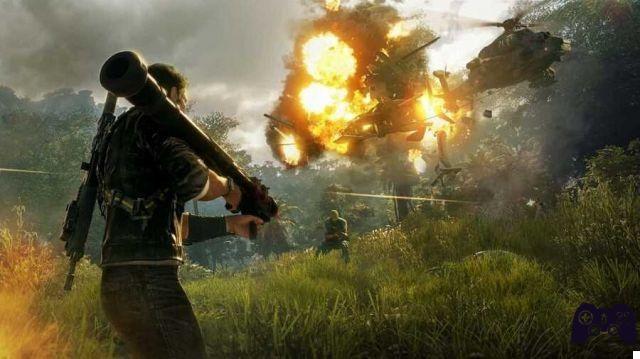 Composing Chaos Army with Chaos - Just Cause 4 free: tips and tricks
The most important feature in Just Cause 2 also returns in the fourth installment of the series. Increasing the chaos level allows you to obtain agents for the Chaos Army and places for quick travel. per ottenere Chaos Points just simply play, but there are some tricks to speed up the process. To receive more it is necessary to generate real case, the greater the explosions and destructions and the higher the amount of points earned.
To do this, visit the enemy bases and start demolish everything red, in fact, often the elements of that color provide the greatest explosive damage. Shoot down enemies, pylons, silos and anything else you think can provide better devastation. These tips are even more impactful if we get free helicopters from enemies in Just Cause 4, for this we have other very useful tricks.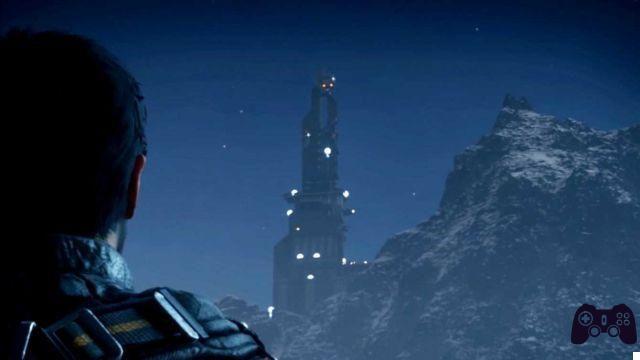 Stealing helicopters better than Trevor - Just Cause 4 for free: tips and tricks
A bit like in GTA, here too we can steal the vehicles that we see scattered around the map. Many of these are common cars, but we must aim for those left undisturbed or attacking us directly. The helicopters and other aircraft are among the most complicated to obtain, but knowing the right methods is enough to facilitate the undertaking.
In practice we will have to cling to the desired medium with the grapple, enter it and knock out all enemies with our weapons. At this point we will be free to take possession of it and do what we want with it. In addition, the grapple can be used to steal racing cars, the procedure does not change.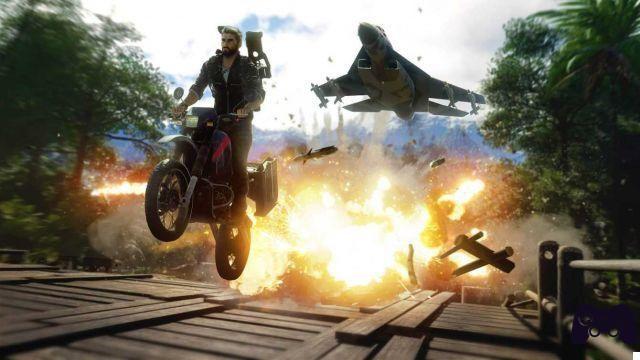 Upgrade your equipment - Just Cause 4 for free: tips and tricks
For the first time in the Just Cause series, they can unlock upgrades for our tools and improve mobility and lethality. It's a great idea to check them often to see if we can make new upgrades. Each of these have their uses, but even when they're not needed they can still make the game wackier.
One of the best upgrades to get is unlockable from the very first moments of the game. This is theAir Lifter, which are essentially balloons for lifting anything off the ground. It can disarm enemies and raise vehicles into the air, but multiple balloons are required for the latter. The Booster instead it is used to attach small rockets to objects and not only (poor animals) able to make them fly away. They have an incredible number of applications that enhance gameplay.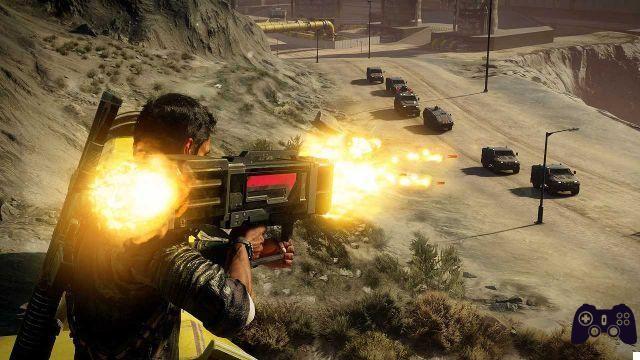 Tropically destructive
With the information we have provided you know some tricks and tips for Just Cause 4, now free on the Epic Games Store. In case you have any doubts or want clarification on this crazy third person shooter created by Avalanche Software, ask us your questions below in the comments or take a look at our guides section for tips on many games.
Have you already played this title or is it the first time you approach the series? We inform you that Just Cause 4 is available from 4th December 2018 for PC, Xbox One and PS4. I also invite you to continue following us on Holygamerz to stay updated on the world of video games and technology.