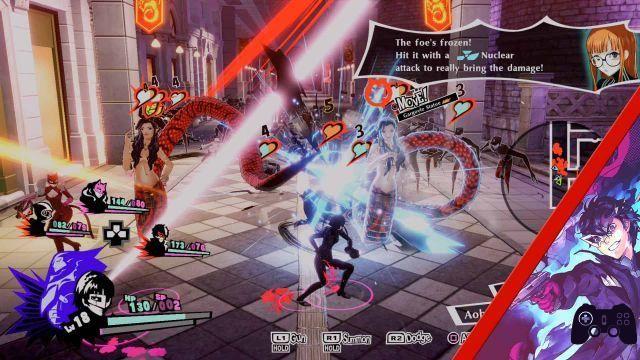 As in any musou self-respecting, too Persona 5 Strikers has different levels of difficulty. And to be honest, even in the main series titles from 3 onwards there were several options to change the challenge level.
However, you are free to choose whatever level you want, because the story will not be adulterated in any way. There will be 4 different difficulty levels, but the most difficult will only be available if certain requirements are met.
Follow this guide to find out how to make the most of this system and what the differences are for the difficulty levels. To find out more about the title in question, consult our article on advice and information.
Levels of difficulty
Merciless difficulty
The difficulty levels of Persona 5 Strikers
As mentioned at the beginning of the article, there are 4 difficulty levels (below you will find 3):
Easy: the basic difficulty, the enemies will fall like leaves in front of your shots, is recommended for inexperienced players or those who simply want to follow the story at their best. However, there is still the risk of losing some boss battles if you don't exploit weaknesses or if you are ambushed.
Normal: it is a balanced difficulty, although the enemies will find it difficult to beat you, you will not be able to press random keys without using any tactics, but you will have to start working. We recommend starting with this difficulty since it is the most standard and presents a moderate level of challenge.
Difficult: if in normal you have had to start thinking, in difficult the ideal tactic will be to make the most of the enemy's weaknesses and avoid a too direct approach.
In this case you can change the difficulty level to taste, in case you want to increase it to make the experience more interactive or to take a breath between one battle and another.
There are no trophies related to these difficulties, so just choose the one you prefer. Among other things, it is possible to change the difficulty practically always except during battles.
At the moment there is no information on the statistics of the enemies between the various levels. In any case, we don't believe this information is so necessary if you have a good strategy and use the weaknesses in the right way.
What is the Merciless difficulty?
It is a exclusive difficulty level, where enemies will have far more HP and significantly higher stats. Once selected, it will no longer be possible to change difficulty, so be careful!
This new option can only be unlocked by finishing the game. By choosing this difficulty you can immediately use Wolf and Sophia with Pandora, and in the Velvet Room it will be possible to perform the fusion of Lucifer, the strongest person of all.
However, it should also be noted that you can help yourself by purchasing incense from Sophia's shop, which are necessary to face the new enhanced enemies.
Last mention the trophy No regrets, obtainable by starting a New Game +. You can simply create a new save to get the trophy and then reload the save from which you finished the game and select another difficulty.