Together with the arrival of week 2 of Fortnite season 7, our guide to the challenges for this new week arrives on time. Let's see together how to survive these new businesses
The arrival of the new season 7 has brought important news to the island of Fortnite. As if that were not enough, precisely for the arrival of this new week 2 and its challenges, a new update was released a few days ago that made new changes to the gameplay. Let's continue now with our guide and see how to survive the new week.
Fortnite: guide to the free challenges of week 2 | Season 7
Search for a chest in different places indicated (0/7)
The first challenge is very simple. All you have to do is search 7 baskets in 7 different named locations. I remind you that, in addition to the most famous (Adventurous Landing, Lethal Lands, Paradise Palm Grove, Borgo Bislacco, Corso Commercio, Stale Crush, Confused Conducts, Hanging Pinnacles, Snob Beaches, Retreat Refuge, Sacking Shores, Pacific Park, Tomato Temple, Bosco Blaterante, Risky Rapids, Pompous Pastimes, Montagnole Maledette and Crocevia del Ciarpame), this season other locations have been included that are Borgallegro, Frozen Ramps e Polar Peak. It will therefore be very easy to complete the mission in no time.
Inflict damage to opponents with different weapons (0/5)
This mission is also quite easy to complete. All you have to do is collect different weapons and hit enemies with each of them. Also l'Infinity Blade, introduced this season 7 is considered an adequate weapon to complete this mission.
Eliminate enemies in snobbish beaches or lethal lands (0/3) (HARD)
The last of the challenges for this half of the guide concerning the free ones of week 2 involves the elimination of 3 enemies in the vicinity of Snobby beaches o Lande Letali. If you land in the first location keep an eye out for the various enemies for understand which house they will land on, while if you land in the second my advice is to retrieve the basket in the grove east (if there is one) and then rush towards the others, trying to take down the enemies.
Fortnite: guide to the challenges of the Battle Pass of the week 2 | Season 7
Phase 1: visit Snobby Beaches and Pacific Park in a single game (0/2)
The first challenge is really very difficult, especially for the first places (and not only) that you will have to visit. Both are in fact important to complete some missions, so visiting them together will be difficult. In the following steps you will have to visit respectively: Retreat Refuge and Stale Collapse, Tomato Temple and Ice Ramps, Adventurous landing and Commerce Course and finally Snob Beaches and Tomato Temple.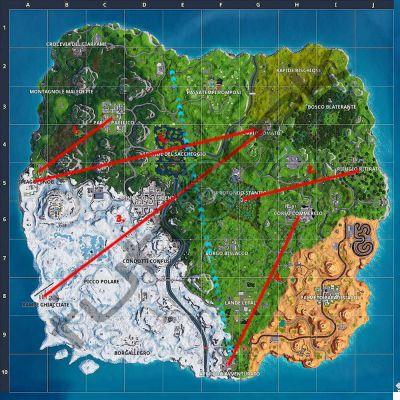 Play the score on the pianos near Parco Pacifico and Rifugio Ritirato (0/2)
This mission had also appeared in the previous season. Just like then, the pianos will be in the same positions this time too. My advice is to play in a team mode, so while someone protects you, you can play and then take turns.
Challenge an opponent with a dance step in an abandoned manor (0/1) (HARD)
Do you remember the secret base of the fourth season that was located in the villa to the east of the Fortnite map? Well, that's where you need to go if you want to complete this mission. In fact, it has long been abandoned to itself and there you will have to "challenge your opponent". Beware of the enemy he could take you out in the blink of an eye. My advice is to have a ballerina bomb at hand.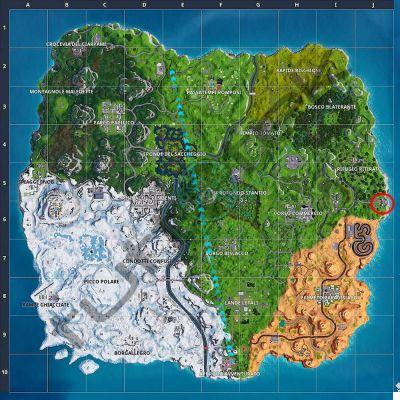 Eliminate opponents from at least 50 meters away (0/1) (HARD)
Here we are at the last of the challenges of this guide. In this last challenge of week 2 we will have to shoot down an enemy at a distance greater than 50 meters. My advice is to use a sniper rifle so you have good aim and do a lot more damage too. This should make it much easier to take one down.
That's all for this guide. If you are left behind with the first week of Fortnite season 7, I invite you to click here for a little help. In order not to miss other news regarding the challenges and changes of this season 7 of Fortnite, continue to follow the pages of Holygamerz!