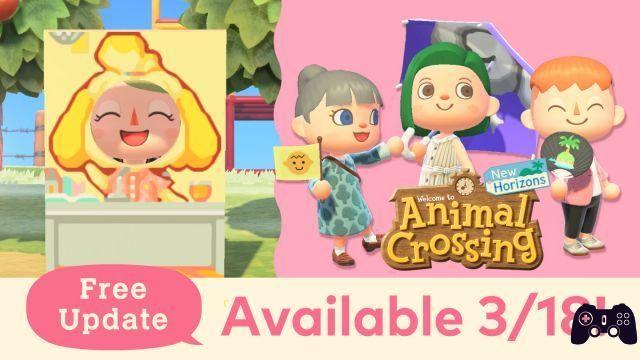 Today, March 18, 2021, Nintendo surprisingly released a free update for Animal Crossing: New Horizons, which aims to celebrate the first anniversary of the game that has accompanied us in this difficult period. In addition to the classic useful notes of the update, several also emerge new mechanics and in-game additions. Let's find out what this update has to offer! To find out what Animal Crossing has to offer, check out ours complete solution.
Gift for those who upgrade
Sanrio Amiibo
New slots
New articles
Nintendo Switch Online Items
Hunting for the Egg
NookLink
Tourist editor
Greetings, New Horizons!
For starters, Nintendo has a surprise for anyone who updates the game. As you start it, check the mailbox for the 1st anniversary cake as a gift along with a sweet note from Nook Inc. Isn't that great? Get creative and find a place in your home decor!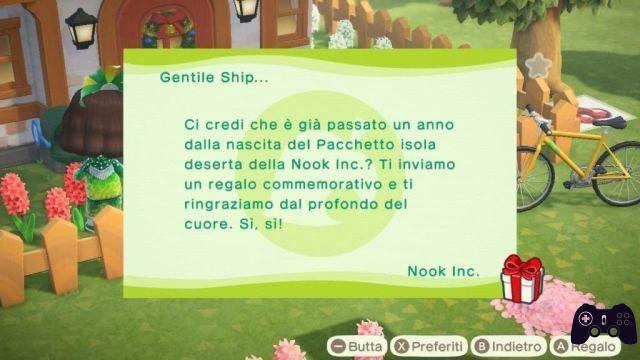 The return of the Sanrio Amiibo
That's right, the Amiibo announced in the March 2021 Update Guide are finally available! From 18 March it will be possible to use them to obtain new objects and inhabitants a Sanrio theme. Amiibo cards can be pre-ordered starting March 26 from any American Target store, from sites such as GameLife or from some European Gamestops.
It should be noted that the Sanrio Collaboration Pack has been available since the days of Animal Crossing: New Leaf, but only recently has it been decided to put it back into production.
The available inhabitants are six in total and each of them can be invited to the camping area of ​​your island using Amiibo cards at the Nook Point of the town hall / service center. Once invited, you can ask them to move permanently to your island, as well as unlock the furniture and clothing related to the character in the "Promotional items".
Rilla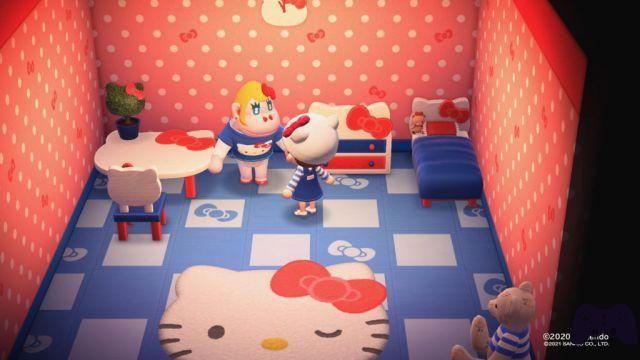 Hello Kitty dresser
Hello Kitty bed
Hello Kitty watch
Hello Kitty chair
Hello Kitty table
Hello Kitty vase
Hello Kitty hat
Hello Kitty T-shirt
Hello Kitty dress
Pair of Hello Kitty shoes
Hello Kitty wall
Hello Kitty floor
Hello Kitty carpet
Marty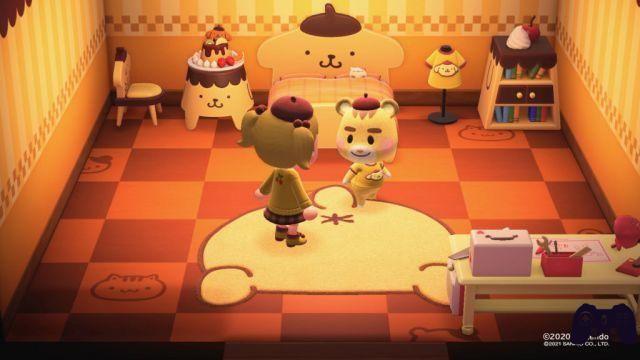 Pompompurin pudding
Pompompurin bed
Pompompurin shelf
Pompompurin chair
Pompompurin table
Pompompurin TV
Pompompurin hat
Pompompurin T-shirt
Complete Pompompurin
Pair of Pompompurin boots
Pompompurin Wall
Pompompurin floor
Pompompurin carpet
Etoile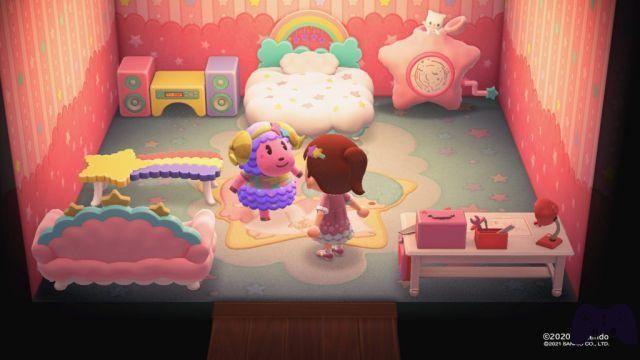 Cloud Maker Kiki & Lala
Kiki & Lala bed
Kiki & Lala watch
Kiki & Lala sofa
Kiki & Lala table
Wand Kiki & Lala
Kiki & Lala hair clip
Kiki & Lala T-shirt
Kiki & Lala dress
Pair of Kiki & Lala shoes
Pair of Kiki & Lala socks
Muro Kiki & Lala
Kiki & Lala floor
Kiki & Lala carpet
Chai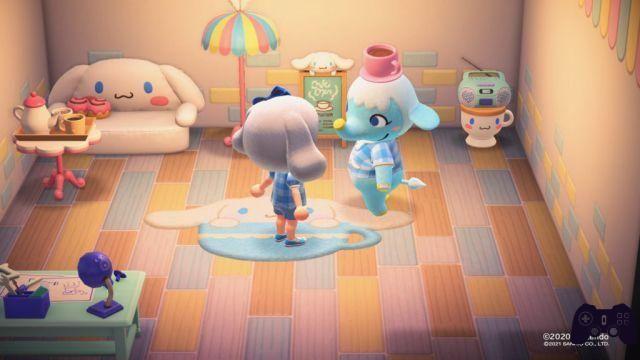 Cinnamoroll sign
Cinnamoroll sunshade
Cinnamoroll stool
Cinnamoroll sofa
Cinnamoroll table
Cinnamoroll tray
Cinnamoroll hat
Cinnamoroll blouse
Cinnamoroll jacket
Pair of Cinnamoroll sneakers
Cinnamoroll wall
Cinnamoroll floor
Cinnamoroll carpet
Chelsea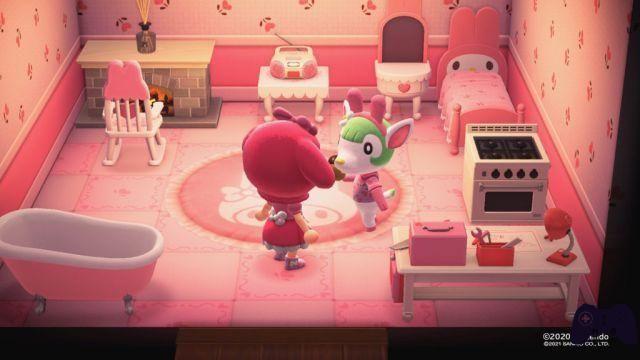 My Melody dresser
My Melody bed
My Melody watch
My Melody chair
My Melody table
My Melody hood
My Melody T-Shirt
My Melody dress
Pair of My Melody boots
My Melody wall
My Melody floor
My Melody carpet
Toby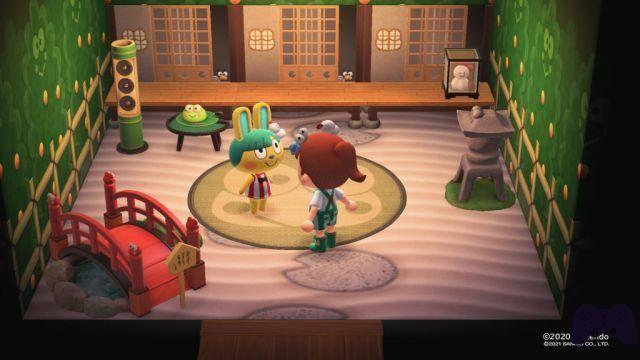 Friend of Kerokerokeroppi
Kerokerokeroppi's treat
Kerokerokeroppi lantern
Kerokerokeroppi bridge
Kerokerokeroppi door
Kerokerokeroppi coffee table
Mollet set. Kerokerokeroppi
Kerokerokeroppi tank top
Kerokerokeroppi costume
Pair of Kerokerokeroppi boots
Pair of Kerokerokeroppi socks
Kerokerokeroppi wall
Kerokerokeroppi floor
Kerokerokeroppi carpet
Were you unable to get Amiibo Sanrio cards? Drop by our Animal Crossing team @ACPlayers for the themed giveaway to be announced soon!
New slots and portal for models
Every New Horizons player's request has finally been granted - the update brings one with it bonus space of 50 regular models and 50 additional PRO models! In this way we will have more space to create and save customized models, particularly useful for those who wanted to create complex roads for their island or for those who cannot give up a varied and unique wardrobe. It doesn't stop there: we also have four new styles for PRO models, respectively the umbrella, the flag, the uchiwa fan and the template for photos.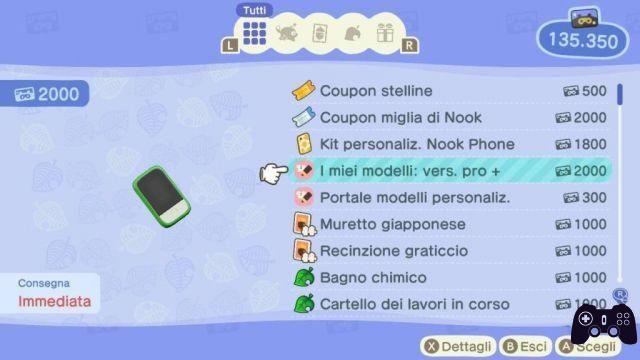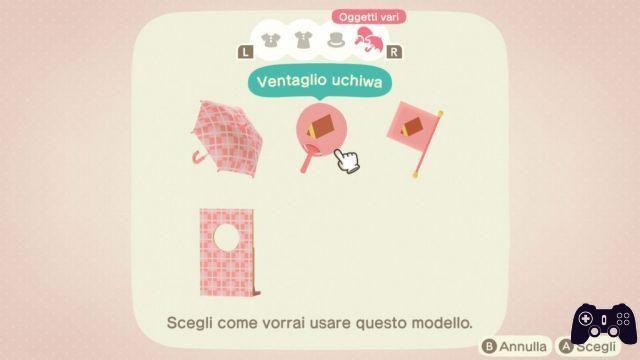 Also, at the price of sunshine 300 miles to the Nook Miles Shop we will be able to access the custom templates portal comfortably from our Nook Phone, whereas previously this function was exclusive to the Ago & Filo store. You no longer have to worry about the store closing, bringing with it the ability to add or download templates online.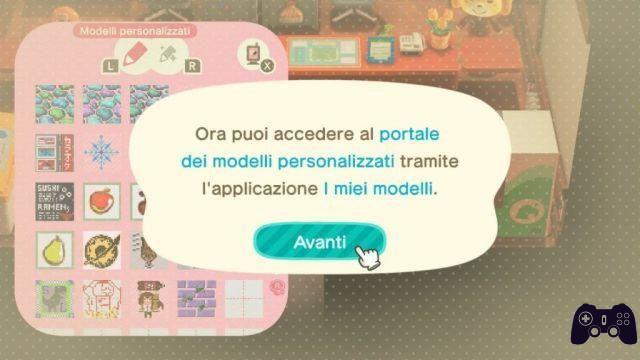 New items of the season
In addition to the Sanrio items, new small events are also on the way to which an item will be related to the Point Nook. They will be available in the "Seasonal Items" section for a limited time.
Petofono (April Fool's Day, from March 26th to April 1st)
School dance set (from April 1st to April 30th)
Forsythia (Singmogil, April 1st to April 10th)
Earth globe (Nature Day, April 15 to April 22)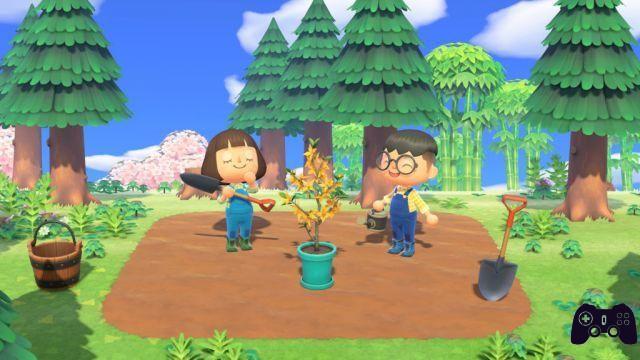 New items with Nintendo Switch Online
Two new items are now available for Nintendo Switch Online subscribers to order from the Nook Catalog. We are talking about the Nook Inc. velvet carpet and the magnificent Nintendo Switch Lite. The latter is available in four different color variations, so you can choose the one you prefer. Personally, I find the blue one very pretty!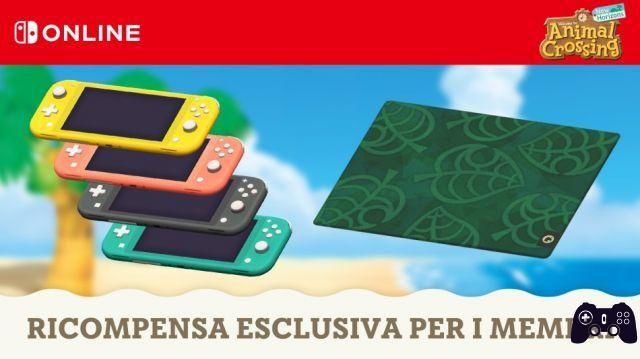 An unusual Egg Hunt
With the end of the first anniversary, we are all resigned to having to repeat last year's Easter event. Or not? Ovid will be on our island on April 4th as usual, but Nintendo informs us that the Bottega di Nook will sell never-before-seen Easter items. The total items are five and will be available in the shop starting March 28.
NookLink points
The Nintendo home console won't be the only one to undergo an update - the Nintendo Switch Online mobile app will receive a update at the end of March, with which a point collection function will be introduced that we can exchange for exclusive in-game items that cannot be obtained otherwise. A great move to encourage players to try out the many features of NookLink, including voice chat.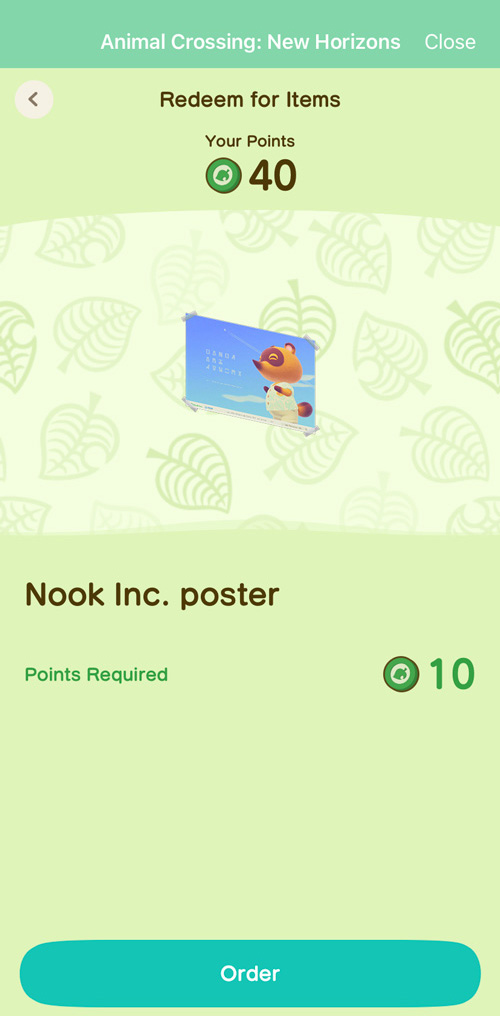 Tourist editor of the island
From March 24 onwards we will have a Nintendo website where we can use in-game screenshots to create unique postcards of our island to show around. Furthermore, it will be possible to create real tourist posters or videos to be published on your social channels to share the hard work behind the creation of one or more areas of the island.
Nintendo informs us, however, that the Tourist Editor site will not be available forever, but only for a limited period. It doesn't matter, let's take advantage of it while we can! On the other hand, Nintendo itself has already tried it and leaves us this beautiful postcard. Do you recognize any of your inhabitants in the photo?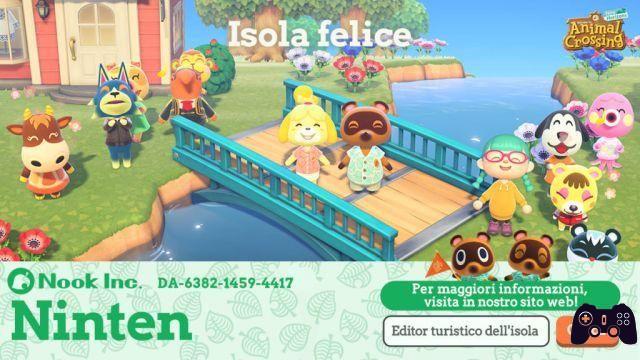 What do you think of the new update? If you have any doubts or questions, please drop by our Telegram @ACPlayers group to discuss it together!
We also have other guides on the title, such as:
Insects
Fishes
Fossils
Artwork
Guide to the house