Let's see together, in this short guide, the complete trophy list of Far Cry 6, the new title of the Ubisoft franchise coming out in the coming days: many roosters are waiting for you
Here we are: the day of the revolution has almost arrived. Far Cry 6 Coming to PC, PS7, PS4, Xbox One, Xbox Series X on October 5th | S and Google Stadia, and we have already talked to you about everything you need to know before starting to play it in a dedicated article that you can find by clicking here. And as always, we're definitely going to be confronted with the most ambitious chapter of the series. And not only for the "next-gen" / "cross-gen" key (understand it as you wish), but also for a clearly political plot (even more so than the previous iterations), due to the presence of an actor of the mold of Giancarlo Esposito and for a long series of gameplay improvements that Ubisoft has promised, while remaining faithful to the stylistic elements of the franchise. Before we can finally throw ourselves into the urban guerrillas of Cuba, in the past few hours Ubisoft has released the official trophy list of the sixth chapter of the series. Let's see it together, trophy hunters!
Before starting
Far Cry 6's complete trophy list consists of 54 total statuettes, of which 46 in bronze, 5 in silver, 2 in gold and the inevitable platinum trophy. As often happens, in the case of guides like these, we remind you that although the descriptions of the trophies are exclusively the official ones given by the developers, these may still contain spoiler concerning the plot. For this reason, we do not recommend continuing reading for all those who do not want to receive any kind of preview on Far Cry 6. That said, let's get started!
The first part of the bronze trophies | Far Cry 6: complete trophy list revealed!
Let's start with the first half of the bronze trophies:
I am Dani Rojas: Select Dani's appearance (single player campaign).
Cut off foreign bonds: Recruit the Legends of '67 and La Moral.
Montero Justice: Recluta i Montero.
Voice of the people: Recruit and Maximum Kills.
Ninjerilla: Conquer an FND base without being discovered (single player campaign).
Codependent: Capture an FND base with a co-op partner.
Whoever finds holds!: Return 3 vehicles of FND resources in perfect condition.
In block: Conquer 10 roadblocks (single player campaign).
It's raining treasures!: Intercept 10 military air drops (single player campaign).
Immortal tradition: Complete the Yarana story "Blessings of the Triad".
Take this: Win a cockfight.
Speed ​​legend: Complete 3 Grand Prix races.
Luck of beginners: Win a game of dominoes.
Overheated: Complete a special operation.
Guerrilla star: Successfully complete 5 Bandidos operations.
Road fury: Perform a Machete Kill with horse vehicle.
Fry and Cry: Buy 15 meals.
Feel how it sounds: Find 15 USB sticks.
Sharpen your wits: Open 15 cryptographic chests.
mist mist: Get all 4 means of transport.
Stepping on the roosters: Find all the roosters.
Loyal army: Recruit 5 Friends
@CanYouPetTheCroc: Caresses Guapo.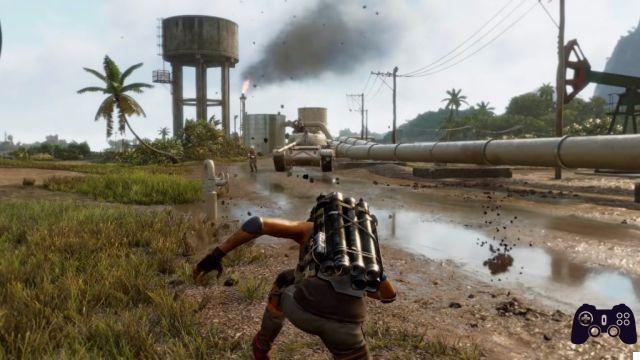 The second part of the bronze trophies | Far Cry 6: complete trophy list revealed!
We finish the bronze trophies with the second half:
I'm worth it: Use Chicharrón with the complete Son of a hen.
Secret weapon: Distract 10 soldiers with Chorizo.
Hot conflict: Kill 10 soldiers with Risk active.
Shark? Squello!: Kill a shark with an explosion.
Sophisticated: Catch 10 fish.
obsolete technology: Kill a soldier by sabotaging an alarm.
How dare you?: Eliminate 3 insurgent leaders.
Not so special: Eliminate 10 special forces soldiers.
You are not that strong: Deactivate and seize a tank using an EMP device.
Supreme Predator: Hunt all mythical animals (single player campaign).
It slips it slips it slips: Glide 200m in one go.
Hit-and-run driver: Invest more than 10 soldiers with a vehicle.
I did not expect!: Use a security control center to disable cameras and alarms.
Death from above: Eliminate a soldier from a height of 50m.
Toxic influence: Have the poisoned soldiers kill 5 more enemies.
Lethal fashion: Uses a full set of matching equipment.
do-it-yourself: Install all mods on a DIY weapon.
Camping: Build one of each type of guerrilla field structures (single player campaign).
Furiously fast: Have 10 parts installed on a transport vehicle.
Glorious leader: Reach the rank of Commander.
Let's stay cool: Complete a special operation by preventing the PG-240X temperature from exceeding 50%.
Hidden money: Find Moneda's hidden stash in a special operation.
Final stage: Free 30 hostages during Lola's Whistleblower challenge in a special operation.
The silver trophies | Far Cry 6: complete trophy list revealed!
Let's continue with the silver trophies:
Hide in plain sight: Find your way to Miami.
Friendly skies: Destroy 16 AA guns (single player campaign).
Arsenal: Obtain 49 unique weapons
Home Sweet Home: Fully upgrade a facility in any guerrilla camp (single player campaign).
Backpack on your shoulder: Obtain all Supreme of Yara.
The gold trophies and the platinum trophy | Far Cry 6: complete trophy list revealed!
Let's see the two gold trophies together:
Long live the revolution!: Recapture Yara.
Freedom: Conquer all FND bases (single player campaign).
Finally, let's find out the title of the Far Cry 6 Platinum Trophy:
Conqueror: Unlock all trophies.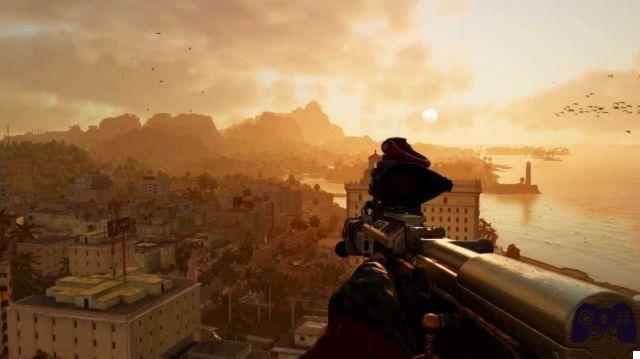 Have fun!
End the complete Far Cry 6 trophy list here. Are you already playing the new title in the Ubisoft series? What do you think about it? Write it to us below in the comments, we will continue to keep you updated with all the news, guides and reviews on videogame and tech! And if you are interested in game keys at affordable prices, we recommend that you take a look at the InstantGaming catalog!