Gran Turismo 7 is one of the main reference points for anyone looking for a racing game. To better enjoy the simulation experience of the Gran Turismo series there are many people who are looking for driving positions equipped with all the comforts and features necessary to get the most out of the gameplay of the Sony video game.
Game peripherals such as steering wheels, pedals and gear levers offer the right degree of realism when driving Gran Turismo 7, but it is from a real position that you can enjoy afull simulation game experience: the best driving positions, in addition to being comfortable seats suitable for placing behind the wheel, have many functions that guarantee a safe immersion in the realism of the game between adjustments, shock absorbers and sensors.
In this article dedicated to the best driving stations for Gran Turismo 7, we have chosen various products, from the cheapest to the most professional and expensive, which adapt to different needs of pocket, space, and game demands. If you are interested in these types of games, also check out the guide to the best gaming wheels, the guide to the best cockpits for Forza Horizon 5, and the guide to the best racing games.
The best cockpits for Gran Turismo 7
Playseat Challenge, the cheapest
Next Level Racing S015, the most expandable
Playseat Evolution, the most convenient
Next Level Racing S010, the most comfortable
Next Level Racing GTtrack, the best ever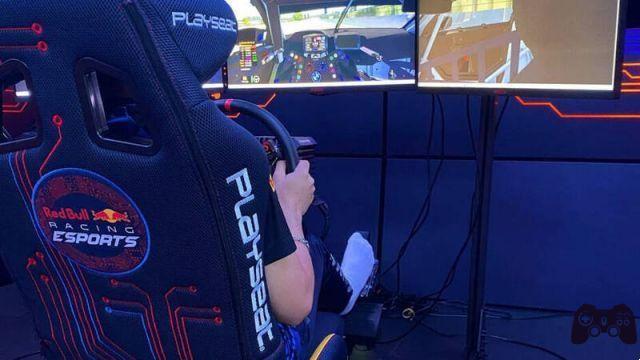 Playseat Challenge, the cheapest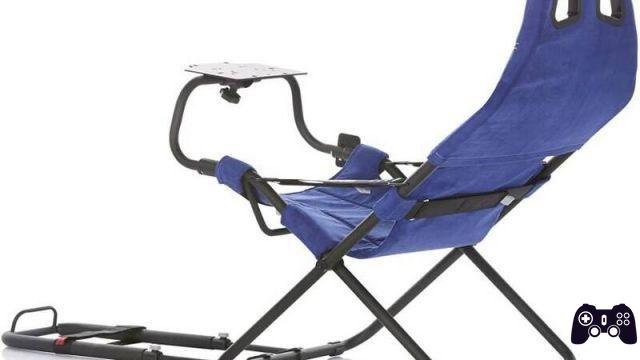 A guarantee for racing stations is certainly the brand
play seat
, present on several occasions in this guide and on the track in first position with one of the cheapest solutions for playing Gran Turismo 7. This workstation, equipped with a seat and supports for the steering wheel and pedals, was created in a minimal way precisely to adapt to the needs of newcomers to simulators and, above all, for
save space
. The Playseat Challenge station, in fact, is perfectly
foldable
on itself, a useful function for not taking up bulky space if you don't have an area large enough to allow you to have large and expansive workstations such as those for driving. This
entry-level workstation
combines comfort, performance and stability at a truly negligible price. The seat is ergonomic and also allows adjustment of the lumbar support, while the support system is patented to be universal and adapt to any steering wheel and pedal set you have available. The dimensions are 136 x 54 x 69 cm when open, and 27 x 54 x 124 when folded.
See on Amazon
See on eBay

Next Level Racing S015, the most expandable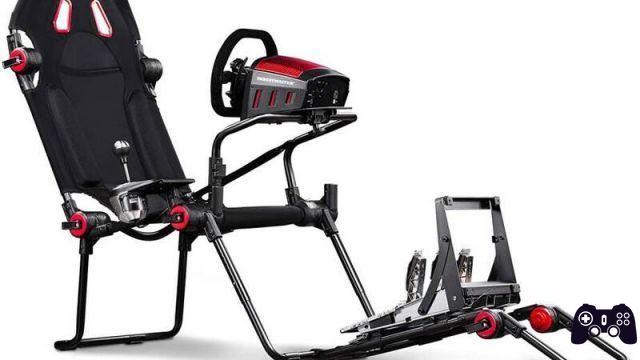 We go up one level with the station
Next Level Racing S015
, one of the best sellers on Amazon thanks to its versatility. The concept of the station is the same as the Playseat Challenge, i.e. a
entry-level product
able to recover space in wallets and at home. In addition to the previous chair, however, Next Level Racing also sells this seat in
bundle with accessories and peripherals
. Additionally, the adjustments allow for more customizable modification of controller and footswitch arrangements. In fact, the whole station is adjustable both in
gt position
, therefore erected and elevated, both in
position Formula
, ideal for sportier cars. While the frame and seat may look flimsy, this rig was actually built to withstand over 150kg of force per hub. The dimensions are 175 x 12.7 x 75 cm, and compatibility with all major driving peripherals is guaranteed.
See on Amazon
See on eBay

Playseat Evolution, the most convenient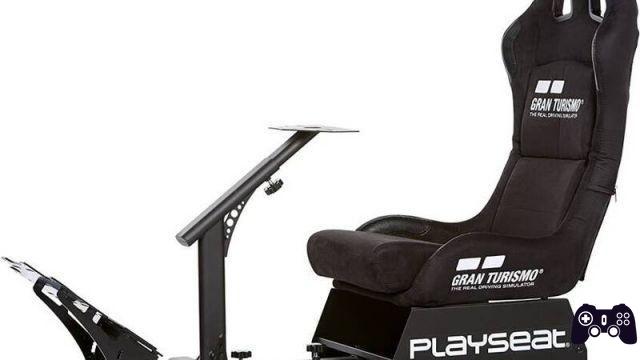 Playseat is a brand appreciated by enthusiasts of driving simulators such as Gran Turismo 7 for the reliability of stations such as
Changes
and
Evolution Pro
, solutions that at the right price are able to offer everything you need while adapting with maximum comfort. Starting with
seats made just in racing style
, the Evolution and the Evolution Pro are driving stations that adapt to any type of room, even living rooms, thanks also to the adjustment of the seat and supports. The upholstery of the seat is in
leatherette
with quality finishes, while the supports are made in
ultra-strong steel
to ensure stability and robustness. Each mount has its own fixing screws which are compatible with most driving peripherals such as steering wheels, pedals and gear levers. Gran Turismo and Red Bull branded models are also available.
See on Amazon
See on eBay

Next Level Racing F-GT, la più comoda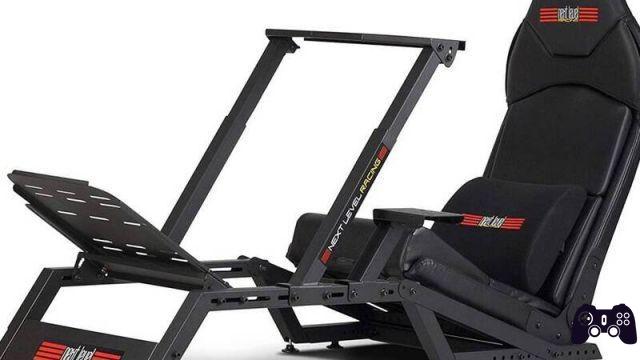 We are starting to raise the bar by offering Gran Turismo 7 players the comforts of the cockpit
Next Level Racing F-GT
, a product that at the cost of a little space even allows the fixing of a screen thanks to a
dedicated stand sold separately
, thus offering the maximum immersion in the game. The NLR S010 station is sold with a set of
more functionality
such as gear rack, seat slider, lumbar cushion, adjustable feet and Buttkicker Gamer 2 adapter. The workstation design features
GT bars, function that can adjust the seat low or high
depending on how you are driving or what type of car you are driving. The cockpit is rigid and solid, built in such a way as to have the peripherals you will mount always close at hand.
See on Amazon
See on eBay

Next Level Racing GTtrack, the best ever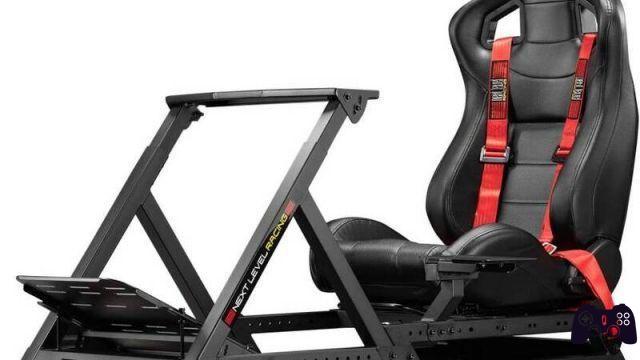 The most suitable driving position for games like Gran Turismo 7 is definitely the
Next Level GTtrack
, a product very similar to the already discussed F-GT but with a series of extra features that make the
even more realistic driving experience
. The adjustments of the GTtrack allow numerous adaptations to the most diverse driving styles, and the seat is even equipped with sports seat belts to create even more identification and realism in the gameplay. Just like the F-GT, the GTtrack can also be retrofitted with
modular adjustments
as a stand for the screen that can be purchased separately or simply by moving the gear lever from right to left and vice versa. The station also has movable wheels to be able to move it entirely between one game session and another, while in general the entire frame is built to be as resistant as possible to weights, traction steering wheels and cumbersome professional pedals.
See on Amazon
See on eBay
How to choose the best driving stations for Gran Turismo 7
Choosing the most suitable driving position for Gran Turismo 7 and your needs is not a very simple thing, because there are many variables at stake beyond the weight of your pockets, such as your preferred driving style, or more simply the space at your disposal. For these reasons, we have included different types of driving stations in this buying guide, which you can carefully evaluate by taking into consideration the following factors: ergonomics, functionality, available space and active community.
Ergonomic spaces and furniture
In general, the driving positions are divided into two main types: GT and F1. For games like Gran Turismo 7 we try to lean towards GT seats rather than the ultra-sporty F1, but never say never. For this reason, while including a majority of GT seats in our article, there are some positions that can be adjusted to have an F1 seat (or almost) such as the Next Level Racing S015 or the Next Level Racing F-GT. Beyond these two macro-subdivisions of the stations, also pay attention to the many different adjustments and conveniences that each product can offer, from the simplest integrated lumbar cushion to the modular modification of the supports, functions included for example in the Next Level Racing GTtrack and in the NanoRS 702.
When you find yourself choosing your driving position to play Gran Turismo 7 so don't dwell only on price, functionality and design, but also try to understand its ergonomics, in order to be more comfortable and avoid some annoying pain due to products that are not exactly ergonomic or not suitable for your physiological needs.
Price
As you could read in the guide, we have decided to divide the various products into a whole series of categories. They range from the most comfortable to the absolute best, and with all the features that differentiate the driving positions it can change the price. As you can imagine, in fact, everything can vary on the basis of different characteristics, material and so on, with such products that, as can be easily predicted, are not available at too affordable a price, although certainly not prohibitive.
It therefore goes from around €200 up to a maximum of over €700. In between there is room for all budgets and needs of players who want to enjoy a total driving experience in Gran Turismo 7. In short, for your driving position you could find yourself spending different figures according to your needs and requirements, but plan in any case to go and pay at least a few hundred euros.
Features
Some of the driving stations that we have included in this guide have extra features that increase gameplay realism and game immersion. Some products, such as the Next Level Racing S015, are sold in a bundle with one or more driving peripherals that are absolutely necessary to have a fully functional workstation. Others, such as the Next Level Racing F-GT and the Next Level Racing GTtrack allow you to add screen supports separately, while the NanoRS 702 workstations have these functions already integrated into the cockpit.
Space available
Unfortunately, the driving positions are among the bulkiest products in gaming, so before buying any product among those we have recommended, evaluate their dimensions carefully. Between the seat, steering wheel and any other buttons, in fact, it takes a moment to clutter up a lot of space and, perhaps, even block the passage in some room.
Some solutions suggested for Gran Turismo 7, such as the more entry level seats, are also designed to be folded back on themselves so that they can be moved and hidden when you are not playing: this is the case of the Playseat Challenge and the Next Level Racing S015 . Others, like the PlaySeat Evolution or the NanoRS 702, are more compact and try to take up as little space as possible. Still others, like the Next Level Racing GTtrack, don't mind being long and wide, but have lockable wheels that allow them to be easily moved to less frequented places when you're not playing.
In short, the advice is certainly to understand well what it is the space at your disposal, to avoid buying products that are too large. Once this is done, it is also good and right, especially if you don't have too much space, to also check if your driving position for playing Gran Turismo 7 has some way to be moved comfortably if necessary. Some small wheel, for example, could in fact make everything easier and less tiring.
Gran Turismo 7 community is active
Workstations, accessories and peripherals dedicated to racing games, especially if they are simulated just like Gran Turismo 7, are complicated instruments that often require updates and modifications in order to offer the best gameplay. For this reason, whatever your choice among our suggestions, we also advise you to consult the racing game communities on PlayStation because you might find some useful advice, some patch or some physical modification that can be really useful in improving your gaming experience.
Design
For many it will be a mostly negligible or completely irrelevant feature, but in some cases it also becomes important to consider what the cockpit design for Gran Turismo 7. Although there are in fact many other characteristics to take into consideration when choosing, underestimating what design is in your decision-making process could turn out to be a serious mistake to regret in the following months.
As we said just now, in fact, the driving positions for gaming are usually characterized by considerable dimensions and, as such, difficult to close in some closet or elsewhere. Going to choose color and design carefully, so that they suit you and, why not, go well with the decor of the room in question, will allow you to increase its appeal even more and it will prevent you from finding yourself perhaps with an overall scenario that is not exactly pleasing to the eye.