In this guide on Assassin's Creed: Valhalla we explain how to earn silver quickly. Get ready to make ends meet!
You have surely noticed it: in Assassin's Creed: Valhalla the in-game currency, silver, is a lot Useful. Thanks to a clinking purse you can in fact buy equipment of the most disparate kind, munitions for your bows, new designs for tattoo artists and hair styles for barbers and so on. In short, having a wealthy Eivor will be very useful and for this reason we explain the best methods to earn money quickly.
Keep in mind, however, that Assassin's Creed Valhalla is a huge game, with a whole world to explore. While you won't exactly need the money to progress through the game outright, there are plenty of items (including Rations that restore your health) that you will probably want to make your own to make the adventure easier.
The world of Viking activities
Last Tuesday 10th November it was the big day of Assassin's Creed: Valhalla. After months of rumor in which almost immediately there were rumors of a Norse settingFinally, on April 29th the new chapter of the iconic saga of the assassins from Lama Celata was announced. The game takes you to experience the events of Eivor Wolf Bite, a Norse warrior who lived in the ninth second who took part in the invasion and conquest of British lands. The title brings into vogue an unprecedented strategic component for the series that will allow you to tighten fruitful alliances for Eivor and his clan intent on making their way into the inhospitable land of the Saxons.
For the occasion, even the fight has been revised with respect to Odyssey with the reintroduction of shields. In addition, you will now have various features available that aim to deepen the various clashes such as the ability to identify weaknesses opponent while aiming with the bow. The ability to attack with is also back two weapons at the same time and score special combos using two weapons of the same workmanship.
You will even have the option to equip a shield on each hand as they also have attack stats. Furthermore, by hitting a parry with the right timing, you will have the possibility of throwing the opponent off balance. If he has a low defense, you can score one finisher with lots of cutscene that will inflict a lethal blow to the victim.
At the heart of the game system is the management of the camp Crow Clan, which thanks to the resources accumulated in raids and sieges, can be transformed into a thriving Norse colony at the center of the British crossroads. In this settlement you will also have the opportunity to dedicate yourself to particularly profitable extra activities such as hunting and fishing. If you are then in the mood to relax you can also play War, an interesting Viking board game that plays the part of the Gwent of The Witcher 3 and del Poker Red Dead Redemption 2. In short, between a huge map, sieges, raids and the hunt for various treasures your time will be very full. Let's now see how to earn silver quickly in Assassin's Creed: Valhalla.
Raiding and gambling - Assassin's Creed Valhalla: how to earn silver fast
Silver can be earned in various ways in Assassin's Creed Valhalla. Unfortunately, there is also a good chance that while you are playing a large part of the available silver will escape you without you noticing. This is because one of the main sources of income will be directly linked to enemies killed in battle.
Whenever you kill an enemy, always make sure to check the body lying on the ground. If you see a glow almost like dust rising from the enemy on duty (once this has been eliminated), it means you can get currency. To do this, position yourself on the body and press Y / Triangle to loot (a wording will also appear on the screen).
Be careful not to hold the button down though, doing so will instead raise the victim's body. You will likely have tons of enemies left lying on the road, and tons of loot to collect. Not all bodies will drop silver, which may make you desist from looting but always do it anyway. We warmly invite you to unlock in this regard the skill related to predation automatic in your talent tree. The skill in question is part of the crow branch, we talked about it in this guide.
While the loot found on enemies is more widespread, you will find much more silver overall from the abundance of breakage during the adventure. If you are in urgent need of some silver, go to the local towns or raid certain areas to find lots of chests to open. Use theEye of Odin to see anything illuminated in gold, which means that it is a treasure chest that you can loot. Chests don't always contain silver, but very often they do.
Go of city ​​to city, in between raids, it's probably the best overall option for getting silver quickly. There are always crates in areas you haven't explored before, so grab them quickly. Plus, by looting the famous chests and famous bodies you can also drop objects and trinkets of various kinds. These are useless for gameplay purposes if they can also be sold for silver to the various merchants scattered around the settlements in the villages. Even runes you don't need can be sold and will earn you a lot.
Also, if you are particularly confident in your gaming skills, you can too wager large sums of silver in matches of War. find a player in every village or town in the game, so luck be with you. By giving away a sum you can get double in case of victory, otherwise you will lose your bet. This way you will also get well 400 coins at every game.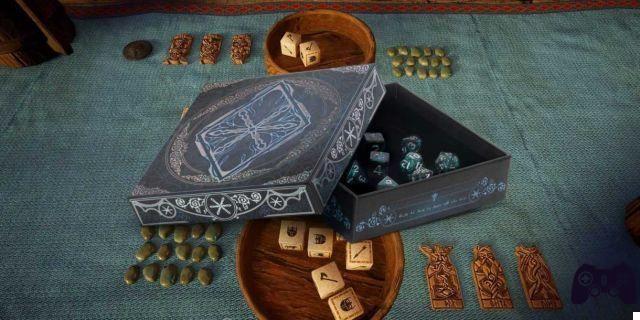 Silver and opals
That's all. Unlike many other games in Valhalla they don't seem to exist farming methods particularly ingenious and complex. This is because, in general, silver is not a highly sought-after currency and simply by pursuing your Viking adventure you will get a good sum of it. On the contrary, the opali, those that the merchant Return of your camp asks you in exchange for special and unique equipment, they are much more sought after. For those you will surely have to sweat more.
Thank you for taking the time to read this guide on how to earn silver fast in Assassin's Creed: Valhalla. Here you will find another one on weaponry of the game, here one on Trophies and here, finally, ours review in which we defined Ubisoft's latest work as a partial "reconciliation"With the identity of the saga. Stay tuned to Holygamerz for all the news and curiosities from the gaming world and beyond.