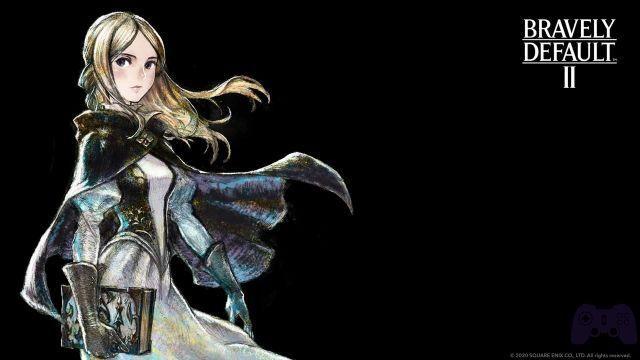 Il Armored Infantryman is one of the first frontline classes to unlock in game. In Bravely Default II you get it in the first few hours of the game and it is also quite good, as we will explain in this guide. Some details are still to be entered as we are not totally sure.
In case you are also interested in other classes or completely different mechanics, I refer you to ours guide on this.
Class summary
How to unlock
Skill List
Better skills
Specialties / Special Skills
Equipment
Best secondary class
Class summary
The Armored Infantryman class boasts high defense, high HP and S synergy with axes. This is the first class acquired in the game that acts as a tank and also has an excellent offensive function. He can also wear heavier gear thanks to the increased weight stat.
High HP
Powerful offensive skills
High defense
Synergy S with Axes
Ability to equip shields without penalty
How to unlock it?
It is obtained beating Dag in the basement of the Outlaw's Den, a small farmhouse not too far from the first city. The battle will also be with Selene, the white sorceress, and we advise you to defeat her first.
Ability
The class has several skills, especially active, which allow the weakening and slowing of the opponent's turns. He also has a very useful skill for increase the chances of being attacked. Unfortunately this is not a guarantee, so you will have to repeat Egocentrism several times to maximize the chances of receiving attacks.
Recommended skills
The Armored Infantryman has really everything you need in the early stages of the game. We recommend trying this class on Seth (the protagonist) as he is a very good candidate. You can decimate your enemies with Assault Slashes right from the start and abuse Fang Breaker during boss battles that use physical attacks.
The best skills therefore are:
Cross Slash / Elaborate Cross Cut
Fang Breaker
I will give you courage
In fact, almost every infantryman's skill is excellent and should be tried. Not really a tank really, but a fairly robust attacker who can play a support role if needed.
Specialties and special abilities
Each class has two specialties and a special ability. The first specialty is acquired based on when you unlock the class, while the second is obtained by reaching level 12. This type of specialty offers often passive bonuses while the special ability, in addition to being active, allows you to do damage to the enemy .
specialty
There are two specialties of the Armored Infantryman. One unlocks at level 1 of the class while the second unlocks at level 12.
Special skills
Mastery of weapons
The Armored Infantryman, being a purely physical class, prefers heavy weapons and shields.
You will not be able to equip Katanas and Brass Knuckles and it does not matter, you have to consider Axes and Swords and that's it, since you will get excellent ones in the early stages of the game.
Best secondary class
At the moment we noticed that Handyman it can be a good secondary class for the infantryman. The motivation lies in the fact that Examine e Smoothie they are very useful skills in general, and they perform well on a defensive class in dead turns.
For more information you can consult ours class guide or see them individually below: