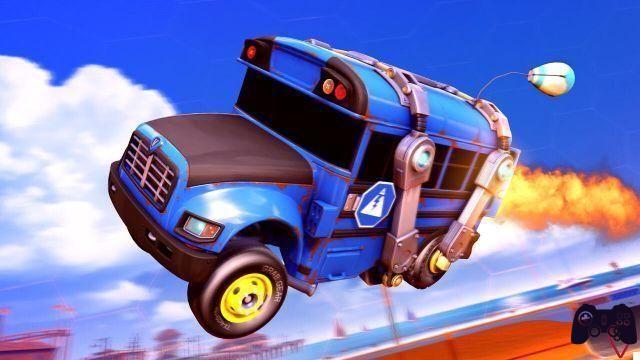 the 23 September Rocket League debuted in a new free to play version and, to celebrate the occasion, the developers thought of making a wonderful gift to fans. The team created some very simple challenges, made on purpose to allow all players to obtain unique rewards inspired by Fortnite, famous license plate title epic Games.
Having chosen to distribute Rocket League in a free version will inevitably lead to the approach of new users, these rewards can also represent a sort of welcome "package" for newcomers, so if you have not yet tried the title the right time has come to do it.
Pay attention, to complete a mission you must necessarily have finished the previous one. Below, we list all the challenges and rewards you will get as you play:
Antenna Flame Flyer: play an online game on any playlist
Top Llama Headdress: Win a casual online game with the Llama FLyer antenna
Loot Flame Adhesive: Make five goals, saves or assists with the Top Llama headgear
Llama wheels: Win five online matches on any playlist with the Loot Llama sticker
Battle Bus: become the MVP (the best player) in any online game with Llama Wheels
As you can see for yourself, getting the rewards will be a piece of cake. Rocket League is already available in a free version, but the event will be active exclusively in a period of time, that is from the September 26 to the October 12. Therefore, to complete the missions you will have 17 days, a period more than enough for newbies to become familiar with the commands and methods.
Information on Rocket League and its event flame branch end here, we hope we have been useful. We also remind you that if you need other advice or guides, we refer you to our dedicated section always updated with the titles of the moment.