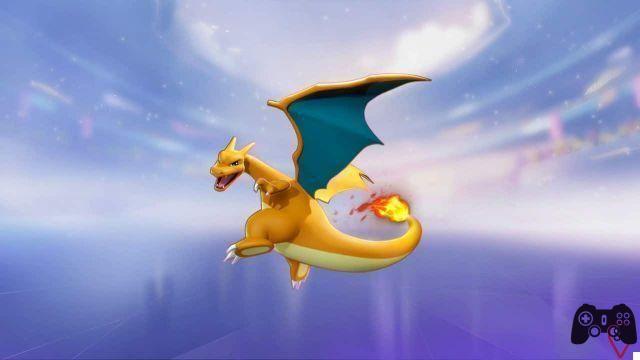 The new Pokemon Unite he presented himself with a roster of now 20 Pokémon, and today we want to deepen in this guide Charizard, talking about moves, build e strategy of the little monster able to fly across the moors of the new MOBA.
The round figure was reached just recently with the arrival of gardevoir, which we have talked about in depth in this article.
We had the opportunity to discuss the new work in our review of the game, and today we want to deepen Charizard and all the details of the Pokémon.
Here is the guide for Charizard of Pokémon Unite, between moves, builds and strategies
Among the first Pokémon that you will be able to get in the game is Charizard, an excellent unit for what concerns the offensive and able to sometimes win unthinkable 1vs1 clashes thanks to its Fierce Unite move.
Charizard's moves, stats and strategies
The monster can be used with a lot of versatility, thanks to its basic melee attack but basically with a good range. Based on the outcome of the game you can choose different skills and radically change his style of play. Unlike other Pokémon in the game, it does not have an enhanced third base hit, as it only deals continuous damage, which burns opponents and increases in range with evolutions, of which you can find the list below:
Charmander - level 1
Charmeleon - level 5
Charizard - level 9
Now let's move on to the real moves of Charizard in the new MOBA available for Nintendo Switch:
Blaze (Passive): When the Pokémon has half HP or less, it increases the critical percentage
Flame Burst: Attacks with a flame, if it hits it burns the enemy and makes the Pokémon faster for a short time
Fire spin: creates a circle of fire that after hitting deals damage over time and slows enemies in place
Flamethrower (Flame Burst evolution at level 5): Launches a wave of fire, burning the enemy and making the Pokémon faster in case it hits. On upgrade, hit and fire damage increases.
Fire punch (Flame Burst evolution at level 5): The Pokémon launches in one direction, dealing damage and stunning enemies by burning them. After the upgrade, the cooldown time decreases with each basic hit dealt.
Fire blast (Fire Spin evolution at level 7): inflicts massive damage on an enemy and creates a circle of flames on the ground that decreases the speed of the opponents crossing it. When buffed, it deals more damage
Flare Blitz (Fire Spin evolution at level 7): The Pokémon charges in one direction, investing enemies and stunning them, and provides a shield. After upgrading, enemy movement speed decreases for a short time when stunned.
Seismic Slam (Mossa Unite): Starts flying and can jump over obstacles. On the way he can move freely, but use no abilities, basic attacks deal more damage and heal Charizard. You can use a move again to grab an enemy in the air and knock them to the ground.
Below, Charizard's official stats within Pokémon Unite:
Aggression: 7,5 / 10
Resistance: 6 / 10
Mobility: 5/10
Score (Goal): 6/10
Support: 1/10
The best builds for Charizard in Pokémon Unite
Charizard's potential lies precisely in versatility. His moves can focus on inflicting damage with more range, in case you are not in a position to be able to charge your opponents with your head down, but it is also possible to bet on this option and instill more fear in case you have real advantage. Same goes for the Unite Move, which can be used both as an offensive and to escape from enemies.
As for the build, we recommend that you include the Muscle Band, which significantly increases the damage, theAssault Vest not to be caught unprepared and it Score Shield to optimize the possibility of Goal thanks to the life of the Pokémon. Speaking of the active object, you could evaluate theEject Button or the Potion, considering that, however, in the first case you would risk having as many as 3 mobility supports if you choose the two moves that make the monster more agile.
Hoping that the guide was useful to you, we refer you to our dedicated section, with many in-depth information on this and other titles. You can find it at the following link.