Find out in our short guide to Sword and Shield Pokémon all the details to get all the evolutions of Eevee
Nintendo is known to be a company devoted to innovation and improvement. Many of the innovations introduced over the years in the gaming world were original ideas of the Kyoto house. In the recent Spada and Scudo there have certainly been innovations, whether or not they were convincing we let you discover with our review, but many old acquaintances are also back, including the beloved Eevee.
Eevee is a rather dull-looking Pokémon, albeit cute, but what makes it special is that it can evolve into eight distinct forms. Originally the evolutions were few and linked to the elements. Subsequently everything has evolved with the continuation of the series, adding the type Dark, Elf and many others. What has remained the same is that they are all too, too cute. Find out with us how to get them all!
Eeveelutions: you are part of Eevee
For the most accustomed to the world of Pokémon this guide may seem futile, but it is not exactly the case. To be able to get all eight Eevee evolutions specific instructions must be followed, obtain certain objects or reach particular parameters.
First of all, the raw material. Where to find Eevee? You can find it along Route 4, between the mine and Turffield. It will not be particularly difficult to find, considering that you can see it walking in the tall grass and it will be present both day and night.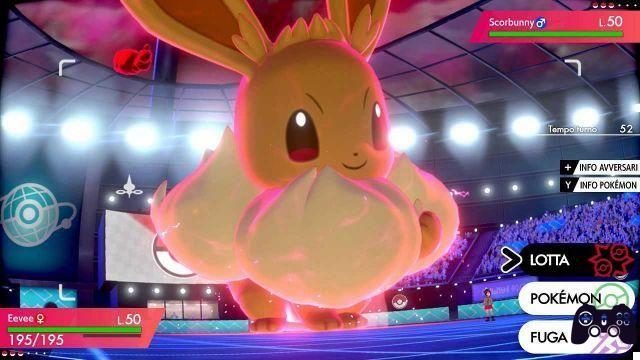 Umbreon remains the most beautiful - Pokémon Sword and Shield: how to get Eevee evolutions
Once you have made Eevee reach level 15, you can make it evolve in its various evolutions, in the ways that we indicate below.
Jolteon: thunder type - use a Thunder Stone
Vaporeon: water type - use a Pietraidrica
Flareon: fire type - use a Fire Stone
Ice cream: ice type - use a Froststone
Leafeon: grass type - use a Leaf Stone
Espeon: Psychic type - reach Affection value of 160 and level up Eevee during the day
Umbreon: dark type - reach Affection value of 160 and level up Eevee during the night
sylveon: Fairy-type - reach Affection value of 160 and level up Eevee after learning a Fairy-type move
Evolutionary tools, affection and Elf move - Pokémon Sword and Shield: how to get the evolutions of Eevee
You can find the various evolutionary stones scattered in the Wild Lands, in correspondence with the luminous points that hide secret objects. You can also get them through some PokeJob: your Pokémon could bring them as rewards. You can accept PokéJobs via terminals in Pokémon centers.
Also, you can find the stones in these places:
Flint: Dragofuria Lake, Steamington River
Pietragelo: Dragofury Lake
Stone leaf: Turffield, Lake Dragofuria
Thunder Stone: Lake Milotic, Lake Dragofuria
Pietraidrica: Route 2, Piana dei Ponti, Dragofuria Lake
You can increase the Affection of Pokémon by bonding with them at any Poké Camp. Play with them, give them attention, and join other Campsites to make them interact with other Pokémon. Cooking and eating curry is another great way to increase the Affection level. As for the Fairy-type move, the first that Eevee can learn is called "Tender Eyes", obtainable at Level 15. The second is "Charm", obtainable at Level 45.
Gotta catch'em all!
And here we are at the end of our short guide. We remind you that you can find many others on Holygamerz.com, such as "Where to catch Ditto", "How to get and hatch eggs", and our "Tips and tricks". Are you playing Pokémon Sword and Shield? What do you think? Write it to us below in the comments and… What are you waiting for? Go evolve Eevee!