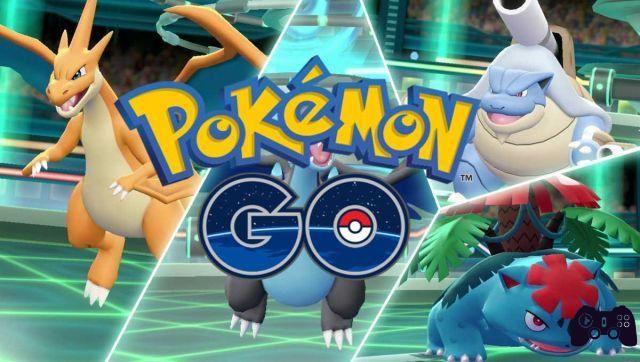 With the approach of Halloween 2020 also Pokémon GO is preparing for a new succession of events. In this period, in fact, a special timed search is usually available to obtain the Ghost / Dark Spiritomb Pokémon. The map, the eggs, the raids are also populated with Halloween-themed monsters - some only available during the event.
Niantic repeats the event again this year, proposing it from 3 am on 24 October to the same time as 4 November. During this time there will be a rotation of the raid bosses, a Ghost themed event, various themed searches (both timed and in the field) and the usual Halloween special search. For this year also Lega Lotte GO adapts to the festive theme: below all the details.
Capture Mastery: A Spooky Day (October 25)
"A disturbing message revealed" and new Pokémon
Event bonuses and field research
MegaGengar Research
Other news: Halloween cup, outfits, mega-evolutions
Capture Mastery: A Spooky Day
"Capture Mastery" is presented as a new type of event, which we could therefore expect to be replicated in the future and which seems to be based on the capture of individual types of Pokémon. This first turn is scheduled for October 25 from 8am to 22pm, and will focus on Ghost-type Pokémon.
For the entire duration of the event Drifloon will appear more frequently on the map. The Pokémon is already available in color, and its evolution could come in handy for some GO Battle League battles - all the more reason to look for one with good stats.
The event takes us a timed search exclusive, along with some field research themed Pokémon that will reward Ghost-type Pokémon as well as Mega Energy for Gengar. Finally, hand to the Fortunuovo, because the good, excellent and excellent shots made to catch a Pokémon will earn you a greater amount of experience points.
Halloween Special Quest "A Creepy Message Revealed" and new Pokémon
Halloween 2020 also brings with it the usual special themed research, "A disturbing message revealed". Spiritomb, hitherto exclusive to special Halloween searches, will also make an appearance in some field research and in chromatic form. By completing the Halloween 2020 special quest you will get one (which can be Shiny).
Let's now move on to the steps of the Halloween research, "A disturbing message revealed", which this year consists of 4 steps.
At the center of the event along with this also two new arrivals in the GO Pokédex. This is the Galar form of Yamask, a fifth generation Pokémon, and of course its evolution Runerigus exclusive to the Galar region itself. Unlike Cofagrigus (the original evolution) Runerigus is a Ghost / Earth type: who knows if he can be useful in the Battle League.
Together with Cofagrigus he arrives the Galar form of Ponyta: evolves into a "unicorn version" Rapidash of Psychic / Fairy type. An interesting combination, which depending on the timing could be used a lot in the Halloween cup.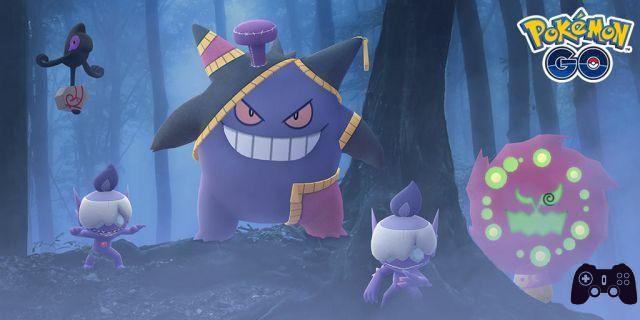 The 2020 Halloween event
Important return also in the legendary raids, which will host for the whole event Darkrai (chromatic form available). The boss will be in level 5 raids from October 24 to November 4, hurry up and catch him.
To the roster of Pokémon in costume are added Gengar - to be faced in raids - and Sableye with a Litwick hat, which you can encounter wild or hatch from eggs. Of course, both the eggs and the map and raids will host many more Ghost-type Pokémon, and each catch and transfer will earn you double the candy.
As always, the missions of field research, with a few welcome additions to the Encounter rewards:
Not just Capture mastery, eyes open for a day of gym battles. On October 31st from 11 to 17 the raid day - for those who have never done it, it is, as the name says, days focused on the raids of a particular Pokémon. For this extended episode of the "Legendary Hour" the protagonist will be Marowak forms Alola, available in a chromatic variant.
In all likelihood this Pokémon will have its share of the spotlight during the Halloween Cup (in which of course it can be used): if you are looking for one with good statistics it is time to take advantage. (Although the Halloween Cup will be in full swing at that time)
The MegaGengar timed quest
If you have completed the September Megacompanion Challenge, you can also tackle it during this time a special timed search. You can complete it by November 3rd, and it will reward you with Mega Energy Gengar. Remember that the Pokémon is now also in the Megaraid.
Here is the content of the research, which consists of 3 steps.
New to Mega Evolutions, Halloween cup and costumes
The day following the Mastery event, an official one-week tournament will begin (deadline: November 2nd). This is the Halloween cup, a special type of battle in the GO Battle League that will allow you to use only certain types of Pokémon. The types allowed are Poison, Ghost, Beetle, Dark and Goblin (find all those in your possession by entering this string of text in the search for your box: pl-1500 & poison, ghost, beetle, dark, goblin), and they must have a maximum of 1500 Battle Points to be usable - the Cup is in Mega League format.
Remember that Mega Evolutions cannot be used in the Battle League, and therefore not in the Halloween tournament either. Speaking of Mega Evolutions, the maximum achievable megaenergy for each Pokémon it recently jumped to 2000 instead of the usual 999 - if you like to take on megaraids, then, now you can really save a lot of energy and Mega Evolve more Pokémon of the same species. Not only this: megaevolution has a duration of 8 hours (no longer 4), practically covering most of your day.
If you are a lover of avatar outfit, new Halloween-themed items arrive - masks, a pose, a Gengar jumpsuit and a Yamask hat as well as themed packs. In celebration of the second DLC for Pokémon Sword and Shield, there is also a Crown Tundra themed outfit, exactly as happened in June with the Island of Armor outfit.
Guide to Victini

Guide to Giovanni

Team Rocket Leaders Guide

Guide to Mega Evolutions

How to catch Ditto

Raid Guide

Guide to Eggs

Guide Eevee evolutions

Guide to the Mega Fight Challenge

Community Day Guide

Guide to exchanges and evolutions

Autumn Event Guide [October 2020]

Unusual Eggs Guide