In this short guide we will discover together how to get four stars with Dodrio in New Pokémon Snap, the latest game in the series for Nintendo Switch
In this guide we will explain how to get four stars in New Pokémon Snap photographing the sympathetic dodrio. As always, this particular spin-off of the popular Nintendo series allows you to photograph a good number of the cute creatures invented by Satoshi Tajiri in 1996. Today we are going to deal with one of the most famous species, already present in the first, legendary chapter.
Things to know before collecting Dodrio's four stars in New Pokémon Snap
To collect the four stars of Dodrio in New Pokémon Snap you should first have some information on this cute and particular bird. It is about a Pokémon with three heads, which, it seems, are independent of each other. Its appearance, therefore, is already particularly bizarre. However, it is good to know that it is an ostrich and as such is damn fast. Which, for a photographer, is a big problem. But don't worry, we at Holygamerz are here to help you get the perfect shots. Here is a list of things to do to succeed in your intent:
1 Star: To get it, just take a picture of Dodrio walking around and you should be good to go.
2 Stars: To get this score you will need to go to the Floreo Natural Park during the day. You will reach a place where some Taillows rest in front of you. At this point you have to be quick: as soon as you get close, a wild Dodrio will leap from your left, frightening them and looking around. If you photograph it just before it lands or just after it lands, as you look around, you will be able to get the score of two stars.
3 Stars: To get the 3 Star rating you will need throw a soft apple in front of Dodrio. When he starts eating, you need to take a picture of him. By doing so, you will get a 3-star rating.
4 Stars: Throw a Illumina Orb in front of Dodrio and the latter will fidget, moving his paws as if he were mad. To get the 4 Star rating you will need take a picture of him while he is in mid-air in this state. You can create these conditions during the night hours in the Floreo Natural Park, but it is not clear if Dodrio reacts like this also during other times of the day.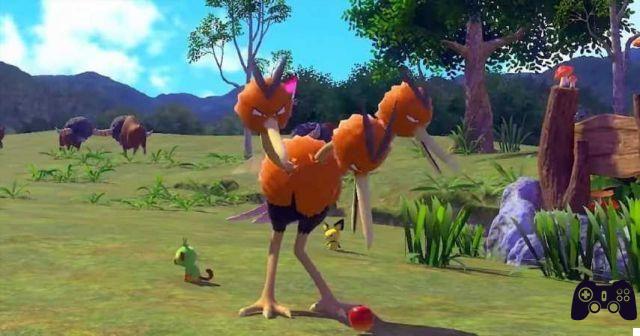 Remember that increasing the Research Level on each Stage may cause creatures to behave differently. If you have trouble recreating the perfect situation for a shot, this is probably the reason. To increase the Research Level, continue taking photos in a specific Stage. By doing so, you will be able to complete your Photodex.
Well, here we are at the end of this guide. If you've followed our guide step by step, you've probably taken some pretty good photos. The profession of photographer, it seems, is difficult even in the world of Pokémon, but it is always able to give a lot of satisfaction. For other guides on New Pokémon Snap, you could take a look at the special section of our site. If, on the other hand, you want to buy one of the games in the series at a competitive price, take a look at Instant-Gaming. Thank you for following us and stay on the pages of Holygamerz to always be informed about the world of technology and video games.