We explain how to overcome the Harm challenges in Marvel's Avengers. Hordes of enemies will attack you and only with a precise strategy will you be able to do it
Its today the highly anticipated is finally available in all physical and digital stores Marvel's Avengers. Many of you, however, have probably bought the new superhero title with early access and therefore they have been enjoying it for a few days already. You will surely have noticed, then, that in the game there are several challenges to be met in the Sala Harm. It is a kind of survival mode with decidedly difficult fights to face, even for the most powerful Avengers. Here then comes our guide that explains how to easily overcome the Harm challenges of Marvel's Avengers.
The record of Marvel's Avengers
Marvel's Avengers is the new title for superhero lovers from the comic house of the late Stan Lee. The game, a action-adventure in terza persona, bears the triple signature of Crystal Dynamics, Eidos Montréal and Square Enix (the latter as a publisher). In the title, you are going to impersonate the 6 basic heroes (Iron Man, Black Widow, Thor, Hulk and Ms. Marvel) intent on investigating a mysterious new threat.
In recent weeks, precisely on August 14, players have had the opportunity to participate in the Marvel's Avengers Open Beta. On this occasion, the new title published by Square Enix did register record numbers. Square Enix on its Twitter profile stated that it is the most downloaded beta ever by PlayStation 4 users around the world. In any case, in this article you will find apreview and our first impressions of the title in question.
The game has so far discussed several elements, first of all the presence of the dreaded microtransactions. The latter, however, are used only to speed up the obtaining of the various ones aesthetic improvements. In addition, gamers on the Microsoft side of gaming did not mind the fact that Spider-Man be part of the roster only in the PlayStation version of the title. Sony holds, in fact, part of the rights to this character. Let's put aside the controversy now and proceed to illustrate how overcome the Harm challenges of Marvel's Avengers, first of all going to clarify in detail what these arduous challenges are.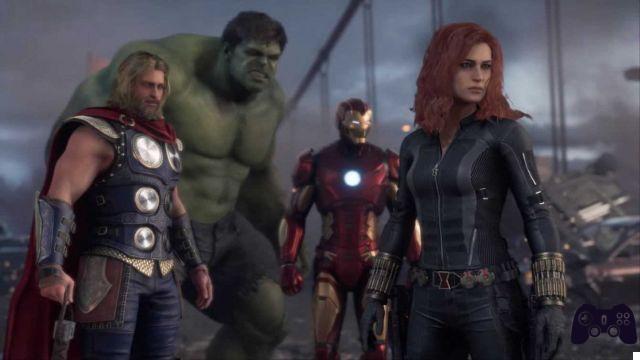 The challenges - Marvel's Avengers: how to overcome the Harm challenges
Le Harm Challenges they will pit you against ever more crowded and fierce hosts of enemies and will allow you, perhaps more than many other ways, to really put yourself to the test. The first thing to know about Challenges is that they can be started by selecting "Elivelivolo"In the map of Strategic Table. Are available 3 HARM Challenges and each provides 10 hordes of enemies. The latter are increasingly tough so you'll want to keep your energy for the last courses on the menu.
In each challenge you will have the opportunity to play as one of the 4 heroes included in the beta of the game. For a real challenge, you can tackle the Harm alone. If, on the other hand, you are satisfied with some healthy blow without too many pretensions, you can count on the help of 3 companions led by AI. Particularly in the first case, you will immediately notice that the task is quite difficult and in the last waves, with all probability, without a precise strategy you will risk succumbing several times to the blows of the merciless mechs. Let's go now to see specifically how to overcome the Marvel's Avengers Harm challenges.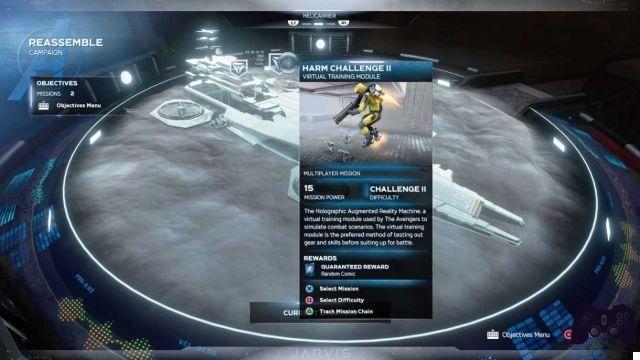 Don't jump into the fray at random - Marvel's Avengers: how to pass Harm Challenges
Here is the first of the modus operandi tips on how to overcome Harm challenges from Marvel's Avengers. As soon as you enter the battlefield, immediately locate the flying enemies or those who hit you from a distance. These are the first types of enemies to eliminate to extend your stay in the Challenges.
These mechs they will subtly target you while you try to get rid of the other mobs and you will hardly succeed in your intent if not get out of their midst in the first place. Any Avenger is suited to this task as they all have at least one ranged attack. The most effective ones, however, in this case are Iron Man and Thor which have the ability to fly themselves and are therefore more difficult to keep at gunpoint for devious mobs.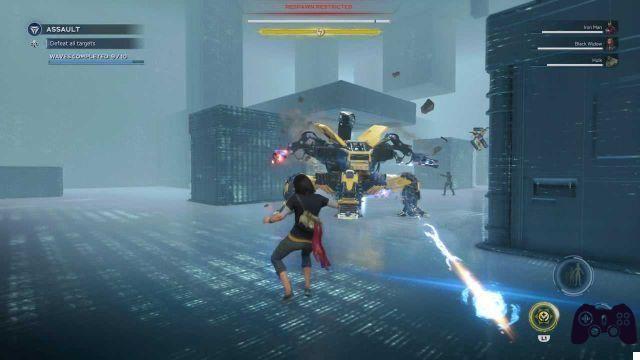 Get rid of calories - Marvel's Avengers: how to pass Harm Challenges
How many times in your life have you heard that movement is important? The same principle applies to Harm Challenges. If you stand still in one place while bludgeoning, as you may have guessed from the previous paragraph, you will become slaughterhouse fodder in no time at all. Run, dodge, jump, fly. The basic idea is to become a target, as difficult as possible to hit. While you frolic here and there, moreover, don't focus on the single enemy but on all.
When taking shots, look around constantly. An enemy may have found an ideal position to hit you from, or, in some points of the field some items may have appeared that will recharge your health bar. If you are already on the move it will take nothing to reach them. Now let's see the last fundamental tip on how to overcome Marvel's Avengers Harm challenges.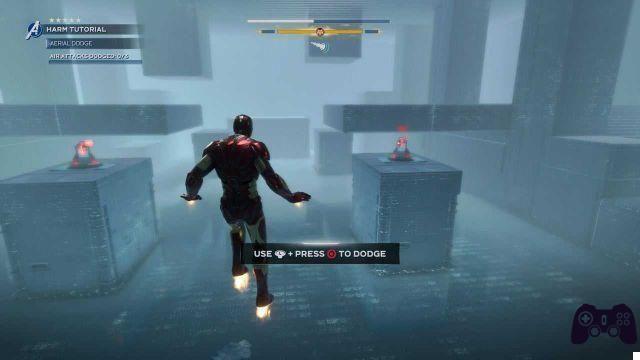 Watch out for waste - Marvel's Avengers: how to overcome Harm Challenges
Wasting what you have is never a great idea, not even in Marvel's Avengers. The heroes' greatest asset are their skills and in Challenges you will have to use them sparingly. While running around the simulation field, striking shots and keeping an eye out for enemies will also be necessary use your brain. Some of the Avengers' abilities are downright lethal, sure, but they take a long time to recharge.
This is why you should only use them with the biggest and most fearsome mechs or when you are one step away from a bitter end. You know, the ace in the hole should never be dropped at the beginning of the game. All the more so because most mobs are eliminated with a few simple combos, they, in fact, (in most cases) are dangerous in number but not in singularity.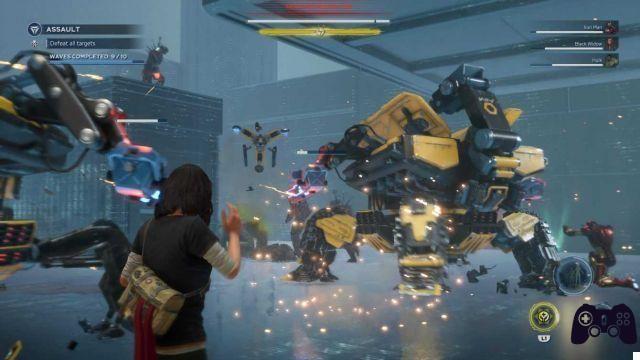 Simple is beautiful
This is all about getting over Marvel's Avengers Harm Challenges. You have seen that these are not particularly complex tricks or strategies. If you are familiar with the arrangements fight for survival of many other titles then you will already know this modus operandi. It is also about a real fighting style that needs to be perfected with practice. So don't worry if it doesn't seem overly easy at first. If you know how to use these tricks well, however, the chances of completing the Challenges are close to 100%.
Thank you for taking the time to read this guide. Here you will find another useful to complete the Game Challenge Cards in question. We will keep you updated on future developments regarding this title. Stay tuned to Holygamerz for all the news and curiosities from the gaming world and beyond.