In this article we will tell you everything you need to know about Lost in Random, the new title from Electronic Arts and Zoink
Lost in Random is a title action adventure con elementi RPG in development by Zoink, a small Swedish software house. The title was announced for the first time in 2019 and we recently got to see it again thanks to a trailer shown during the last EA Play.
The game seemed very interesting right from the start and now there is very little left to the day chosen by Electronic Arts for publication, ie the September 10. In view of the release of Lost in Random we have therefore decided to write this article, where you will find everything you need to know about this particular title.
A dark fairy tale
First we want to let you know a little more about the history by Lost in Random. This game sees you as the protagonist Equally, a young girl who travels to the reign of Random looking for his sister. Random is a mysterious place that is entirely based on betting and fortuity, and as if that were not enough it is ruled by a treacherous sovereign extremely powerful. The queen of this kingdom is indeed in possession of a magical black die capable of influencing the fate of anyone who turns 12 and used it to kidnap Odd, the sister of the protagonist.
A year after this terrible event, Even is drawn to a mysterious force in the Valley of the Dice. In this place he meets Dicey, a sort of living dice, and together the two will embark on a great adventure for save Odd from the queen's clutches.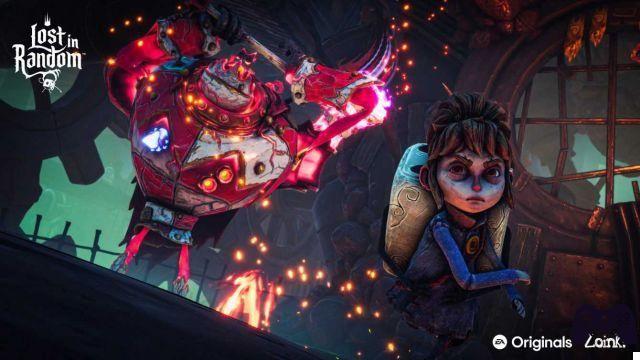 Style to sell - Lost in Random: what to know about the new title from EA and Zoink
Already from the first trailers of Lost in Random it is possible to notice how much the game points on artistic side. The title in fact presents a truly exceptional style that is very reminiscent of a film by Tim Burton like Nightmare Before Christmas e The Corpse Bride. The members of Zoink in fact have declared that to create the atmosphere of Lost in Random they were inspired by the classics fairy tales by the Brothers Grimm and consequently they could not adopt a better style.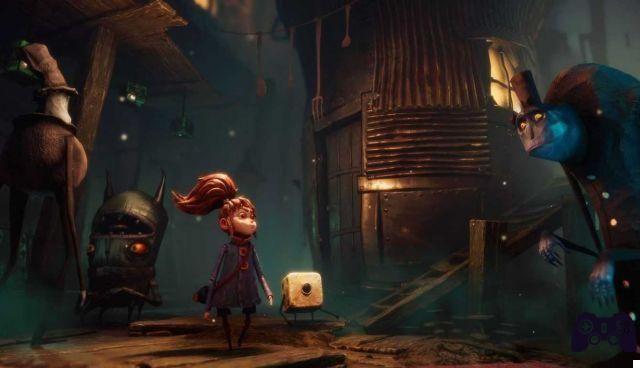 Hybrid fights - Lost in Random: what to know about the new title from EA and Zoink
Lost in Random manages to stand out in many ways, but its main distinguishing feature is certainly the combat system. In fact, the game is based on very particular clashes that they mix real-time action with tactical pause.
Basically during the battles you will have the opportunity to freely control your protagonist and use his trusty sling to attack the eccentric creatures that will appear in front of you. By hitting the weaknesses of your opponents, however, you can generate gods light cubes able to fill the Dicey indicator. Once the gauge is full, you will have a chance to cast your ally and temporarily block the passage of time. In this moment of stasis you can also play special cards which will provide you with various advantages over the course of the battle.
Lost in Random in fact also has a mechanic of deckbuilding (obviously not curated like that of titles at the Roguebook). In the course of the adventure you can buy cards very different from each other from the many merchants scattered around the kingdom and then insert them as you like in your deck. Some will allow you to defend yourself from enemy attacks, others will allow you to temporarily obtain stronger weapons, while still others may have some really unexpected effects. In total in the game there are well 5 different categories of cards and it will be up to you to learn how to make the most of them during the clashes.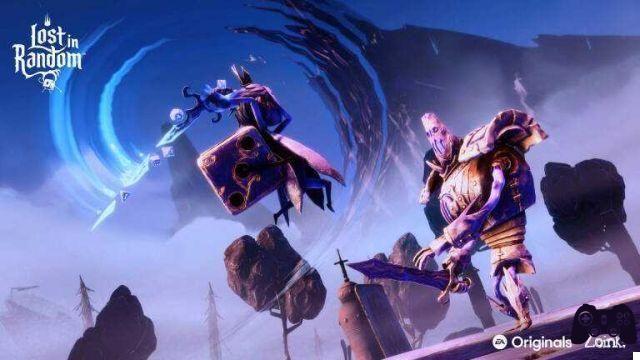 Not much is missing now!
This concludes our article on what to know about Lost in Random. For sure this promising indie program EA Originals will have caught the interest of many players and fortunately soon it will finally be possible to play it.
Lost in Random will be available from 10 September for PC, PS4, PS5, Nintendo Switch, Xbox One and Xbox Series X | S.. If you are interested in staying up to date with all the news on the world of video games and much more, then continue to follow us here on Holygamerz. Furthermore, in case you want to buy some games at an advantageous price, we suggest you take a look at the many offers on Instant Gaming.