Knack 2 isn't just about story mode. In this guide we will see how to easily overcome the 5 time attacks and the 3 colosseum attacks!
You have completed the story mode of Knack 2 (here you can read our review) and you have decided to throw yourself into the challenges of Extra Content proposed by the game, but do they seem a bit too difficult? Do not worry! Here you can find the best tips and videos showing our performance, so you can understand where you are wrong! The 5 stars will be yours in no time!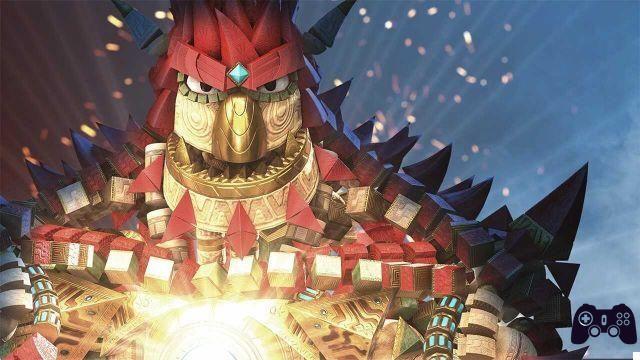 Some general tips!
Let's start by saying that the best time to face these challenges is after you have upgraded your Knack to the maximum. Having all the skills is very important, but also special versions of the protagonist will come to our aid. As you will see, I have always used Knack sciabola (i.e. the one made up of topaz pieces), but also vampire Knack (ruby pieces) could help you in Time Attacks, thanks to its teleportation ability.
In general, don't be afraid to take advantage of the unique abilities of special knacks. Saber Knack can use swords that deal a lot of damage and have a great range!
Let's now see the individual challenges!
Knack 2: timed attack guide
In Time Attacks, eliminating enemies gives the counter a break: choosing which ones to eliminate and which to dodge is important, also depending on your skills. If a certain type of enemy puts you in trouble, overtaking them may be the best choice.
The green rings also pause the counter, while the yellow ones increase the speed - be careful to touch them while facing the right direction!
Time Attack 1
It is not too difficult a challenge, as you can see, even if you make some mistakes you can complete it in time. The only point where you really risk losing precious seconds is the final battle. We will have to face a human enemy and a living artifact of Xander: exploiting the blades of Knack saber is a must.
Time Attack 2
This will probably be the hardest time attack of all. There are a lot of fights and you just need to get hit once too many to lose many seconds. Also, in the beginning you need to drop a crate pulling it with the triangle button: don't even try to move it from where it falls, it would take too long. The only solution is to jump from the left corner. You may be tempted to use Vampire Knack to avoid enemies, but eliminating them with Knack Saber is better: they will all donate 3-4 seconds to the counter.
Time Attack 3
Not a particularly difficult challenge. The only risky point is the broken bridge in which we will be targeted by robots with attacks from a distance: getting hit more than once, or even falling, will involve a waste of time that is too great and difficult to recover. If you dominate this segment, however, it will be a no brainer to bring home the five stars.
Time Attack 4
A challenge whose only difficulty is the sentry robot which could block you for several seconds if you entered their luminous cone. A few precise hops and you should do it without problems!
Time Attack 5
The easiest of all: as you can see in the video, even without knowing where to go I managed to win on the first try without any problems. Use the Swords of Knack Saber in the final battle to clear the enemies and gain a large amount of extra time.
Knack 2: colosseum attack guide
In the Colosseum attacks, eliminating enemies without getting hit causes them to award more points. Wasting too much time avoiding attacks, however, is counterproductive. The best tactic is to memorize the number, type and location of enemies in each wave, so as to anticipate and eliminate them before they act. The immobilizing boomerang is always our friend!
Colosseum attack 1
This first colosseum attack risks wasting our time with a couple of specific waves: the robot guards are very quick and interrupt our attacks easily. The same can happen with armored goblins. Saber Knack's swords remain your best bet to destroy them in seconds.
Colosseum attack 2
Here it is advisable to make a lot of the immobilizing boomerangs in order to manage the waves with precision. Pay close attention to the metal clone of Knack: can immobilize you with your own move. The swords will do their duty here too. Also, by breaking the box on the right side of the arena you will get some metal pieces to make your Knack even more resistant and powerful.
Colosseum attack 3
The easiest of all. Maintain the charge of the crystals for the advanced stage and, as soon as you have grown a little in size, start using the swords. With a combo you will cover the whole arena and eliminate every enemy without problems. You will go above and beyond the required 5-star rating!
We hope these tips have been useful to you!
Tell us, do you have platinum Knack 2? We do! If you have any doubts about how to do this, feel free to ask us writing in the comments!