The challenges of week 7 for this season 7 of Fortnite have just come out and we at Holygamerz are here to provide you with a guide with our maps and our advice. Let's see together how to get through this week together
We are now entering what is a critical phase of season 7. We are in fact in the last few weeks and the first changes are starting to be noticed. After the exit of the Fortnite patch 7.20 appeared at Polar Peak a huge snowball (although to many it looks like a huge egg) that makes sounds similar to those of the cube of season 5. Some have also noticed that, by setting up a structure for the construction, a figure can be seen inside. Who will it ever be? We just have to wait to find out. In the meantime, let's start this one guide to the challenges of week 7 and let's see how to complete them.
Fortnite: guide to the free challenges of week 7 | Season 7
Visit all the outposts of the expeditions (0/7)
The first of this week 7 free challenges for Fortnite season 7 involves visiting 7 expedition outposts. Below you will find the map with all indicated outposts.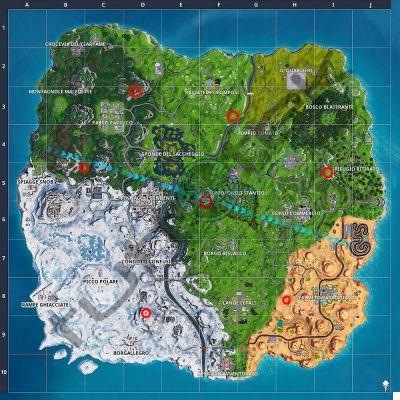 Use a portable rift or rift in different games (0/3)
One of the objects introduced in recent seasons, as well as the various slits that allow us to fly high in the sky to catapult ourselves on the enemies, will allow us to complete this challenge. My advice in this guide is to using these crevices not just to attack an enemy or flee, but also to move around the map, allowing you to reach more distant places in less time. Always remember to use at least one in every game.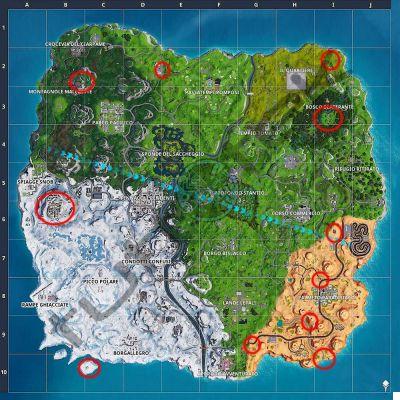 Places with possible rifts
Eliminations with guns (0/3) (DIFFICULT)
This is definitely not the easiest challenge to complete. The trick is in play in one of the team modes, knock down opponents with any weapon and eliminate them with the pistol. You can also try to make a kill as soon as you land hoping your enemy doesn't have a submachine gun or shotgun.
Fortnite: guide to the challenges of the Battle Pass of the week 7 | Season 7
Phase 1: lands in Borgo Bislacco (0/1)
The first of this week 7's Battle Pass challenges has now become common among those of Fortnite season 7. All we have to do will be land first in Borgo Bislacco and subsequently to Borgallegro, Blathering forest, Crossroads of the Ciarpame e Paradise palmetto.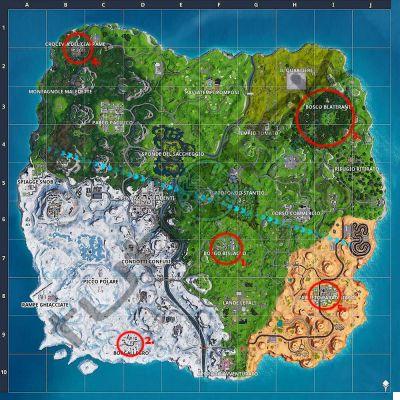 Search for chests in Sponde del Sacking or Piste Polari (0/7)
Even this challenge is now well known among the various players. What you will need to do will be look for baskets in Sponde del Sacking and Polar slopes; would be Icy ramps, but the developers seem to have changed its name. Could it be a new change or a clue for the next season?
Destroy an X-4 Stormwing in flight (0/1) (HARD)
It has now become an element of vital importance in the map, not only because it is capable of destroying everything with its power, but also for the fact that, thanks to it, we can reach the safe area in a short time even if we are on the other side. part of the map. The advice we give you in this guide to destroy it is to use burst weapons that do a lot of damage. If you have good aim, you can also try it with a sniper rifle.
Phase 1: inflict damage on opponents in a single game (0/200)
This last phased challenge plans to deal 200 damage to opponents in a single game with any weapon in the first phase (that would be 2 kills if they only have life, or 1 if your opponent has full shield). In the next two stages you will have to inflict 300 and 400 damage respectively.
For this guide on the challenges of Fortnite week 7 for this season 7 is now everything. If you are left behind with those of week 6, you can find some useful tips by clicking here. In order not to miss other news on the most famous Battle Royale of the moment and details on the new season 8, continue to follow the pages of Holygamerz!