The challenges for this week 10 of Fortnite have just come out. Let's see how to get through this last week of season 7 thanks to our guide
Now also this season 7 of Fortnite is about to end. As we prepare for what could happen ahead of the new season that starts (almost certainly) next Thursday, the developers have released a patch 7.30 update which introduced a new weapon, a new global item, and brought back an old timed mode to the island. For more details I recommend read our article by clicking here. Let's start this guide to Fortnite week 10 challenges now and see how to pass these latest tests.
Fortnite: guide to the free challenges of week 10 | Season 7
Place a mounted Turret or a Damaging Trap in different matches (0/3)
The first of Fortnite's week 10 challenges is perhaps one of the simplest there is. All you have to do will be place a Mounted Turret or a Freeze Trap in various games.
Search for chests in Pomposi Pastimes or Stale Crushing (0/7)
The second challenge involves finding baskets. For this mission of season 7 my advice if you decide to go to Pomposi Passatempi is to land on the roof of the largest structure; if you are lucky you can also find 4 baskets. If, on the other hand, you decide to land in Sprofondo Stantio, my advice in this guide is to land on one of the towers, after making sure there is a basket.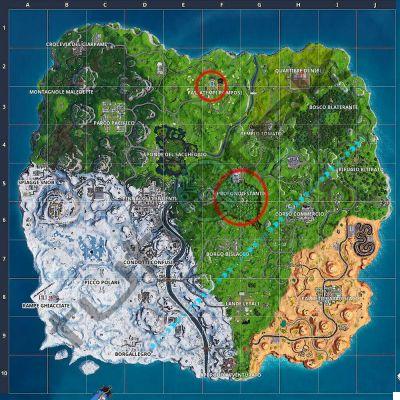 Eliminations with assault rifles (0/3) (HARD)
The latest of these free missions plans to shoot down your enemies with an assault rifle. The only useful advice I can give you in this guide is to keep your enemies at a medium distance, so that you are not too close to use a shotgun or too far away with no chance of hitting them. Also remember to take shelter behind a wall, otherwise you risk having a bad end.
Fortnite: guide to the challenges of the Battle Pass of the week 10 | Season 7
Inflict damage to opponents with scoped weapons (0/200)
The first of the Fortnite Week 10 Battle Pass challenges involves inflict damage on opponents using scoped weapons. In addition to the obvious sniper rifles, you can also use the revolver with sight and assault rifles that mount a scope. The important thing will be to hit your opponent without necessarily having to knock him down.
Phase 1: Get a score of 5 or more on the dartboard east of Bosco Blaterante (0/1)
This particular season 7 challenge involves finding a dartboard, activating it and hitting various targets for obtain a minimum score of 5. The first of the three is found a is di Bosco Blaterante, while for the following you will have to go first north of Corso Commercio and finally east of Palmeto Paradisiaco. Below you will find the map with the 3 places.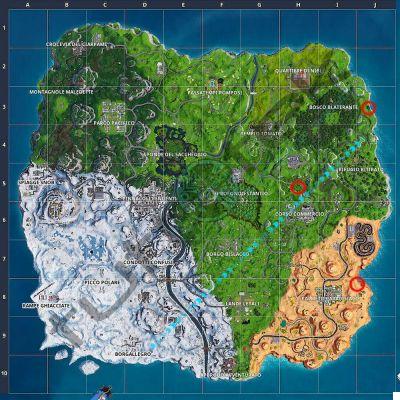 Visit the outposts of the expeditions in a single game (0/4) (HARD)
The penultimate of the Fortnite week 10 challenges for this season 7 is perhaps the most difficult of all. In fact, not only will you have to land at an expedition outpost, but subsequently 3 more will have to be visited in a single game. A tip to complete this mission is definitely to use a plane to have a much faster movement speed. Watch out for the various enemies that will target you.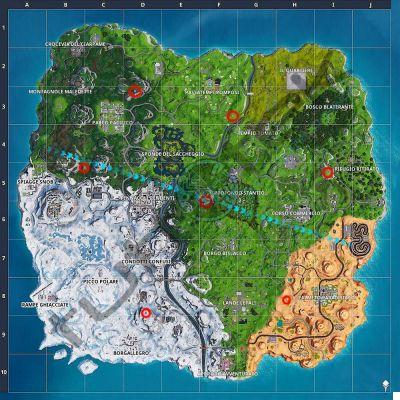 Hit an opponent with a freezing grenade or a ballerina bomb in different matches (0/3) (HARD)
The last challenge involves the use of certain weapons. This particular challenge of season 7 foresees for the first time the use of a Ballerina Bomb or a Freezing Grenade, a weapon introduced with the arrival of the 7.30 patch. Hitting your opponents with these particular weapons will make them vulnerable to your attacks without defense.
That's all for this guide now. If you have fallen behind with the challenges of the previous week, you can read our guide by clicking here. In order not to miss further news on Fortnite and its new season 8 coming up, keep following the pages of Holygamerz!