Here we are with the usual appointment with the weekly guide regarding the challenges of Fortnite. Let's see together how to overcome those of week 1 of the new season 7
The long-awaited season 7 of Fortnite has finally arrived and with it important news has arrived on the island, such as the new biome which took up almost a quarter of the map. Let's now go and see in our guide how to best overcome the first challenges that presented themselves to us in this week 1.
Fortnite: guide to the free weekly challenges of week 1 | Season 7
Collect an item of each level of rarity (0/5)
The first challenge that presents itself to us is quite simple and does not need special advice. It can be completed very well in a single game, provided we manage to find at least 5 objects each with a different rarity.
Dance in different forbidden places (0/7)
This challenge is slightly more complex not so much because it is difficult in itself, but because you will have to find suitable places to dance. Below you will find the map with places in which it will be possible to complete the challenge. Obviously it should be noted that there are also other places where it is possible to complete the challenge.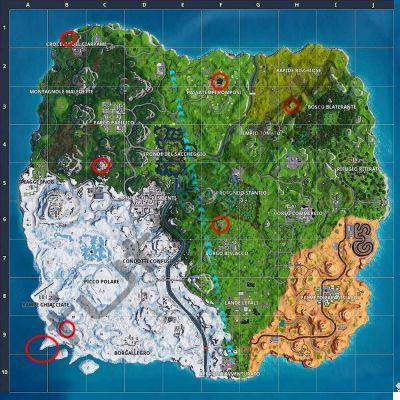 Play games with at least one elimination (0/5) (HARD)
Even this challenge does not seem somewhat difficult. Who among us can't get at least one kill in a game? For this particular mission you can choose between two very different approaches. Land in a distant place, arm yourself well and then try to eliminate the first enemy you find, or for a more direct one. In this second case you will have to land before your opponent, steal the weapon he was aiming at and immediately open fire to eliminate it.
Fortnite: guide to the weekly challenges of the Battle Pass of week 1 | Season 7
Phase 1: Dance on top of a camper van crown (0/1)
The first of the challenges of this week 1 of Fortnite season 7 is divided into several parts and in this guide we will explain how to complete it step by step. The first action to take will be dance on top of a "camper crown"(Circle to the south-east). The second involves dancing over a metal turtle (circle near Retired Refuge), while the third and last involves dancing over a submarine (circle near Ice Ramps).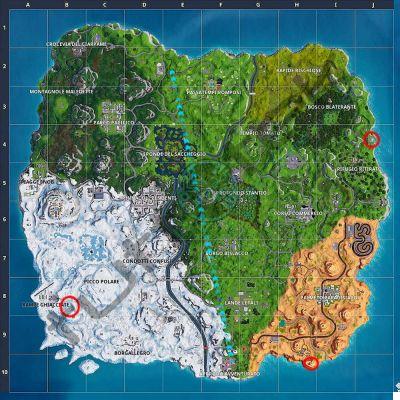 Inflict headshot damage to opponents (0/500)
A challenge that may or may not be difficult depending on our skills. My advice is to use a sniper rifle (if you are able) to do as much damage as possible and have greater accuracy. In case you like close combat instead, you can use a shotgun or a tactical one to inflict as much damage as possible on your enemy. By doing this you will complete the challenge faster.
Phase 1: Search ammo boxes in a single game (0/5) (HARD)
This challenge will also be divided into several phases. My advice is to land in an isolated place to allow you to complete it without too many hitches. In the first step you will have to open boxes of ammunition, in the second you will have to open three baskets while in the last one a supply box.
Eliminate opponents in different places indicated (0/5) (HARD)
This latter challenge can be combined with the latter of the free ones. In fact, if you land in an indicated place (a place with a name) and make a kill, you can advance both in this challenge and in the other. In case you manage to survive in the area where you landed, you can head to the closest one and hope to find an enemy to take down.
For this first guide on the new challenges presented in this week 1 of the new Fortnite season 7, that's all. In order not to miss future news regarding the most played video game of the moment, continue to follow the pages of Holygamerz.