The long-awaited Fortnite season 8 has finally arrived bringing with it a lot of news. In addition to her, the first challenges for this season 1 also arrived and now let's see how to overcome them in this guide
After a few weeks of waiting, the season 8 of Fortnite has finally arrived, bringing changes to the map, for an new pirate theme and some other little news. After the release of Apex Legends the developers have decided to invest a little more time to give everyone a new experience, but will they be successful? However, one thing has remained unchanged and concerns the weekly challenges. Let's start this guide and see how to overcome those of week 1.
Fortnite: guide to the free challenges of week 1 | Season 8
Visit all the pirate camps (0/7)
The first of these Fortnite week 1 challenges for this new season 8 plans to visit some places added a little while ago with the patch 8.0 (for more details you can read our article by clicking here). In this guide we show you the map with the exact location of the various camps.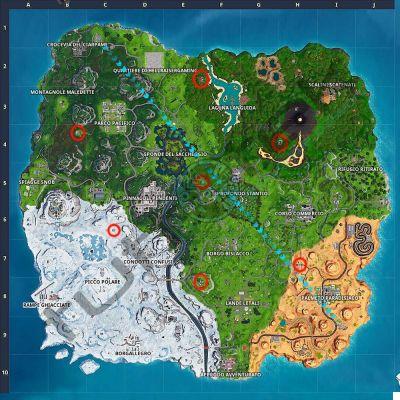 Search for chests in Corso Commercio or Crocevia del Ciarpame (0/7)
A historical challenge now that of look for chests in some predetermined place. They think about inaugurating the new season Commerce Course e Crossroads of the Ciarpame, two locations that are now a piece of the history of this game.
Phase 1: Inflict damage to opponents with a pistol and an explosive weapon in a single match (0/2) (HARD)
A little more complicated it turns out to be the last free challenge of this week 1 of Fortnite. In the first stage we will have to inflict damage on an opponent using a pistol and an explosive weapon to our liking in one game. Although a bit difficult, it turns out to be all in all easy, as it will be enough for us hit our opponent only 1 time with both weapons, without a minimum damage limit. In the second phase we will have to use an assault rifle and a machine gun, while in the last phase we will have to use a sniper rifle and an assault rifle.
Fortnite: guide to the challenges of the Battle Pass of the week 1 | Season 8
Visit a giant face in the desert, jungle and snow (0/3)
The first of the Battle Pass challenges for this week 1 of Fortnite is also a research challenge. We will in fact visit 3 giant faces each placed in every biome inserted in recent seasons, including season 8 just started. In this guide you will find all the positions of the 3 faces that you can visit in the order that best suits you.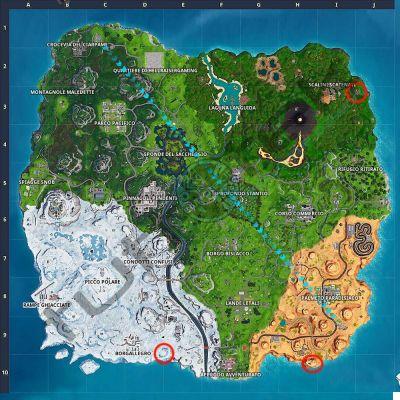 Use a volcanic conduit in different games (0/5)
These new conduits were also introduced with the new season. You will find them mainly in the new biome and they will serve to send you high into the sky. They are good for both escaping an enemy and chasing him and will undoubtedly allow you to move faster.
Get an elimination with a Heavy Shotgun, an Assault Rifle and an Explosive Weapon (0/3) (HARD)
A single weapon elimination doesn't seem that difficult. If you add to this that they can be safely transported and used simultaneously during a fight, then the game is done. You can safely play with your friends, bomb your opponents using some explosive weapon and once you take down the first one you can press with assault rifles and finally take out the last ones with a heavy rifle.
Inflict damage to a vehicle driven by an opponent (0/200) (HARD)
This may perhaps be one of the most demanding challenges, not so much because it is difficult inflicting damage on a vehicle, how much because now almost all have been eliminated with the arrival of the new patch. My advice is to try to hit the vehicle with a sniper rifle so you can quickly complete the mission.
That's all for this guide on Fortnite week 1 challenges. In order not to miss other news regarding the brand new season 8, keep following the pages of Holygamerz!