One of the main problems for this season 5 of Fortnite is certainly that of having to choose the best weapons to take with you. Today at Holygamerz we will explain to you through this guide which are, in our opinion, the strongest weapons to take into consideration
Many of you will surely ask, should I get a shotgun or a tactical shotgun? Will this assault rifle be better or the gun vamp in front of me? Well, today we of Holygamerz we will answer your questions, showing you what they are the best weapons for this Fortnite season 5 through our guide.
Fortnite season 5: a general look at weapons | Guide
As many of you already know, they are present on Fortnite 5 categories of weapons based on their rarity and firepower. In fact, here you can find:
Weapons of gray color, the common ones
Weapons of green color, the uncommon ones
Weapons of blue color, what rare
Weapons of purple color, the epic ones
Orange weapons, the legendary ones
Obviously the further down this list, the stronger the weapons become. So a blue colored shotgun will definitely be better than a gray colored one. Color it doesn't just affect potency of the weapon and therefore on the DPS (damage per second), but also on the reload speed.
A weapon will never be present in all colors. Therefore, we will never be able to find a tactical rifle that has all the colors, from gray to orange. This was also intended to create a certain diversity between the weapons by introducing new ones and to facilitate the gaming experience of individual players who may be approaching the game for the first time.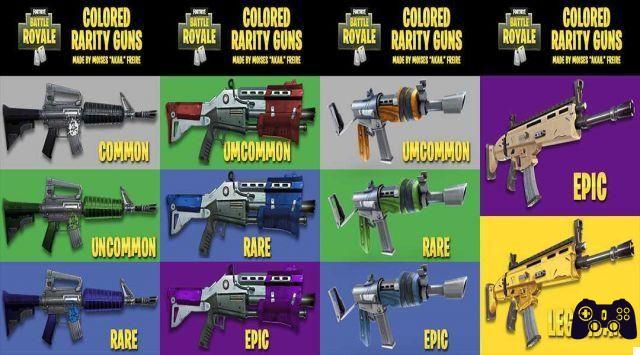 Another feature that is important to note is that the weapons of this season 5 of Fortnite, as well as in past seasons, are divided by range and therefore for distance effectiveness. So there are weapons that are more effective at short range and others that are more effective at long range. Wanting to divide them by length we could find:
Effective weapons at close range - pistols and rifles
Effective weapons at medium range - assault rifles, submachine guns, grenade launchers, grenades
Effective long range weapons - sniper rifles and rocket launchers
After making these quick distinctions we can then go on with the guide and explain what are the best weapons in the game.
Fortnite season 5: let's see what are the best weapons for this season | Guide
A good setting of the items would be to have a weapon for each type of combat (close, medium and distant) and then choose whether to keep in the two remaining slots or bandages and shields, or one of these two and another weapon to our liking. Having said that, before listing them, we must remember that finding purple or orange ones is very difficult and we will not always succeed. This is why I thought it right to divide weapons between the most common and the rarest ones.
Guide to the best weapons among the gray, green and blue ones of Fortnite season 5
These are the weapons that are most easily found during the game. It will be possible to find them practically everywhere and they are also the ones that will accompany us in most of the games. Now let's see which are the best of these.
Fra which has long distance definitely noteworthy is the shotgun. This particular shotgun turns out to be very powerful in terms of damage and can often also be found in purple with a damage between 86 and 90 and a reload speed of 1,8 seconds. Not the best sniper rifles in that without viewfinder, but certainly one of the most lethal.
Among the weapons a medium distance they deserve a special mention on M16 assault rifle with an excellent amount of damage between 30 and 33 and a reload speed of 2,2 seconds. Good companions in adventure, especially when walking in the open spaces where you do not have a complete view of what surrounds us.
Shotgun

Assault rifle
Very important a short distance are the Shotgun and tactical rifle. They are found in all three colors and their damage ranges from 80 to 85 for the shotgun, while from 67 to 74 for the tactical one. At first glance, a pump would certainly be preferable to a tactical one, but by observing their rate of fire carefully, we will notice that the tactical rifle becomes more effective, especially if you face very fast duels in terms of movements.
With the pump, in fact, we risk missing the first shot and don't have time to shoot a second, which is not the case with the tactician. My advice is therefore to use the tactic if you are not very good at aiming, but both remain excellent travel companions, very useful in case of need.
Shotgun

Tactical rifle
Guide to the best weapons among the purple and orange ones of Fortnite season 5
As mentioned above, these are very difficult to find and we will not always have this luck in a game. Now just digress though. The time has come for you to open this guide. Here you go the best weapons of Fortnite season 5.
Stronger weapons at long range
Without a doubt, the best long-range weapon out there is the semi-automatic sniper rifle, equipped with a viewfinder that will allow us to find enemies at a very long distance and capable of inflicting damage between 75 and 78 based on the color (187.5 and 195 if we hit our opponent in the head). With a reload speed ranging from 2,5 for purple to 2,3 for orange, this particular rifle is equipped with a magazine of 10 shots, which will allow us to take down the enemy without having to reload with every single shot and risk losing sight of him.
Although not as accurate as a shotgun, but still of great use due to the damage it can cause and therefore worthy of mention is certainly the rocket launcher. With its damage between 110 and 121 and with a reload time ranging from 1,8 to 1,6 seconds it is capable of destroy entire buildings thanks to the scope of the explosion and therefore deserves a place of honor in this guide among the best weapons of Fortnite season 5.
Semi-automatic sniper rifle

Rocket launcher
Stronger weapons at medium range
The undisputed king of assault rifles, as well as the leader of all medium-range weapons is SCAR. With a damage ranging from 35 to 36 and a rate of fire that reaches 5,5 shots per second for a power of DPS ranging between 218,5 and 234,5 it is certainly one of the most dangerous and powerful weapons of all. the game. Its maximum reload speed of 2,2 seconds also makes it the ideal weapon to take down enemies from a medium distance.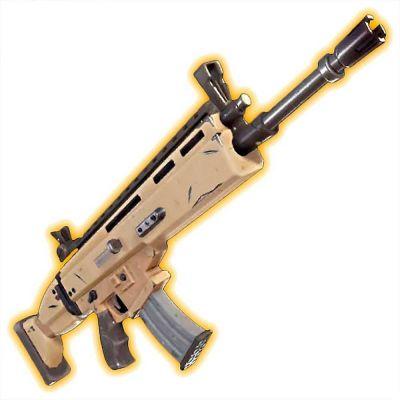 Stronger weapons at close range
The weapon par excellence that dominates those at short range is the heavy shotgun. It looks like the perfect fusion between the tactical shotgun and the normal shotgun with its damage ranging from 74 to 77, a rate of fire equal to 1 shot per second (almost halfway between that of the two rifles) and a reload time from 5,9 to 5,6 seconds. It is definitely a weapon to keep an eye on that at close range it becomes deadly.
A special mention should also be made for the silenced pistol, the only one of the many noteworthy pistols. With a relatively low damage between 26 and 28 it is equipped with a rate of fire equal to 6,75 shots per second which therefore makes it one of the most lethal. If we add to this we can ambush thanks to its silence then it certainly deserves a place of respect in our guide to the best weapons of Fortnite season 5.
Heavy Shotgun

Silenced pistol
What do you think about it? Share our ideas or believe that best weapons of fortnite are others? Let us know yours. If you are still on the high seas with the missions of the weeks of this season 5, you can read our guide regarding the:
Week 1
Week 2
Week 3
Week 4
Week 5
Week 6
Week 7
Week 8
Week 9
Week 10
To stay up to date on the latest news regarding Fortnite and its season 5 and not to miss any guide like this of the best weapons, continue to follow the pages of Holygamerz!