Here we are again with the usual appointment after the release of the weekly challenges of Fortnite season 5. Today we will see together in our guide how to overcome those of week 4
Like every Thursday, we find ourselves at the appointment with our guide. Today we will show you how to overcome the challenges of week 4 of season 5 of Fortnite in the fastest and most painless way possible. Let's see how to do it.
Fortnite: let's see together how to overcome the free challenges of week 4 of season 5 | Guide
Build structures (0/250)
The first free challenge consists precisely in building structures. So you just have to play normally and let your imagination run free. In total you will need them 2500 units of material (wood, brick or metal), but it is still a very easy challenge to complete, especially if you are a good builder.
Jump through different fiery rings with a trolley or an ATK (0/5)
The second challenge of this week turns out to be a bit more difficult as you will not only have to find either a trolley or an ATK (the machine introduced this season), but you will have to find and pass inside some fiery rings. Below are the map of the trolleys and ATKs and the one with the various rings. There is now that take advantage of the ramps so you get to the rings and that's it!
Eliminate opponents in the Stale Collapse (0/3) (DIFFICULT) (would be Moldy Warehouse)
In my opinion one of the most difficult Fortnite challenges. Not only because killing 3 enemies without being killed in a week 4 hub location is difficult, but also because this location is a musty Warehouse. Trees introduced in season 5 in fact they severely limit the view. My advice in this guide is to land nearby and find a shotgun; after that, dash into the crater and good luck!
Fortnite: let's see how to overcome the challenges with the Battle Pass of week 4 of season 5 | Guide
Inflict damage to opponents with sniper rifles (0/500)
It will be enough for you use any rifle to do damage. I remind everyone that these guns do a lot of damage, so getting to 500 will not be a challenge, quite the contrary. Also with the introduction of the new rifle it will be possible to hit opponents behind the wall as the bullet will go through the first wall that he will meet.
Search for chests in the Latrine Laboratory (0/7)
Usual chest search mission of the week. Below you will find the map with all the places where you can find the chests.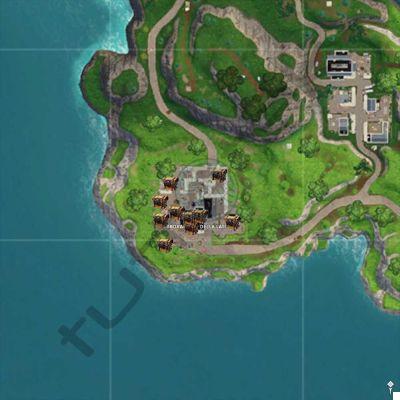 Search between a distributor, a football field and Monte Stunt (0/1) (DIFFICULT)
Here too here is the map with the position where you can find the star. Try to land on the gas station a little further east, pick up some weapons and then head to the exact spot. This way you can defend yourself from enemies.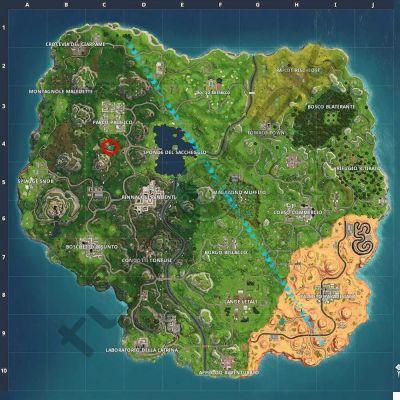 Eliminations with guns (0/3) (DIFFICULT)
It sounds like a difficult mission, but it's not at all. My advice is to play in any team mode. In fact, although landing an enemy is not exactly easy, taking them out once they are on the ground is a breeze. Since last week, in fact, if we shoot down an enemy with one weapon and use a second one to eliminate it, we will count the elimination with both the first and the second weapon.
Well guys, that's all for this week 4 guide. If you have any doubts and want clarification, do not hesitate to comment below. I remember who was still behind with challenges of week 3, which can consult our guide by clicking here. In order not to miss future news regarding Fortnite and season 5, keep following the pages of Holygamerz!