If you are struggling in combat, you will certainly need an Amigos animal to support you. Let's find out how to unlock all the Amigos in Far Cry 6
Far cry 6 is the highly anticipated new title in Ubisoft's popular open world fps series. Despite the repeated formula dear to Ubisoft, the title promises hours and hours of good fun with its vast sandbox world. Forget the Guns for Hire of the past Far Cry, now your new allies are the Friends. Dangerous animals that you can assign orders in both combat and stealth situations. So let's see how to unlock all 7 Friends inside Far Cry 6.
Faithful companions
The additions of the characters of support in game dates back to Far Cry 5 with i Guns for Hire. A series of characters (and animals) with the purpose of coming into yours relief in combat the moment it is you want. Each of these characters possesses unique skills and special. For this, the game allowed a fair amount Customization of the paraphernalia. In this new chapter, Guns for Hire have been replaced by the terrible Friends. A group of 7 ferocious animals which, depending on your commands, will wreak havoc on the island of Yara and will annoy men a lot of Castle. Let's go in this guide to find out how to unlock progressively the Friends in Far Cry 6.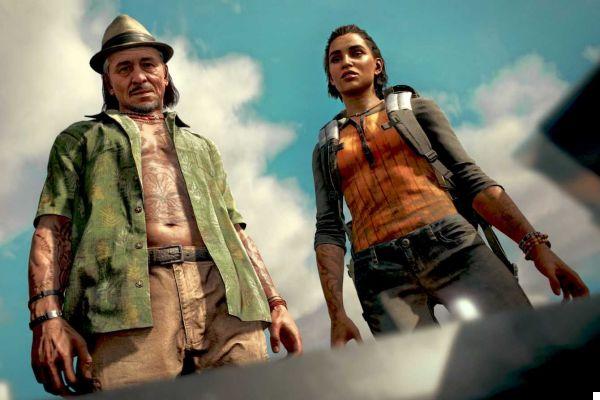 Guapo, alligator or crocodile? - Far Cry 6: how to unlock the Amigos
The first Amigos you will encounter is Guapo. You will practically get it immediately, as it will be part of the events of the first missions on theSanctuary Island. In the mission Juan Of A Kind you will meet both Juan e Guapo in the same bar in theArmonia. From here, the animal will keep you company in the first missions they serve as tutorial on how to give orders to the Amigos. Guapo he specializes in combat and you can order him to attack directly the enemies. His special ability allows him to be revived after being landed. Below the ability with which it is possible to improve it.
Body Regulation: automatically regenerates the health in combat (unlockable after reviving Guapo 5 times).
Cornered Beast: increase resistance damage under the 50% of life (unlockable once 3000 life points are regenerated).
Reptile Metabolism: resuscitation restore il 90% of life (unlockable once Guapo has eliminated 50 enemies).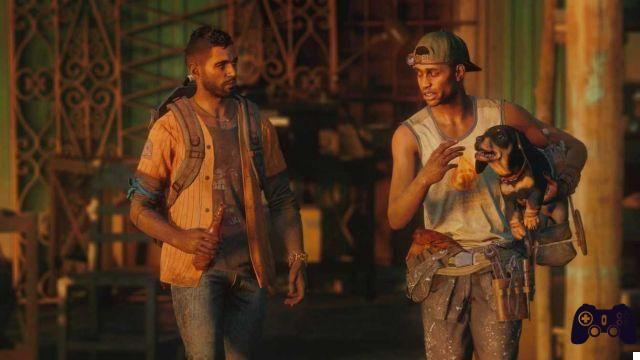 Chorizo, the little dog handyman - Far Cry 6: how to unlock the Amigos
You can find Chorizo a Dawn, one of the three territories main of the game. Like Guapo, too Chorizo will appear during the main missions. More specifically, during the mission Meet The Monteros, in which you will have to find one of the family members Monteros, Philly. You will eventually discover that Philly is the proprietario by Chorizo. Once back at the Montero Farm, complete the quest Who's A Good Boy? that will reward you with your new one Friends. The main feature of Chorizo ​​is it stealth. He will not actively participate in the fighting, but he will help you in the distract the enemies. You can improve it with the following upgrades.
Bloodhound: ability to marking i materials for crafting (unlockable after distracting 10 enemies with Chorizo).
Yes, You Can: caress Chorizo ​​for recover energy (unlockable after Chorizo ​​has targeted 36 loots).
Keen Senses: Chorizo will find resources from the ground randomly (use Chorizo's regeneration ability 50 times).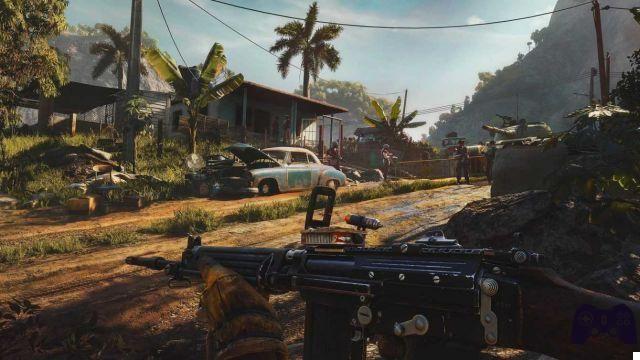 Chicharrón, the punk rooster - Far Cry 6: how to unlock the Amigos
To unlock the fearless fighting cock, you must first go to the Patriotas Peak a The East and meet the Legends of '67. Follow the first mission linked to this territory, this will take you to the quest Man's Best Enemy. Here you will meet Reinaldo alvarez placeholder image e Chicharrón. At this point a series of three: brevi sub quest in which you will have to follow the rooster, protect it from enemies and paint themed murals. Once completed, you will get Chicharrón definitely. His skill consists inattack di surprise enemies appearing out of nowhere. You can improve it with the following skills.
Roid rage: increase attack speed and double damage at 70% health (unlocks after 12 Chicharrón kills).
Angrier Bird: Chicharrón's special attack lands i enemies (unlockable after killing 24 with Chicharrón in Roid Rage mode).
Chicken Feet: in Roid Rage, Chicharrón can avoid randomly enemy attacks (unlockable after landing 50 enemies with the Angrier Bird attack).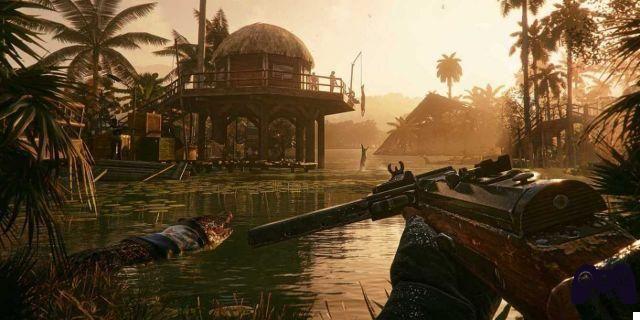 Boom Boom, the support dog - Far Cry 6: how to unlock the Amigos
You will meet Boom boom to the Gold Valley. To find it you will have to start the quest Boom Or Bust. Reading the notes on a pole in the center of Camp Maximas you will activate the short quest "The Shipment From Montana". The latter will show you a place on map to reach. Once you get there, you will need to open one specific container (follow a dog barking). Open the container e set free Boom Boom, you will become its rightful master. His skill characteristic is that of recover il loot from slain enemies. You can improve your dog's effectiveness through the following skills.
Pointer: Boom Boom will mark enemies e animals (unlockable after recovering the loot of 10 corpses with Boom Boom).
Expert Tracker: Boom Boom can mark enemies from one greater distance (unlockable after tagging 24 animals with Boom Boom).
Thick Coat: increase area of health Boom Boom maximum (unlockable after marking 50 enemies with Boom Boom).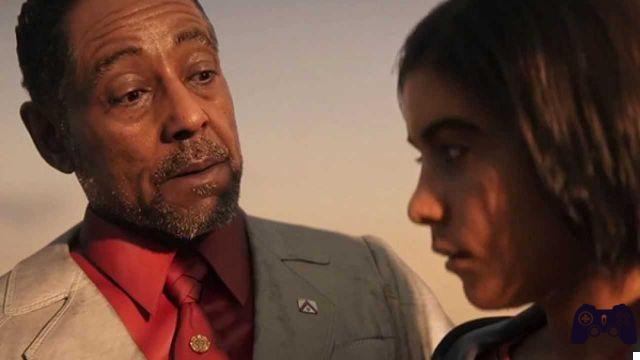 Oluso, the deadly feline - Far Cry 6: how to unlock the Amigos
Guard it's the Amigo Plus difficult to get of the whole game. If others unlock in automatic at the end of certain main missions, for Oluso you will have to complete three Special hunts to the treasure. Each treasure hunt is found within each of the three areas main of the game. To begin with go to Lord Cave in 'Sanctuary Island (to east of Ventura Summit). Once you reach the bottom of the cave, read the note by floor. At this point, i will appear on the map 3 treasures to collect, one to Madrugada, one to Valle De Oro and one to El Este.
Complete the mini quest requests to obtain the treasures e bring them back to the cave initial. At this point you will come attached by a dangerous group of cats ghostly. Defeat them to make them appear Guard apparently dead in your vicinity. Revive him and will immediately become part of yours group di Friends. Oluso is a powerful Amigo Stealth. It can kill silently enemies for you. As usual, it can be improved through the following ability.
Mimo Abosi's Luck: Oluso ha una high probability to kill enemies with attacks stealth (unlockable after killing at least 12 enemies with Oluso in a forbidden area).
Rage Of Ida: the attacks stealth scored by Oluso they will do run away i enemies surrounding (unlockable after killing 24 enemies with Oluso).
Mist Of Oku: Oluso will unleash a cloud around it when it is below the 50% life. The cloud will make it immune to damage, difficult to track down from enemies and allows a quick recovery dell 'energy (unlockable after making 50 enemies escape).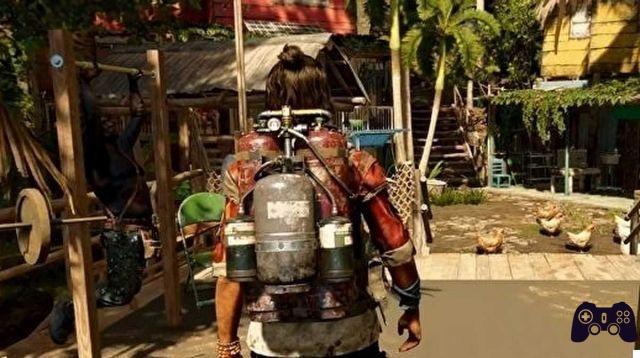 K-9000, the terminator dog - Far Cry 6: how to unlock the Amigos
One of the more Amigos original it's definitely the K-9000. As the name suggests, K-9000 is a cyber-cane with biomechanical features. This particular Amigo can be obtained only by purchasing the DLC Blood Dragon. The DLC is present in both the version Gold in that Ultimate of the title. So if you have purchased a of these two versions you will have accesso to the K-9000 only once left Sanctuary Island and have achieved Liberty Island. Its particular coating metallic external gives it the ability to be more resistant ai bullets, as well as being totally immune a poison e fire. It can be improved through the following skills.
Enhance: K-9000 is capable of marking turrets, vault chambers, booby trap wires and alarms (unlockable after a total of 100 damage taken by enemies).
Enhance!!!: attacks on marked enemies cause more damage (unlockable after marking 24 security cameras).
Termination Protocol: K-9000 explodes once killed, it inflicts danno ad area (unlockable after clearing 50 marked enemies).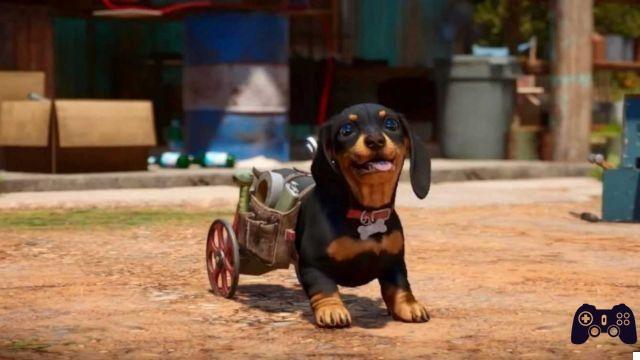 Champagne, the white panther - Far Cry 6: how to unlock the Amigos
Champagne is another Friends which you can't get without buying a DLC. In this case, all you need is the DLC Vice Pack (content ONLY in Ultimate Edition of the title). Its particularity, that it differs from any other Amigos, it lies in his ability that allows him to collect pesos additional come on enemies killed after a fight. As usual to improve the versatility and the effectiveness of this Amigos, you can do it with the following skills.
Greed is good: Champagne is so much more lethal how many more pesos you have (unlockable after killing at least 12 enemies with Champagne).
Status Symbol: Champagne will collect the loot of enemies in automatic after killing them with attack stealth (unlockable after killing 24 enemies with Champagne).
Sonic Snarl: when Champagne suffers damage, there's a chance it could unleash a mighty one roar such as to send enemies to land e escape safe right after (unlockable after collecting 1000 pesos from enemies killed with Champagne).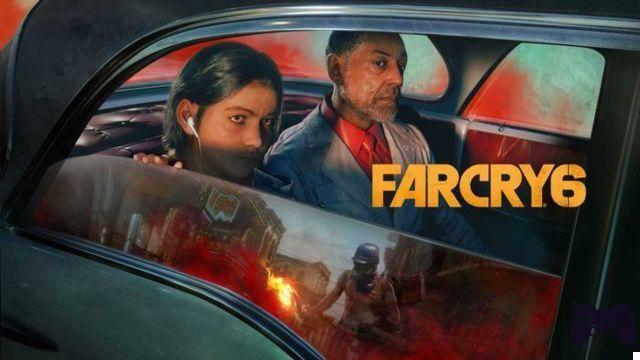 Collect them all!
As we have seen, essentially the Friends can be used for attack, For marking enemies or other dangers, or instead for others strategy defensive. At the end of this guide we learned how unlock all the animals Friends in Far Cry 6. We hope this guide has been there help, since not all of these support animals can be obtained through the continuation of the various missions of the campaign main. For more information on the title, take a look at ours guide, in addition of course to ours review. Recall that Far Cry 6 is available for all consul e PC.
To buy your favorite titles in discount, go to our Instant Gaming link! For further news and insights, follow the pages of Holygamerz.