Dragon Ball FighterZ is almost here on PlayStation 4, Xbox One and PC. The next fighting game on the famous Bandai Namco franchise promises to be very solid, but there are so many new things that have emerged in recent months. Are you sure you know everything about Dragon Ball FighterZ? Find out with our guide
In the last few months we have brought you the most recent news on Dragon Ball FighterZ, but with a view to a complete guide, we always start from bases. In this case with the release date and obviously the future updates of the title. Dragon Ball FighterZ will be officially available in North America ed Europe the next January 26 2018: for the Japanese publication we will have to wait until February XNUMXst.
Dragon Ball FighterZ editions and DLCs
Bandai Namco also confirmed the availability of a Character Pass since launch day: this means that we will be able to have access to 8 additional characters via paid DLC. Not all of these characters have already been revealed at the moment, but that's definitely a positive clue. Bandai Namco wants to support his next fighting game, and for starters, that's not bad.
We will be able to buy both the game individually and the prestigious one Dragon Ball FighterZ Ultimate Edition. The latter will include the 8 characters via DLC mentioned above (as soon as they will be made available), 11 songs taken from the anime (including Dragon Ball Super) and a Commentator Voice Pack.
The game will also be made available in the Dragon Ball FighterZ Collector's Edition, for those who really don't want to miss anything, at the suggested price of 140 €. We will thus be able to put our hands on a physical copy of the title, on a 7-inch tall statue of Goku, on an exclusive steelbook, three postcards and a CollectorZ Box to contain all these objects.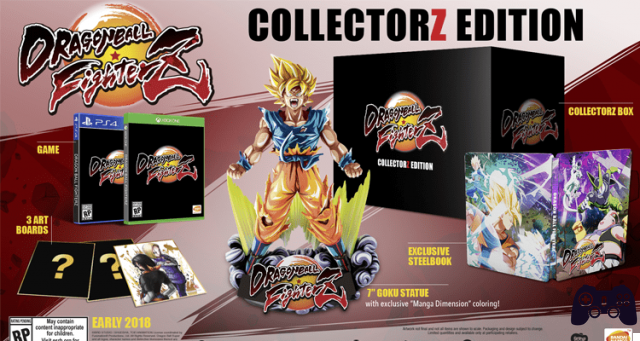 Pre-orders will also receive playable characters from Goku Super Sayan Blue, Vegeta Super Sayan Blue and two avatars for online lobbies.
All characters included in Dragon Ball FighterZ
La character list included in Dragon Ball FighterZ it is obviously partial given that the title has not yet been published. 11 characters were already available in the Closed beta of the past few days. We also know that a total of 21 warriors will be included in the full version of the game. The latest to join the roaster were Gotenks, Kid Buu and Ultimate Gohan.
Some of the characters will be assisted by famous supporting characters from manga and anime. Tenshinhan, for example, will see Chaozu rush to his aid, while Captain Ginyu will gain the support of his entire special team of mercenaries. In the future it is not excluded that Beerus, Hit and Goku Black may be added to follow the evolution of the Dragon Ball Super plot.
The following list includes all the characters included to date, Friday 19th January. As always, we will update the article as soon as necessary. In Dragon Ball FighterZ therefore we can use:
Android 16
Android 18 with the assistance of Android 17
Android 21 (the completely new character)
Beerus
Buu (Kid Buu)
Buu (Majin Buu)
Frieza (100% power with Gold transformation)
Ginyu with Ginyu Force as support
Gohan (Cell Games, Super Sayan 2)
Gohan (Saga by Majin Buu - Ultimate)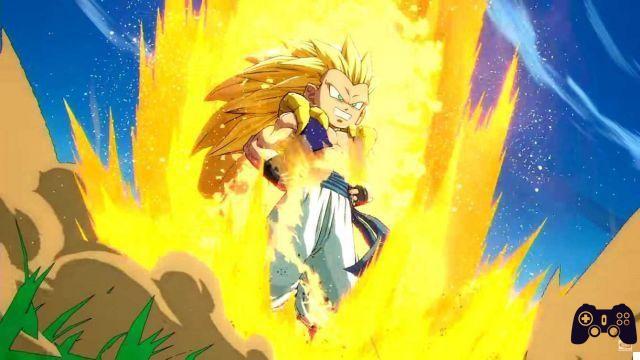 Goku (Normale, SSJ, SSJ3)
Goku (Super Sayan Blue)
Goku Black (Super Saiyan Rose) with Zamasu as support
Gotenks (SSJ3)
Hit
Krillin
Nappa
Perfect Cell
Small
Tenshinhan with Chaozu as support
Trunks (SSJ del Futuro)
Vegeta (Normal, SSJ)
Vegeta (Super Sayan Blue)
Yamcha
Dragon Ball FighterZ Story Mode details
La story mode di Dragon Ball FighterZ will allow you to continuously change the characters available in battle, thanks to the Link System. It will be divided into three parts, so you can enjoy the story from three different perspectives: we will start with the Arc of the Super Warriors (thus following the perspective of the Saiyan warriors), and then move on toArco dei Super Villain and we will end the game withArch of the Androids.
By playing the story in three different sections, our characters will level up and upgrade and we will also discover new interesting backstories. The story mode map will also allow you to study tactical moves to select your destination. The choices we make will have repercussions on the pitch.
Dragon Ball FighterZ Online Mode details
Most of the options will naturally concern the online mode di Dragon Ball FighterZ, the real beating heart of the title. In Circle Match we will join 7 other players inside a virtual room, fighting against each other. Unlike normal fighting game lobbies, up to four players can clash at the same time. An operation very similar to that of the closed beta.
In the mode World Matchon the other hand, players will randomly clash in both "soft" games and real classified duels. It is therefore the traditional version of the Dragon Ball FighterZ online sector.
That's it for now, of course stay tuned for all the latest updates, guides and reviews dedicated to Dragon Ball FighterZ.