A quick guide dedicated to Deathloop on how to open the doors closed by the security systems within the game
A few days ago it is available exclusively on PS5 console and also on PC Deathloop, the new game created by Arkane Studios, already authors of great titles such as Dishonored and Prey, with which Deathloop himself has many points in common. The maps within the new title are very vast and full of secrets and mysteries, and obviously there are several closed doors and security systems that will try to prevent us from accessing the secrets of theBlackreef Island. In this guide dedicated to Deathloop we will explain the main methods on how to open closed doors governed by very annoying security systems for our protagonist Colt.
Deathloop is a title that has different approach methods that adapt to the style preferred by the players. It can be go on to Rambo, shooting wildly and using the special powers of the Tablets present in the game, which face each mission in a manner stealth, becoming invisible without having to kill anyone but the eight designated targets that will serve to break the loop from which Colt must escape.
Deathloop: how to open the doors closed by the security systems? The best methods
Inside Deathloop you will find yourself in front of countless doors, some easily open, others will need a code while for others it will need some work of the trust Hackamajig. Opening the closed doors governed by the security systems in Deathloop can be a big annoyance if you don't know how and what to do, also because if you are seen by a camera the system will completely close the access of the doors. Should this happen, there is a very simple way to get around the problem.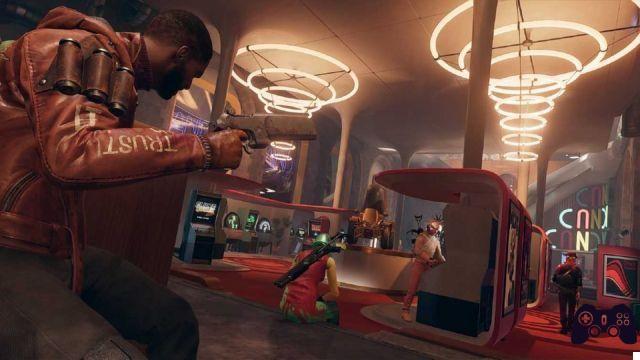 Every security system in Deathloop is divided in two parts: the motion sensor and the safety door. To open the sealed door you will have to rely on our very useful Hackamajig, it will be enough find the door antenna, usually placed nearby or above it and hack it thanks to the trusty tool. Same thing will have to be done to prevent the cameras may they take us back again. Being careful to be in a convenient and close position from which we will not be able to be filmed, it will be enough to hack the security cameras again to prevent the doors from being closed again. Alternatively, just shoot the cameras being careful not to attract too much attention from the enemies.
If you are interested in Deathloop, you can read our review or discover the trophy list of the game. Don't forget to stay on Holygamerz to read other reviews and get all the most important news on the gaming sphere and beyond. For your gamer needs, you can instead find the best discounts in digital format on Instant Gaming.