Playing as Jim can take some familiarity between zombies: here's how to use Back 4 Blood's number one sniper
In our guide to Back 4 Blood we will explain to you how to use each character, and after other cast members not yet dismembered by the zombies it's the turn of Jim. Contrary to characters already analyzed, such as Holly, in this case we are dealing with a character a bit more niche. But perhaps it is not the most appropriate term: in reality the optimal use of Jim is of a type that, in English, is called "situational".

The aim according to Jim
Jim's role is, in fact, that of a sniper, but given the horde of zombies you will always have to deal with in Back 4 Blood it is natural to wonder how to use this character to the fullest. In summary, this Exterminator excels at accurate shots and is the most suitable for exploit weaknesses of the Haunted. In other words, therefore, he is the ideal character to focus on the bigger characters like the Colossi and the bosses. So if you get along well with long-range shots, whether it's sniper shooters or classes that have them, Jim is just the survivor for you.
The Skills - How to use Jim in Back 4 Blood
One of the secrets to using Jim to the fullest is chain the deletions, as the character of Back 4 Blood enjoys aability very useful if you know how to use it. In fact, by making a kill in his shoes, consecutive damage is increased by 2,5% as long as the sniper takes no damage. In addition, his speed in attacks from overhead points increases by 25%. His influence on the team also increases the damage dealt to weak points by 10%. However, the arsenal at its disposal clearly has all the weapons equipped with a viewfinder: let's find out together which are the most recommended.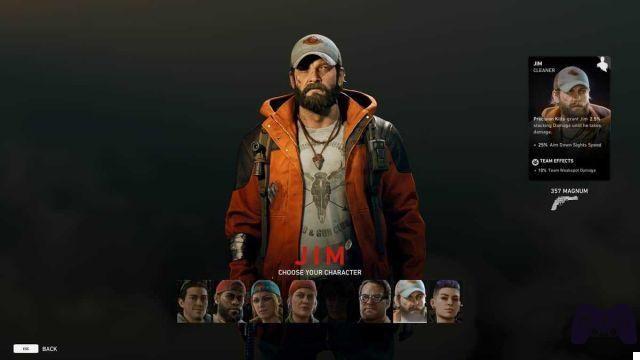 Weapons - How to use Jim in Back 4 Blood
In reality, the best weapons for Jim are not limited to just the ones sniper rifles: the boy also knows his stuff with i semi-automatic assault rifles. You will want to focus on weapons of this type, if you really want to make the most of its eliminations so "surgical" in their precision. One thing you will always need to make sure of, though, is to keep yourself at a safe distance from the Infested, otherwise those tasty chains of damage will be ruined. And if targeting the weak spots isn't for you, then Jim himself isn't for you. Snipers (intended just as players) are the most suitable for him.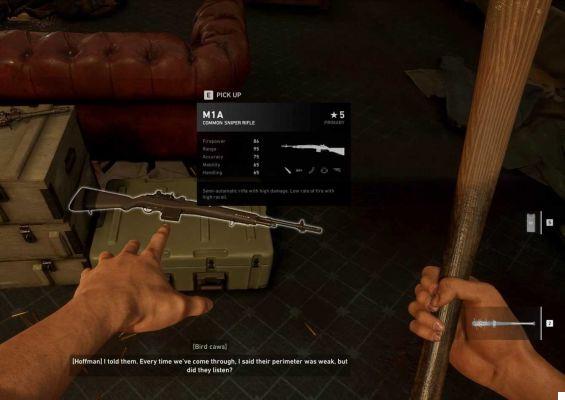 Broken mirror, black cat, look at my cards
Let's close this explanation on how to use Jim by switching to the other aspect of Back 4 Blood: the map. Since the sniper class excels at additional damage to enemies' weak points, that's what you'll need to focus on when building a deck. We have reported the best cards. Place them in a deck of 15 and enjoy the fireworks.
Reflex cards
Disinfector
Rash strategy
Hyperconcentration
High visibility viewfinder
Tunnel vision
Fast pace
shredder
Glass cannon
Sadism
Discipline Card
Carrying ammunition
Ammunition belt
Ammo bag
Front aiming tactics
Military training
Large caliber cartridges
Silver bullets
Crouched
Maximum concentration
Trigger control
Controlled movements
The land!
Patient hunter
Powerful charging
Mark of death
Knowledge is power
Strength cards
Convinced killer
Sniper
Plan B
Broadside
Carte Fortuna
Brigand
Stock up on ammunition
The game is available dal 12 ottobre su PS4, PC, Xbox One, PS5 ed Xbox Series X/S.
Now it's up to you to tell us yours: was our guide useful for you? Let us know below, and as always don't forget to stay on Holygamerz for all the most important news for gamers and more. For your purely gaming needs, you can instead find the best discounts in digital format on Instant Gaming.