In this new Back 4 Blood guide we will explain how to best use Hoffman, one of the strongest and most useful characters in the game
Back 4 Blood is the new Cooperative FPS based on zombies developed by Turtle Rock Studios and published by Warner Bros. The title has been available for a few days and many old fans of Left 4 Dead they have already crowded his servers.
This title though it is not a simple copy of the historic Valve title but it differs in several respects, such as for example characters. The various survivors that you can control in fact they will not differ only aesthetically, but also in terms of skills. To help you master all these varied characters we have therefore decided to write a series of guides, and in this we will explain how to best use Hoffman.
Ready for everything
Before we start talking to you about how to use Hoffman, we want to briefly introduce you to this particular character from Back 4 Blood. This middle-aged man has always believed all fools conspiracy theories in which he came across and it will be this particular characteristic that will give him an edge over the other survivors of the game. In fact, Hoffman has always suspected the imminent arrival of a zombie invasion, and for this reason he was more than prepared at the time of the apocalypse. This character is indeed capable of play a very useful support role for the whole team which will allow you to be very advantaged even during the most complex missions. Below you can find them all Hoffman's main skills:
Whenever you kill an infected you will have a chance to find ammo
You have an additional slot for offensive equipment
The whole team gets a 10% bonus to the maximum ammo capacity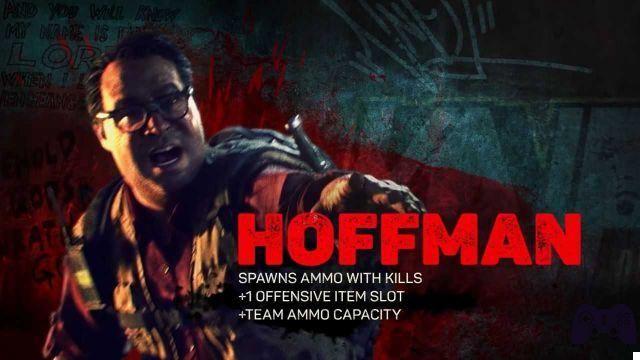 Best Weapons - Back 4 Blood: How to use Hoffman best
Hoffman's big advantage is his ability to generate ammo by killing enemies and for this reason we advise against equipping him with close-range weapons. In fact, the melee equipment will not allow you to bring out even a shred of the potential of this very powerful character.
To make the most of Hoffman we recommend that you bring as many of them with you automatic firearms possible. The best choices are assault rifles like the AK-47 and LMGs such as the M249, but in case of need or as a secondary you can also use machine guns. Thanks to weapons of this type you will in fact be able to eliminate a large number of minor infected and generate so much extra ammo for you and your team. Sure, you may have a hard time with the more powerful infected, but your teammates will be able to defend you thanks to the additional bullets you can provide them.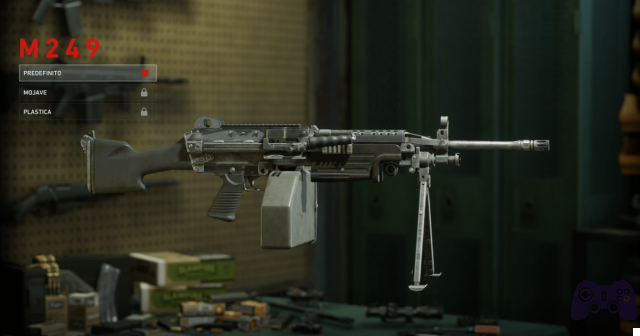 The best cards - Back 4 Blood: how to use Hoffman at its best
After the weapons it is time to talk about the carte. The cards in Back 4 Blood are very varied, so it's usually wise to use the ones that best suit your style of play. If you are using Hoffman, however, we strongly advise you to choose cards that revolve around the accumulation of ammunition and the use of automatic firearms. To help you we have therefore decided to make a list with the best cards to equip when using Hoffman.
Reflex cards

Rash strategy
Shooting gloves
Wide miniskirt
Fire to the powders
Magazine holder
shredder
Turbo change
Adrenaline rush

Discipline Card

Patient hunter
Tactical Vest
Powerful charging
Silver bullets
Military training
Large caliber cartridges
Ammo bag
Ammunition belt
Carrying ammunition
Mincer
Ammunition predator

Vigor cards

Pyromaniac
Convinced killer
In riga
Broadside
Strength and endurance

Carte Fortuna

Bag of grenades
Cartridge holder
Double grenade bag
Extra bags
Brigand
Administrative top-up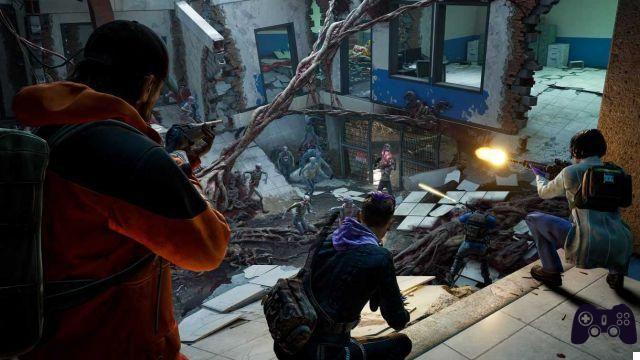 That's all!
This concludes our Back 4 Blood guide on how to best use Hoffman. Now all you have to do is start the game and try out this powerful character on the field. But if you want to improve even more on Back 4 Blood, then we suggest you also take a look at the other dedicated guides on our site:
How to activate crossplay
How to unlock cards
The best cards for novices
How to best use Holly
How to unlock all characters
Using the Gospel to the fullest
How to best use Walker
How to use Ma at its best
Using Jim to the fullest
How to best use Doc
Play with friends
The best weapons in the game
Back 4 Blood is available now for PC, PS4, PS5, Xbox One and Xbox Series X | S.. If you are interested in staying up to date with all the news on the world of video games and much more, then continue to follow us here on Holygamerz. Furthermore, in case you want to buy some games at an advantageous price, we suggest you take a look at the many offers on Instant Gaming.