Let's see in this guide what are the best upgrades for the Assassin's Creed: Valhalla settlement and find out how to activate them
The last chapter of the saga has arrived on our platforms for a few days now and has immediately been a huge success, surpassing even Odyssey in sales. To know what we think of Holygamerz regard, I invite you to read our review.
Playing such a "challenging" game is well known, it is not exactly a walk in the park. There are important choices to make and sometimes, if you don't have clear ideas, you risk complicating your life. Know what the best talents to choose from or have an overview of all the weapons of the game it can affect our adventure, making it easier for us. In this guide instead we will go to see which are the best upgrades to choose from in our settlement su Assassin's Creed: Valhalla.
We Expand Our Field - Best Upgrades of Assassin's Creed Settlement: Valhalla
After leaving their homeland and arriving on the shores of England, now is the time for our Vikings to settle and build their camp. With few resources available, choosing which building is with the highest priority won't be a walk in the park.
As you build the various buildings, Ravensthorpe it will gain fame and from a settlement it will become a small and thriving city capable of attracting many people. These in turn will grant us new missions and new equipment. The more you expand your settlement, the more buildings you unlock for construction.
Study of the Occult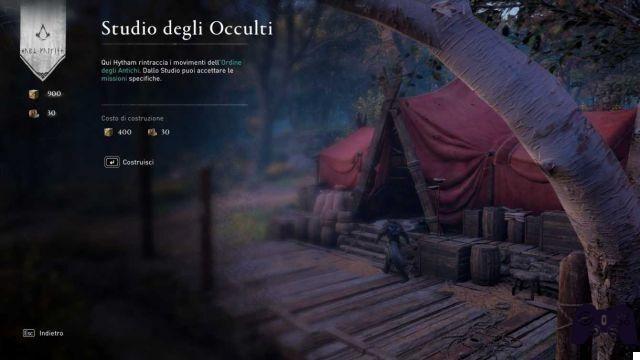 After helping the blacksmith build his workshop, just as the main mission suggests, the first building you will have to erect will surely be the one. Study of the Occult. By building it, in fact, you will allow Hytham to have a place to stay and you will also unlock two main missions. The first questline will allow you to unlock the Leap of Faith, an important skill that all fans of the series will know.
The second questline instead allows you to unlock the section in the menu Order of the Ancients. On this page we will be able to find a vast network of targets to assassinate, just like it did in Assassin's Creed: Odyssey with the page relating to Cultists. As soon as you have erected the Study of the Occult it will be possible to dismantle the first incarnation on the English territory of theOrder of the Templars, assassinating targets the way everyone wants.
Barracks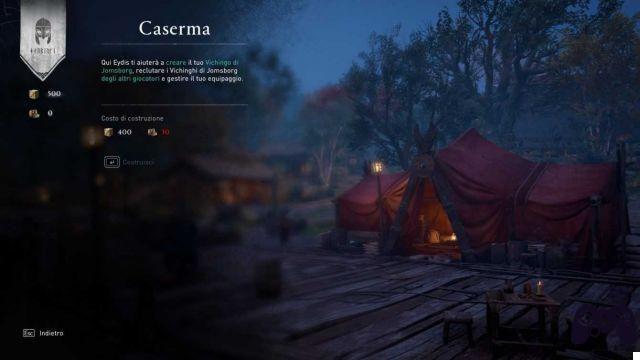 The second most important building in this guide to the best settlement upgrades in Assassin's Creed: Valhalla, which you absolutely must build, is the barracks. This particular building allows players to manage their own raid group and crew on the ship. However, the most important feature is being able to create your own Jomsviking. Jomsviking will be your second in command in raids.
You can also send your custom Jomsviking to other players for earn silver while not playing. After creating it, all you have to do is check the barracks regularly to see if your partner has earned silver fighting for other players while you weren't there.
Tattoo shop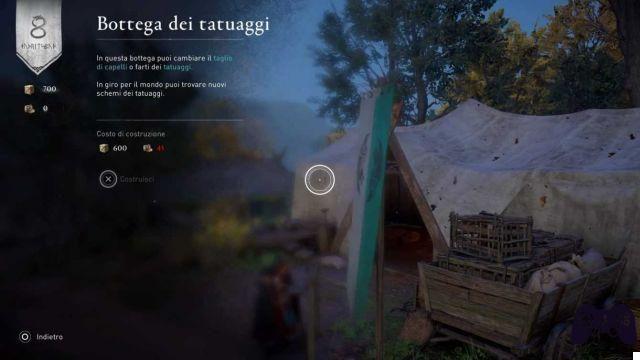 This building is not as vital as the previous ones, but it allows players to customize the look of Eivor. Of course, you won't be able to create a fully customized playable character, but you can change Eivor's hairstyle, beard and tattoos at the tattoo parlor.
In the beginning, players will have a limited number of styles, colors and designs. However it will be possible find new ones in various stores around the world. It will be possible to find tattoo designs through exploration, looking for the appropriate ones Flying cards scattered all over England.
Emporio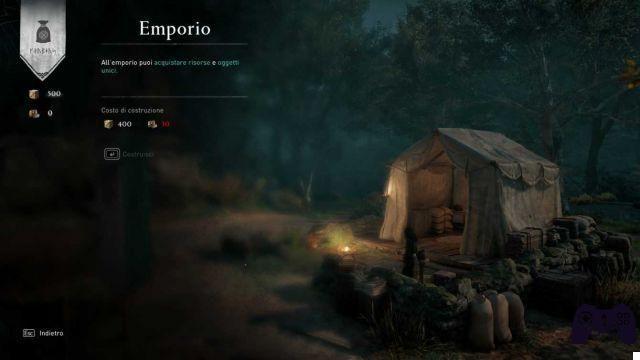 THEemporium is certainly one of the best upgrades of the Assassin's Creed settlement: Valhalla. This update adds a shop to your Ravensthorpe settlement, offering a space dedicated to the purchase and sale of goods and equipment. Not only does it offer players a Reliable place to trade trinkets and trinkets for silver, but it also contains some weapons and runes that cannot be found in other shops. Here, players will also be able to purchase customization items for use in the tattoo parlor.
Fishermen's hut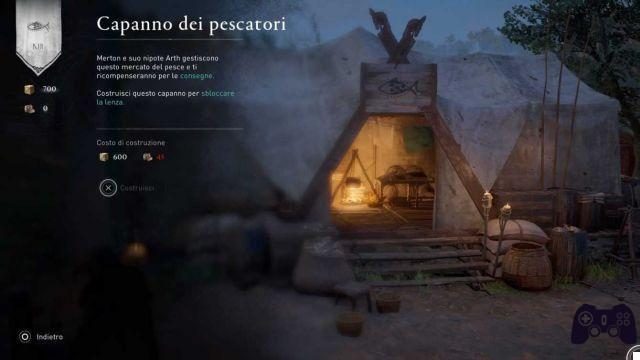 Il fishermen's hut unlocks the line, very useful for going fishing in any river or lake on the map. It will be possible sell the fish caught in exchange for silver. However, there is a "special order"Which will allow you to obtain unique rewards. Try to satisfy the fisherman then it will be a great way to get equipment easily.
Also, fishing will allow you to earn silver easily if you stay broke. This will also be a good pastime between the various raids and battles you will fight in the course of your adventure.
Hunters' hut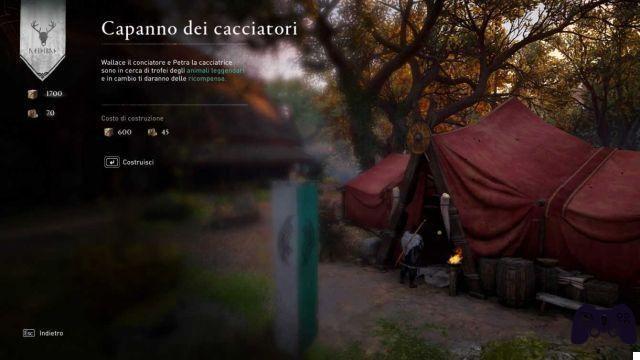 Just as the fisherman's hut does for fishing, the hunters' hut unlocks important hunting features. After a short introductory mission, you will be able to hunt legendary animals and exchange their skins for unique rewards. It is possible to hunt even without the hunter's hut, but through this you can create trophies to commemorate your best hunting expeditions.
Stable and aviary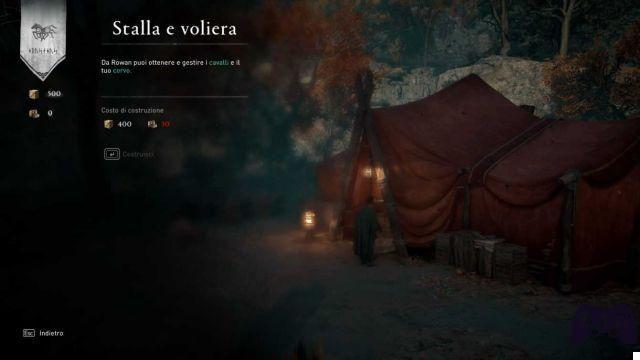 Just like the tattoo shop, with stable and aviary you can customize your thoroughbred or your inseparable raven. Those who have purchased the Ultimate Edition of the game will already have some customization items available for the horse and the raven right away. Everyone else will have to find or buy customization items.
Here it will be possible Also purchase mount upgrades and some of them are incredibly useful. What every player should definitely buy is the horse's swimming ability as soon as you have the required amount of silver.
Seer's hut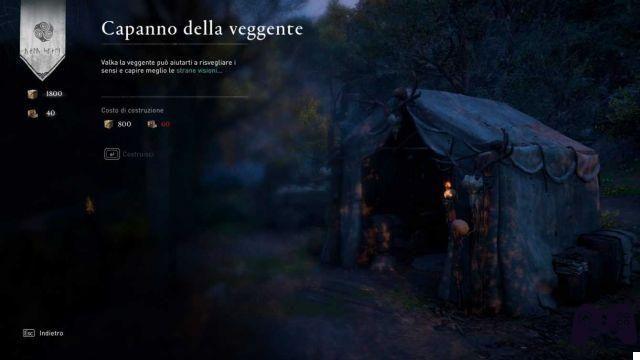 After spending some time in England, you must have reached level 3 of the settlement, Valka he will arrive in Ravensthorpe and move in with the Raven clan. By spending the supplies and raw materials to build his house, he will unlock himself an important series of missions which leads to some of the best content in the game.
Building his hut unlocks missions that allow you to reach the mythical realms of Asgard e Jotunheim. If you are a fan of the mythological contents of the previous chapters, Valka's house is certainly the most important of the Assassin's Creed settlement upgrades: Valhalla.
Good construction! - Best Assassin's Creed Settlement Upgrades: Valhalla
Obviously these are our recommendations. However, after building these main structures, you can build all the others for unlock various very useful power-ups throughout the adventure. For this guide to the best settlement upgrades in Assassin's Creed: Valhalla is now everything. In order not to miss any news on the videogame universe and beyond, keep following the pages of Holygamerz!