Season 7 of Apex Legends is getting closer and closer, let's try in this guide to understand what the news could be coming
Apex Legends is the gorgeous battle royale released in February 2019 by Electronic Arts and developed by Respawn Entertainment. A game that EA itself feared would inevitably fail in the clash with major titans of the genre: Fortnite and PUBG (Warzone wasn't out yet). Fortunately, the great publisher was wrong and more than a year after its release, we are still here talking about its inevitable future updates.
We are still playing in the sixth season, and so far we have seen the entry of new interesting legends, a new map, additional weapons and balances of all kinds and types. At this point we imagine that you are wondering what can we expect from Season 7 of Apex Legends, let's try to explore the possible innovations in this guide.
Two words of introduction
This Apex Legends novelty guide aims to bring together the greatest leak and rumor that pertain to Season 7. Therefore we invite you to take some of the things we have written with a grain of salt. However, very often the leaks related to this game turned out to be true and confirmed during the official announcements. In this regard there is the possibility that you will receive spoilers on future content. We have warned you; that said let's proceed with the article.
Valk or Blisk as new Legends - Apex Legends: guide to the news of season 7
Let's start with the bomb in this guide on the news of Season 7 of Apex Legends. A leak was recently published on social media, which if confirmed, may have revealed most of the legends coming. From the attached photo, what you see is the legend selection screen, complete with all the characters including those in the works. The presence of so many characters would be explained by the possible pace of Respawn's work. Developing more than one character at a time allows a better balance of the game and greater foresight, releasing from time to time the most suitable and refined legend for the occasion. The names of the characters are respectively: Valk, Blisk, Ash, Horizon, Fuse, Firebug and Husaria.
The top two on the list also appear to be the best candidates to be added next season. Some of Valk in particular have been unearthed audio files and possible skills:
Tactical – Cluster Missile: fires a rocket that explodes several times.
Passive – VTOL Jets: Press and hold the jump to start the VTOL jet that allows you to soar in the air.
Ultimate – Skyward: Press once to prepare for launch. Teammates can interact with Valk to participate in the launch. Press again to launch into the air and parachute.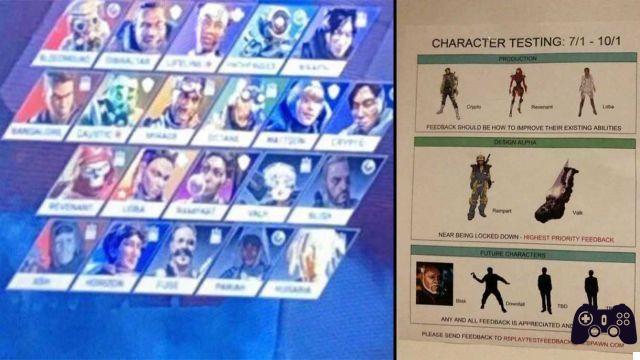 Is the arch close? - Apex Legends: season 7 news guide
There are very few clues to the new weapons. Respawn has always been very cautious about this, often implying that it will be increasingly difficult to see new offensive tools added to the game. Despite this, the first energy-based SMG has been included for Season 6. So is it time for a new weapon? Maybe it's early, but there are still clues that can help us understand what they're working on.
In this case it is not even a leak, but a real official image. In this artwork you can see a small object with a silhouette resembling a composite arch, weapon criminally absent. It has also been suggested that a new type of weapon, Gadget, may appear in the game in the future. Reliable data miner Shurgtal pointed out that there are already lines of code that refer to Gadget and suggested that they could be similar to smoke grenades, or otherwise non-offensive tools. Not having appeared in Apex Legends Season 6, they happen to be ripe for Season 7. After reading this paragraph of the guide, what news and weapons would you like to add to Apex Legends for Season 7? Let us know! Now let's move on to a very hot new topic: the map.
Hey, that's a compound bow. pic.twitter.com/ccq3IhMJ8b
- Shrugtal (@shrugtal) August 6, 2020
We go to Olympus - Apex Legends: guide to the news of season 7
The maps now available will almost certainly receive further updates. New areas and aesthetic elements have always been added every season, but what the whole community hopes for is the arrival of a new map to accompany the Canion of the Kings and Borders of the World. What that actually could happen soon, and why not, maybe directly among the main news of Season 7 of Apex Legends, let's see if we have taken it in this guide.
In fact, many times during the development of the plot a planet in particular has been named, the homeland of Lifeline and Octane. We are talking about the planet Psamathe, pre-existing in the Titanfall lore and first mentioned in Apex Legends during the Season XNUMX storyline finale "The Broken Ghost". Moment in which Lifeline advised her companions to reach the Olympus city on that planet. But that's not all, because Revenant's "soul" was sent to that city when Loba attempted to kill him.
Olympus, the floating city in the clouds, it could therefore be the next map in the game. Place we may have already seen in the "Legacy of a Thief" trailer, where Revenant killed Loba's parents. Olympus may be quite a hostile city too. Lifeline and Octane seem quite concerned about a potential homecoming in the Broken Ghost footage.
New weapon type. Gadget.
I suspect that this is the mysterious fourth slot on the UI in the devstream, due to both the weapon enumeration and some non-localized strings.
Speculation: Non-combat throwables, like Smoke Grenade? pic.twitter.com/fTaloSwhmX
- Shrugtal (@shrugtal) August 28, 2020
Questo è tutto
At the end of the day, however, only Respawn knows for sure what will be the news of Season 7 of Apex Legends, at the time of writing this guide, have not yet started to spread news about it.
Apex Legends is a game developed by Respawn Entertainment available for free on PC, Xbox One and PlayStation 4; soon a version for Nintendo Switch will also be released. I invite you to continue following us to stay updated on video games and technology.