Also in Animal Crossing: New Horizons the change of season has arrived, discover with our short guide which DIY projects are achievable with the new Summer Shells
Summer has finally arrived, at least the calendar one, considering that we are experiencing days of incessant rain. The fact is, that summer has finally arrived. After a long period of lockdown, all locked in the house playing Animal Crossing: New Horizons, finally being able to take a walk by the sea, have a mask-flavored ice cream and incessantly avoid other people, as indeed we have always done in the course of our life, it offers that smell of freshness that we so much needed. As for your desert island, however, together with the arrival of the Wedding Season, you will surely have noticed the presence of a new type of shells on the beaches, obviously not available the rest of the year, called Summer shells. Let's find out what you can do with it!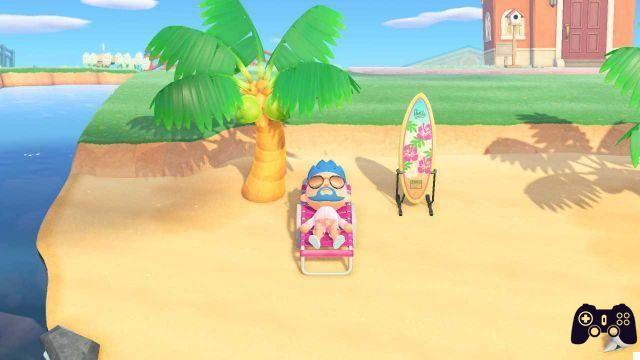 What time is it?
Before starting this guide i DIY projects that you can make with Summer Shells in Animal Crossing: New Horizons, we remind you that here on Holygamerz you can find the review of the latest Nintendo effort. You can also find a long series of guides on the title, for example how to build stairs to climb to the top, how to jump and travel in time, how to plant star trees, how to make a bunch of stars with turnips, our guide to colors of the various balloons, how to use shooting stars and much, much more. Furthermore, you can find our guide to fish and insects available starting from the month of June, and to what Florindo and Volpolo sell. Let's begin!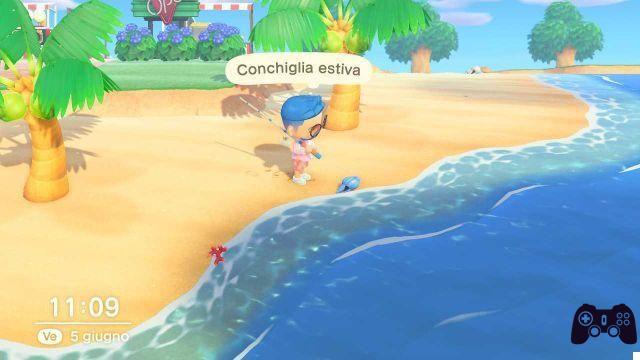 Where to find the Summer Shells? - Animal Crossing: New Horizons, Summer Seashell Projects guide
You can find the Summer Shells in limited quantities every day, on all the beaches of your island except the smaller one to the north (the one where Volpolo lands, so to speak). You can find these themed Shells from 1st June to 31st August if you are in the Northern Hemisphere, while, if you play in the Southern Hemisphere (for some obscure reason) you can find them from December 1st to February 29th. Considering that you will be able to find them in limited quantities, we advise you to make more laps during the day and collect them as soon as you see them, thus giving way, again based on the RNG, to make them appear once more.
Another advice we can give you to make them spawn several times is to collect all the shells you find on the beaches, even the non-seasonal ones. According to some experts, this would increase the possibility of Summer Shells spawning, but, to be honest, we haven't noticed excessive differences whatsoever. The concept is: they are few. So always collect them as soon as you can.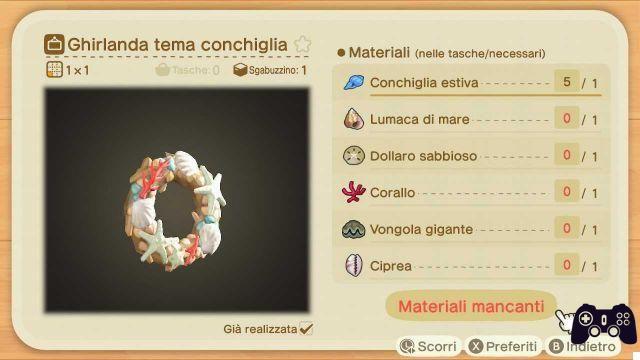 It's raining Stars - Animal Crossing: New Horizons, guide to Summer Seashell Projects
You can sell the units of Summer Shells to Mirco and Marco at the Bottega di Nook for a nice price, 600 stars, much higher than the average of the sales stars of the other shells, which stands at 300. Or, as you will have understood from the title of this guide, you can use them to manufacture the new summer objects through the DIY projects obtainable in this period limited time.
There are eight DIY projects for seasonal items from Summer Seashells, all of which can be found by bursting the balloons with the slingshot which, as always, will flutter over your island. The amount of Summer Shells that you will need to complete them all is 30 units, but as you can see below you will also need other materials. You will therefore have all the material time to collect them all, with a little more patience for the DIY projects that sometimes seem to be really unavailable.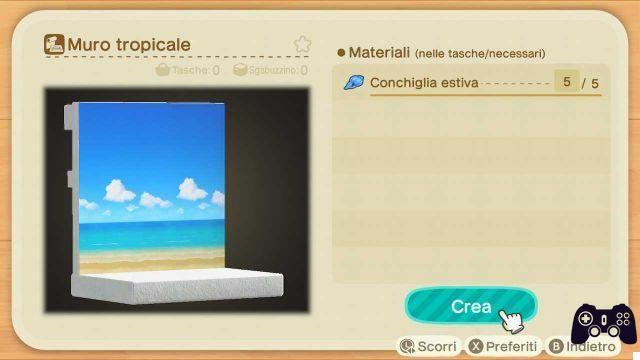 Here is the list of projects - Animal Crossing: New Horizons, Summer Seashell Projects guide
Below we list the eight DIY Projects based on Summer Shells, with the related recipes alongside:
Seashell theme wreath: 1 summer shell, 1 sea snail, 1 sandy dollar, 1 coral, 1 giant clam, 1 cowrie;
Shell wand: 3 summer shells, 3 star fragments;
Underfloor submarine: 3 summer shells, 3 corals;
Water floor: 6 summer shells;
Shell clutch bag: 6 summer shells, 2 giant clams;
Submarine wall: 3 summer shells, 5 corals;
Tropical wall: 5 summer shells;
Desert sand floor: 3 summer shells, 1 sand floor.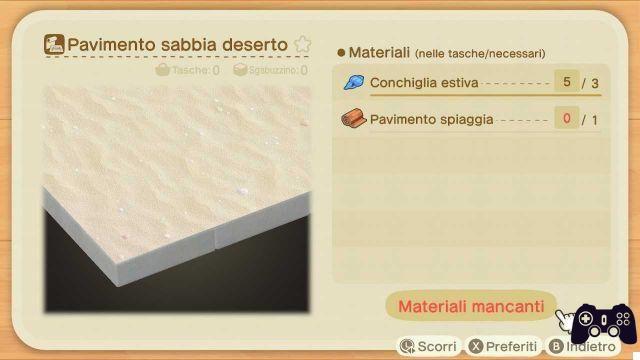 Once you have obtained all the blueprints and crafted the objects for the first time, in order to add them to your catalog, you can very well continue to build others to resell them to Mirco and Marco in Nook's Workshop. The projects will be worth very little, so our advice is always to exchange them with friends and acquaintances via the online, but seasonal items will always be paid a lot of stars. Take advantage of it if you have to finish paying that loan shark Tom Nook's house loan. Infamous.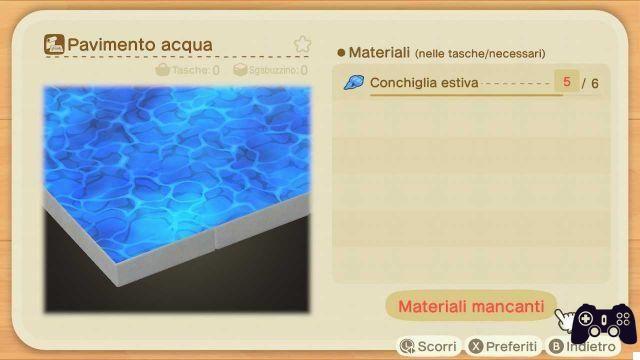 Summertime!
Here ends our guide to DIY Projects based on Summer Seashells in Animal Crossing: New Horizons. Are you continuing the administration of your island? How is it going? Have you paid off your mortgage? Write it to us below in the comments and stay tuned with us at Holygamerz for many other guides on all the events that will be made available in the latest Nintendo effort! Hoping they are slightly better than the Wedding Season.