Arm yourself with a net and a lot of patience, on Saturday 27 June the Insectomania event officially begins in Animal Crossing: New Horizons
Did the Wedding Season event explicitly bother you? Us too. Don't worry though, because Nintendo returns to break the monotony in Animal Crossing: New Horizons with a new seasonal mini-event very similar to the old Fishing Tournament. We are talking about Insectomania, an insect hunting tournament organized by our beloved Ivano, the worshiper of horrible little creatures. You can play this event today, June 27, 2020, and every fourth Saturday of the month throughout the summer months. The event starts at 9 am and ends at 18 pm and you can use Time Travel to replay it. So let's start with this new guide on Insectomania!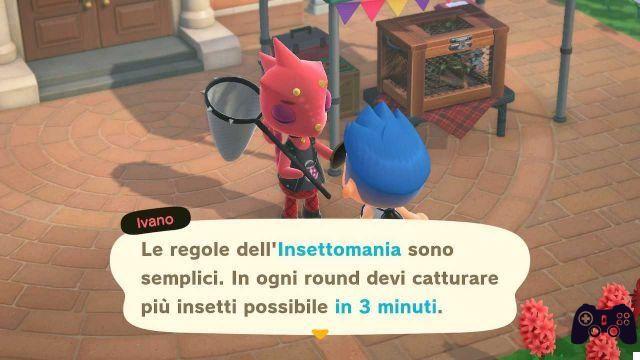 Gotta catch'em all!
Before starting our guide on Insectomania on Saturday 27 June 2020 on Animal Crossing: New Horizons, we remind you that here on Holygamerz you can find the review of the latest Nintendo effort. You can also find a long series of guides on the title, for example how to build stairs to climb to the top, how to jump and travel in time, how to plant star trees, how to make a bunch of stars with turnips, our guide to colors of the various balloons, how to use shooting stars and much, much more. Also, you can find our guide to fish and insects available from the end of June, and what Florindo and Volpolo sell. Let's begin!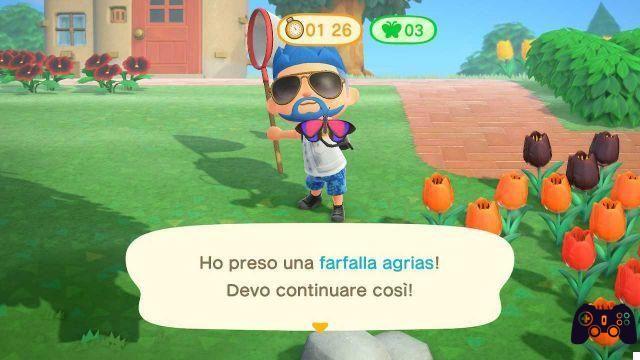 Sweet Ivano Ivano! - Animal Crossing: New Horizons, Insectomania guide
As we have already said, the Insectomania event is organized by Ivano and starts on Saturday 27 June at 9 am and ends at 18 pm on the same day. The basic rules are the same as in the old fishing tournament, but this time you will have to catch insects with the net. To activate the event, talk to Ivano in the square in front of the Service Center. Our red (?) Lizard will explain the rules of the game: you will have to catch as many insects as possible within 3 minutes. Each captured insect is worth one point and for every three bugs you catch you will earn a bonus point. It does not matter to perform series, so if any little creatures escape you, you will not receive penalties. The only limitation is that to start getting points you will need to catch at least three insects.
The first time you participate in Insectomania you can do it free of charge (offers Ivano!). From the second time on, however, the registration fee will be 500 stars. You don't even have to worry about lining your pockets, because during the 3 minutes all the insects you catch will be automatically teleported to the insect box placed in the square. Once the 3 minutes are over, you can go back to Ivano who will allow you to do many things.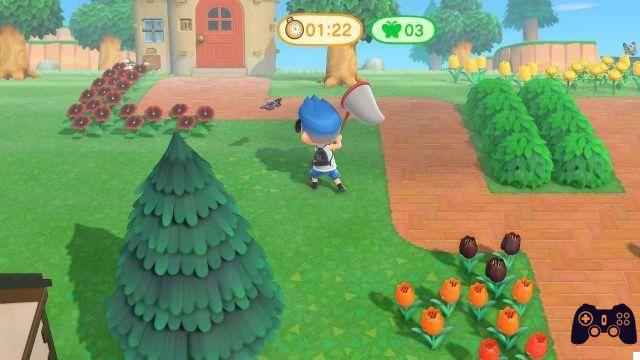 Yes, but how disgusting! - Animal Crossing: New Horizons, Insectomania guide
First Ivano will calculate the score of the round, assigning you the points you have earned. Then he will explain that you can do whatever you want with the insects that you have captured and that are present in the box: you can in fact choose whether to keep them or sell them to him. This type of event is in fact very useful for beginners, because it allows you to make loads of stars while having fun. In fact, Ivano will buy the creatures at a higher price, allowing you to make even the very common Yellow Butterflies a little treasure.
The only little advice that we feel like giving you is to always keep a new spare net in the Pockets. Should yours unfortunately break in the course of 3 minutes, you would waste a lot of time going to the workbench to craft a new one. We remind you that to build a net you will need a Fragile Net (craftable with 5 Branches) and a piece of Iron Ore. Alternatively, you can buy a different version from Mirco and Marco for the price of 2500 stars.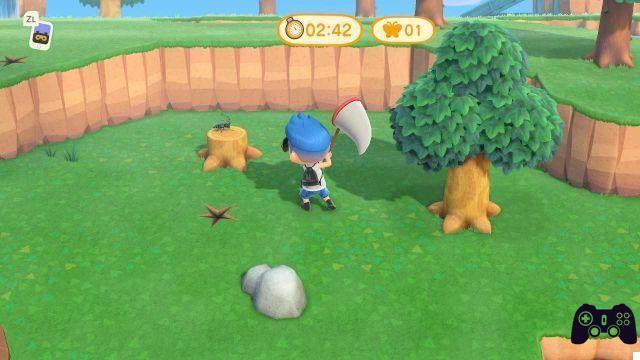 Themed items! - Animal Crossing: New Horizons, Insectomania guide
From Ivano you can also exchange the points obtained in the various rounds for specific themed items for Insectomania. To get a single item you will need 10 points and once you have all of them you can get them in double copies. Below you will find the list of objects that for now we at Holygamerz have obtained, we will try to update it as we get new stuff:
Spiderweb
Butterfly Backpack
Termite
Aloha Insects Shirt
Ladybug carpet
Butterflies wall
Insect cage
Fake cockroach
Spider web door plate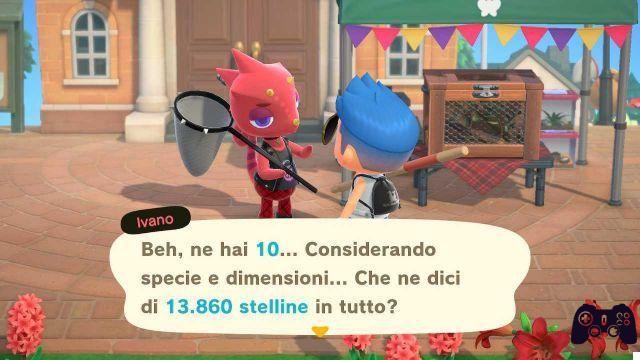 Good hunting!
Ours ends here Animal Crossing: New Horizons Insectomania guide. Will you participate in this small, but very funny event? What do you think of Nintendo's latest effort? Write it to us below in the comments, we will continue to keep you updated with all the news (and guides) on videogame and tech!