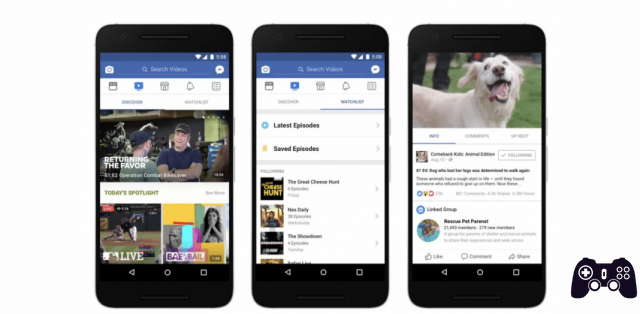 Facebook Watch is a new platform within the social network accessible from computers, tablets, smartwatches and TVs, and dedicated to watching video content.
A new show platform for all creators and publishers of visual content. Contents that can now be structured into episodes such as those of a TV series or an in-depth program.
In short, the TV in social network format. And to help people keep up with the shows that follow, and to make sure they don't miss the latest episodes, there's your own favorites list complete with suggestions organized by what friends are watching.
https://www.facebook.com/facebook/videos/10156285678786729/
Facebook Watch how it works
It is divided into two tables:
The first is dedicated to new Show, To most talked about videos and what friends are watching; in a word, to the contents yet to be discovered.
The second major section is the Watchlist, a customizable list of all the contents considered interesting by the individual user, where the upcoming news and the live shows scheduled by the producers followed will appear.
Currently available only in the United States in a few months it will also be applied to other countries.