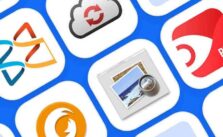 PDFs make it easy to manage documents, invoices, receipts and more. Sometimes, you may only need a page or part of a PDF file to share as an image. While using an iPhone, converting a PDF to an image format such as PNG or JPG is difficult. There is no built-in way to convert a PDF file to PNG. That's why you have to rely on third-party apps to get the job done.
Compared to a PDF format, we mainly prefer the PNG or JPG image to save it easily in the Photos app. With PDF, you have to use the Apple Files app every time you need to open or share a file with others. Read how to convert PDF to PNG on iPhone with few simple steps.
5 ways to edit PDF online
1. THE IMAGE CONVERTER
If you only need to convert a couple of PDF files to PNG, there is no need to buy an app. Image Converter is a useful tool that allows you to convert PDF files to PNG.
Download the Image Convert app.
Open the app and from the home page you will see a series of options to insert the PDF file.
In the example, we are using the Apple File app to import the file.
Select the PDF file and from the next page you can see different conversion options.
You can convert the PDF file to PNG, JPG, GIF, PSD, BMP and even SVG format.
Select PDF to PNG and hit the Convert File option at the bottom.
Converting PDF to PNG takes some time depending on the file size. The menu gives you an option to save it in the Photos app or share it with others using the iOS Share menu.
4 ways to convert PDF to Word
2. CONVERT PDF TO JPG,PDF TO PNG
As the name suggests, PDF to PNG is a simple PDF converter that allows users to convert PDF files to jpg and png. Follow the steps below to convert.
Download the app from the App Store.
Open the app and select the PDF file from the home page.
Tap the desired conversion format and start the process.
Tap the converted file and select the Open / Share PNG file option.
You can save the image in the Gallery or in the Files app.
How to scan multiple pages into one PDF file
3. CONVERT PDF TO JPEG
What if you have a large, long 150 page PDF file? What if the PDF file is password protected? The above solutions will not work with these PDF files. For this we need to download another third party app called Convert PDF to jpeg.
Download Convert PDF to jpeg
Open the app and you can import a PDF file from your device, Google Drive, OneDrive or Dropbox.
The app will extract the entire PDF file into multiple pages. You can select which pages to convert.
Hit the Convert button at the bottom and start the process.
You have seen how easy it is to convert PDF to image, now you can sign it, send it by email or download it using the Download button.
How to password protect PDFs on Mac, Windows and the web
4. PDF EXPERT
PDF Expert is not a PDF converter but it is a useful PDF editor app for iPhone. You can mark important information in books or documents with tools for highlighting, underlining, strikethrough and others.
It is also possible to insert predefined stamps such as Approved, Not approved, Confidential. PDF Expert also lets you draw with your finger or Apple Pencil, take handwritten notes or highlight text in scanned books.
Every possible option to edit PDF files is present in the app. Using the PDF Expert app, you can make changes to the document as you wish.
Use PDF Expert app, make necessary changes to PDF file, then use above mentioned solutions to convert PDF to PNG or JPG image format on iPhone.
CONVERT PDF TO PNG ON IPHONE IN ONE MINUTE
You can always use web-based and desktop PDF editors to convert PDF to PNG. But why use a knife to cut nails? These third-party apps work flawlessly and you won't have a hard time converting PDF files.
Further Reading:
Top 3 Ways to Convert HEIC to JPG on Mac
How to convert Word to PDF on MAC, Windows, Android and iPhone
How to prevent Microsoft Edge from opening PDF on Windows 10
How to convert your Chromecast into a Karaoke
How to convert a PDF to PowerPoint