I make a bet: at least once in your life, whether you are adults, children or teenagers, you have played Cooking Mama. Whether it was during a Christmas lunch on your cousin's Nintendo DS, under an umbrella on the beach or on your smartphone in the latest mobile version, the most famous cooking title ever entered our lives at some point , making us prepare fantastic-looking dishes and putting on a dose of absurd anxiety, because seeing Mama disappointed in our work broke our hearts like few other things.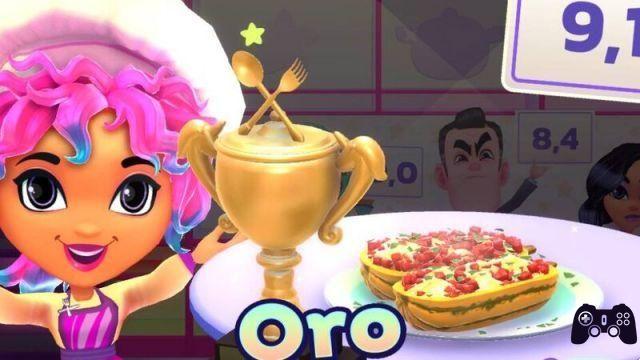 When I booted Yum Yum Cookstar I immediately felt a jolt of happiness: I could (virtually) get my hands on the dough again, cooking for another character with cheerleading skills worthy of the best US football teams. The new title from Planet Entertainment is in fact a cooking simulator that is very similar in style to Cooking Mama, however mixing with the rhythmic genre and giving life to a completely original work.
Spoon in hand and foot in rhythm
In Yum Yum Cookstar you will have to cook dishes with a rather extravagant appearance (just to give you a few examples, we find recipes such as "unicorn poop biscuits" and "rainbow waffles"), following the instructions of chef Yum and performing the various actions typical of cooking simulators to the rhythm of the music: in fact, it will not be enough for you to move your finger or the Joy-Con following the arrows, but you will have to do it according to the notes of the songs in the background. For each step you will be assigned a score, and in the end your work will be judged by four eccentric judges, who will give you a score from 1 to 10.
I want to clarify one thing right away: Yum Yum Cookstar is a title aimed mostly at children, so don't expect complex gameplay or ultra-detailed graphics. Although there are four difficulty levels — Relaxed, Casual, Pro and Cookstar —, you will never find yourself in difficulty, since the steps to be carried out are quite simple, and the songs, unfortunately, are always the same for each recipe.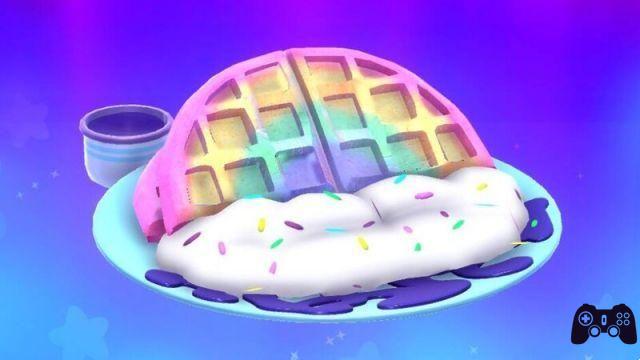 Being marketed as a rhythm game, I expected that the songs would be different for each recipe, or at least increased in speed on the harder modes, making the gameplay a bit more dynamic and tough. While Nile Rodgers did a good job with the soundtrack, creating very catchy and up-tempo songs, these they quickly become repetitive and follow a pattern that is too simple, thus wasting the opportunity to create a work truly halfway between a cooking simulator and a rhythmic one.
To give you an idea, I would have expected a title in the style of Parappa the Rapper, where the pace gets faster as the level progresses, going from being relaxing to more complex and challenging. Yum Yum Cookstar, on the other hand, is always on the same level, and by increasing the difficulty of the game, the only things that change are the presence or absence of the timer and suggestions. The progression of the gameplay instead consists in obtaining high scores in the recipes (which are evaluated, exactly like in Cooking Mama, with bronze, silver or gold medals), thus unlocking new tools and techniques that will lead you to obtain new recipes and so away, for a teatotal of 70 dishes.
A wasted opportunity?
In the Nintendo Switch version you will be able to choose whether to use the touch screen or the Joy-Con; in the first case I encountered some Touch recognition problems, finding myself — to no small amount of frustration — having to apply a lot of pressure to register my actions. This is a real shame, given that it is precisely being able to swipe with your fingers that generates the feeling of involvement, necessary to have fun in such a title.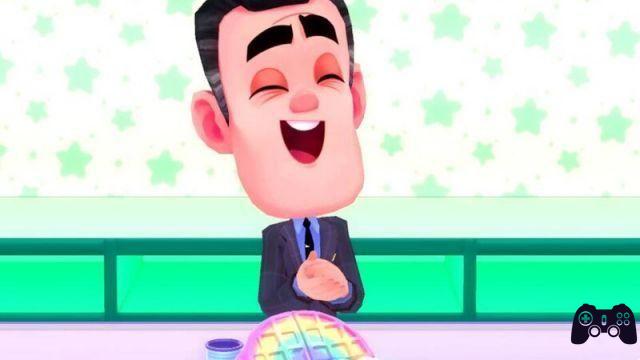 Instead, I appreciated the idea of ​​having the dishes judged by a jury, which made me feel a bit like a Totsuki academy student in Food Wars; although the judges' comments aren't particularly original, it's nice to hear something beyond the usual three sentences of feedback typical of cooking simulators. I was sad though that, although the game is available in Spanish, the dubbing is only in English, thus not allowing the smaller audience to understand what is being said.