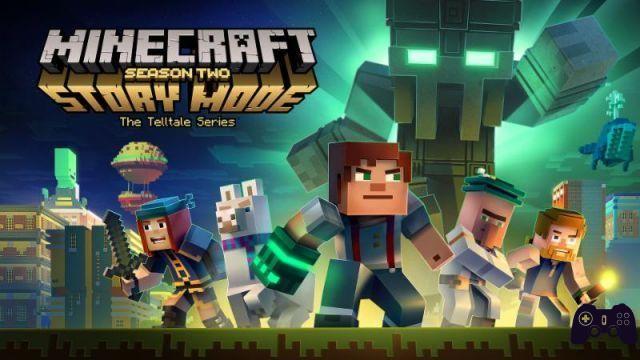 When you thought it was all over and instead a new even greater threat appears on the horizon.
It seemed over last September, after that long-awaited eighth episode that put an end to the adventures of the new Order of the Stone, in the universe of Minecraft reimagined by Telltale. The same team began to focus on other things, from Batman to the return of The Walking Dead, through to the Guardians of the Galaxy, it seemed like Jesse and company had earned their peace forever.
But no.
A new threat, new adventures, new travel companions, the second season of Minecraft Story Mode premiered last July 11 on PlayStation 4, Xbox One, PC and mobile devices. Same formula as always, even this new series is available both by purchasing each episode individually, and through the Season Pass (€ 28,99) and securing all five episodes. Let's find out if "Hero in Residence"Manages to redeem sins of its predecessors and turn out to be a positive surprise.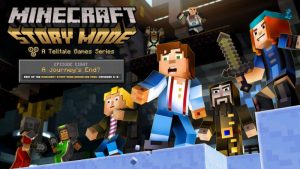 To learn more:
Minecraft: Story Mode Episode Eight- A Journey's End?
Version tested: PlayStation 4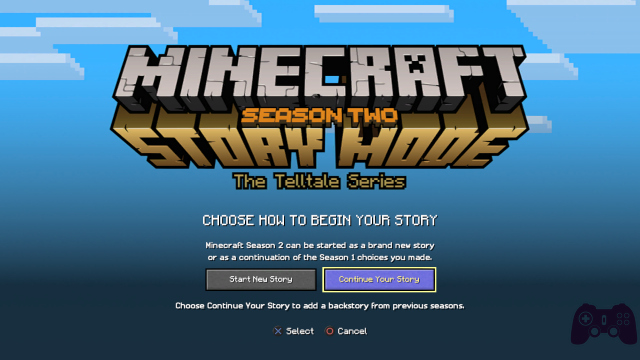 Telltale allows you to import the saves and choices from the first season, so that you already have a basis for your story, with the relationship between Jesse and his friends. Despite this, however, you will still be given the opportunity to change the appearance of the protagonist.
If you don't have the saves you can also recreate the story, retracing the most important choices, in a similar way to what we saw in The Walking Dead.
The glove of infinity (more or less)
We left Jesse and associates returning from an interdimensional journey, where they met the Old Builders and made a name for themselves as Order of the Stone. Each of the members of the group now lives his own life, full of fame and responsibility, Jesse is the head of BaconTown, and does everything to make his citizens happy. There is no more time to travel together, because the peace and prosperity of each citizen must be guaranteed, and the moments when the Order is in the same room are very few. Jesse, however, loves adventure and tries to carve out a moment in his day as a Hero in Residence (hence the title of the episode) to accompany Petra on an underground side quest. While looking for a Lama, the two will find a strange glove that seems to whisper the name of our hero. Once worn, Jesse will kick off a series of events that are likely to have consequences for all five episodes. Probably because Hero in Residence is eventful, which they could very well be spread over at least two episodes and not all concentrate over the two and a half hours it takes to get to the inevitable cliffhanger. Telltale definitely throws too much meat into the fire, between the Admin (which we will talk about better not to Spoiler in the next review), the new characters and the relationship with Petra, as well as trips of a few seconds and events left to themselves (which we hope are resumed). Also from the point of view of the narrative choices we have not yet found ourselves in front of real crossroads with no return, even if probably in the first episode of a series this can be justified.
Between new and old things
Hero in Residence also brings with it a couple of new features in the simple gameplay we saw in the first season. In addition to an improved creation plan that shows a preview of what we are going to create, Telltale has added a stamina bar to attack enemies, which will be consumed with every hit made or dodged. Of course, there is no shortage of QTE, now a classic trademark of the team, and the possibility of creating freely with blocks has been added, one of the prerogatives of the Mojang series and which strangely had never been made available in previous episodes. Unfortunately, this mini editor is only used once at the beginning of Hero in Residence, we therefore hope to be seen more often in the coming months.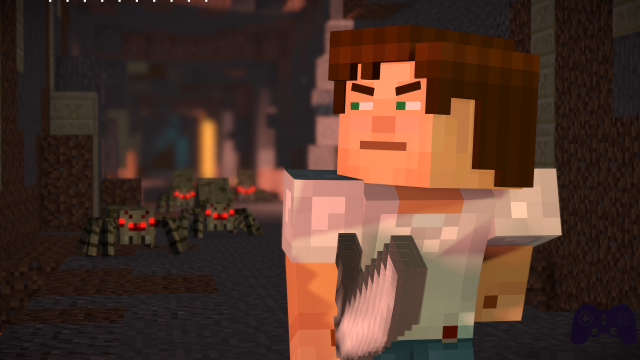 Visually, obviously, there hasn't been significant progress, also because Minecraft certainly doesn't need high definition to be recognized. The dubbing and the sound sector in general is still very good, which finds all the voices of the previous season flanked by the new characters.
Finally, Couch Play (which debuted with Batman) was also introduced for Minecraft: Story Mode, with which you can compare Jesse's choices and the crossroads of history with your friends.
Verdict 6.5 / 10 We will never get rid of it Comment Hero in Residence kicks off the second season of Minecraft: Story Mode by throwing numerous plot ideas, and opening and closing secondary stories within twenty minutes, leaving us really incredulous about what is contained there is in this first episode. It was certainly possible to obtain two different episodes, paying more attention to certain events (which we sincerely hope have not been liquidated like this), it is still early to reject (or promote) this second season of Minecraft: Story Mode but, once you get to the titles of queue of Hero in Residence, a question arose, did we really need another Jesse adventure so soon? Pros and cons
✓
Ability to import the save
✓
Good dubbing
✓
Some good ideas ...
x
... but not fully exploited
x
Too many events in one episode