PC
To enable code mode press the key combination Ctrl + Shift + C then execute the following codes:
Rosebud
1000 Simoleon
hist_add
Adds a new "historical statistic" to the current family
import
Automatically imports the FAM file
house
Automatically import the desired house
prepare_lot
Check and correct the object
water_tool
make a ditch or stream
shrink_text
create a text
edit_char
create a character mode
interests
displays personality and interests
draw_all_frames off
All animations disabled
draw_all_frames on
All animations enabled
draw_origins
colored dots
core_dump
Download full memory to core_dump_ [date: time] .txt
dump_happy
Download some data of the selected characters to a file
sim_log end
Termine del log
cht
Executes the "file.cht" as a code list
draw_floorable off
Grid disabled
draw_floorable on
Grid enabled
assert
Force a test affirmation
log_animations
Animation log
map_edit off
Map editor disabled
map_edit on
Map editor enabled
move_objects on
Move any object
tutorial off
No item generation tutorial, when the house tutorial is loaded
browser_failsafe
Prevents crashes of web browsers
preview_anims off
Animation preview off
preview_anims on
Animation preview on
quit
Finish the game
#import
Reads the behavior from the Tuning.txt file
rebuild_cp
Rebuilds the entire panel / UCP
refresh_faces
Update Resource_BMPs for all those people whose IFF files are rewritable
refresh_textures
Re-match textures and bitmaps for all characters
restore_tut
Reset the tutorial
rotation
Rotate the camera
route_balloons off
Rotation of debug balloons disabled
route_balloons on
Rotation of debug balloons enabled
fam_test
Performs a series of random operations on homeless families
save
Save the current houses previously loaded
history
Save the family history file
draw_routes on
Displays the path of the selected person
draw_routes off
Hide the path of the selected person
autonomy -
sim_speed -
grow_grass -
sim_speed -
Move_objects on
Allows you to move your sims if you are in "buy" mode
Set_hour to ##
Allows you to set the time by entering values ​​in the ## fields
Rosebud
1000 Simoleon
Enter [!] At the prompt to repeat the last code entered.
Insert a [;] between two codes to enter multiple codes at once.
To get money quickly, enable the code mode in the usual way and enter Rosebud as a code. Then hold down [Enter] to flash "No such cheat". Hold the button to earn 99 million simolians.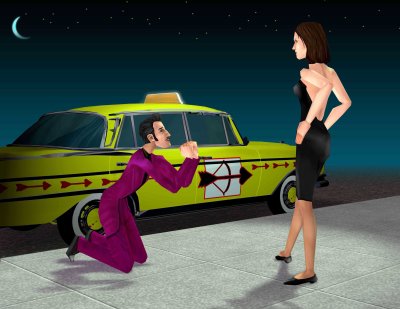 The Sims: Hot Date pc
Exit date: not available