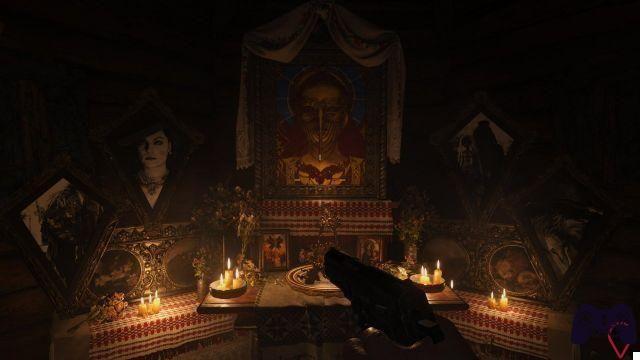 In this guide dedicated to Resident evil village we want to help you get the treasure of the house Welcome. The title Capcom, which we told you about in our review, is packed with things to do and hidden objects to find. One of these is the treasure of the Beneviento house, which will test your patience in finding it but will also give you great satisfaction.
ATTENTION: we remind you that we should tell you how to get the treasure, and consequently this guide may contain SPOILERS on the Resident Evil Village plot, so we invite you to continue reading the guide only if you have already finished the game or if you already know what to do.
This treasure is located in the north-west part of the Village in front of Casa Beneviento. You will automatically go there during the story, but on your first visit you will not be able to find the treasure. First you will have to find the piece of slab of the tombstone of the Beneviento tomb, located in the center of the village. Go back to the Beneviento house, but pay attention to the miniboss that will be generated. Once defeated, place the broken slab on the tomb to find the Beneviento treasure.
Go back to the tomb at Casa dei Beneviento. Beware, a miniboss will spawn here and can take a lot of damage, so be prepared with enough ammo. Once defeated, place the broken slab on the grave. Now the tomb opens and reveals Beneviento's treasure.
Your hard-earned reward will be the Chalice of Berengario, you can easily sell it to the Duke's shop for 18.000 Lei.
This is all there is to know in our guide dedicated to the Beneviento treasure of Resident Evil Village, if you need more details on the game or you need other advice, we refer you to our complete dedicated guide where you will also find all the others solutions to best complete the adventure.