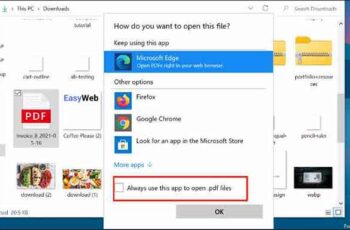 Unlike macOS, Microsoft has integrated the PDF reader directly into the default Edge browser on Windows 10. Over time, the company has improved the PDF reader in the Edge browser, but it is unmatched by established third-party PDF readers.
Also, with each Windows 10 update, Microsoft changes the default PDF reader in the Edge browser in Windows Settings. Read on to learn how to prevent Microsoft Edge from opening PDFs on Windows 10.
How to convert a PDF to PowerPoint
How to edit PDF quickly and easily
4 ways to convert PDF to PNG on iPhone
5 ways to edit PDF online
Prevent Microsoft Edge from opening PDF on Windows 10
There are a couple of ways to stop Edge from being the default PDF reader on Windows 10. At the bottom, we'll also mention our recommended PDF readers for Windows 10.
1. Use the Windows Settings menu
Using the Default Settings app, you can change the default browser, music, video and PDF reading apps on Windows 10. Here's how to do it.
Open the app Settings su Windows 10 (usa i taste Windows + I).
Go to section App.
Select Predefined app from the left sidebar.
From the right side, you will see the default apps for Music Player, Photo viewer, Video player and Web browser. Scroll down and select Choose default apps by file type.
You will see the default and favorite apps for all possible file types on Windows 10. Use the search bar in the top left corner and type PDF.
You will notice that Microsoft Edge is set as the default choice for opening PDFs on Windows 10. Click Microsoft Edge and change it to your favorite app or software to open PDF on Windows 10.
That's all. From now on, PDFs won't open in Edge browser. It will use your favorite app to open PDF files.
2. Use the context menu
As you can see from the method above, the ability to change the default PDF reader on Windows 10 is hidden in the Settings menu. There is another method you can use to prevent Edge from quickly opening PDFs on Windows 10.
Open the app File Manager (Windows + E) on Windows 10.
Locate any PDF file and right click on it.
Select Open with and click Choose another app from the following menu.
Select your favorite PDF app from the list and enable the option Always use this app to open .pdf files.
You have successfully changed the default PDF reader from Microsoft Edge to another app on Windows 10.
The best PDF readers on Windows 10
Of course you would like to upgrade from Microsoft Edge to a full-featured PDF viewer / editor on Windows 10. There are dozens of PDF viewers / editors for Windows 10. Among them, both PDFelement and Foxit PDF are our recommended options to choose from. Let's talk about them.
1.PDFelement
If you often need to edit PDF on Windows, look no further and choose Wondershare PDFelement. It's a powerful PDF editor with all the bells and whistles you might need.
Users can add fonts, change their size and color, add comments, stamps, and even password protect a PDF. When it comes to exporting, PDFelement has covered every possible scenario. You can convert a PDF to a Word, PPT, text, image or even an Excel sheet.
The free version is limited in terms of features and applies a watermark when exporting a PDF file. The Pro copy is priced at $ 129 and you can also opt for the subscription option. Download PDFelement
2. Foxit PDF
Foxit is one of the older PDF editors for Windows 10. The app featured the popular ribbon user interface, but now the company has updated it with a modern look and design.
The app is full of useful features for a PDF editor. You can add text, sign a document, scribble on a PDF and password protect it before sharing it with colleagues.
Foxit PDF's best feature is the OCR add-on. It can easily extract text from images.
Foxit PDF is available on both Mac and Windows. The software has a 14-day free trial, after which you will have to pay $ 95 per year. Download Foxit PDF
Conclusion: It prevents Microsoft Edge from opening PDFs
As you can see from the methods above, it is quite simple to prevent Microsoft Edge from opening PDF files on Windows 10. We recommend using a capable PDF editor such as Foxit, PDFelement, or Adobe Acrobat if you want more than just a PDF viewer.
Further Reading:
How to deal with Microsoft Edge not opening on Windows 10
4 methods to prevent Microsoft Edge from opening automatically
8 solutions for when Microsoft Edge won't open PDFs in Windows
How to save a webpage as PDF on Microsoft Edge
Windows 10 2004: Edge and Chrome can now use up to 27% less RAM