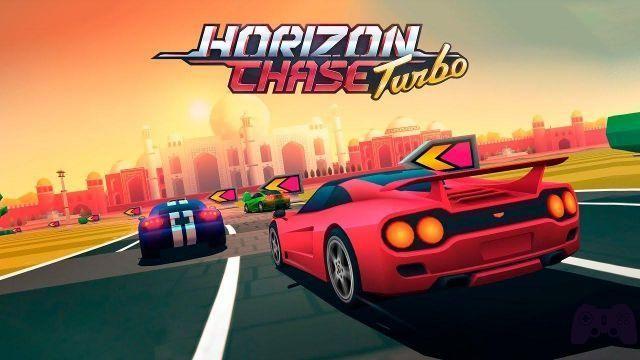 Aquiris reminds us how beautiful the outrunners were, declining them in the present.

Horizon Chase Turbo is so vintage in appearance that it resembles those wonderful toys with mini steering wheel and magnetic track, where the toy car is trapped in the blissful illusion of travel while the whole world is flowing around it.
Or even more basic and do-it-yourself things, like this one.
It is the concept, the essence on which the racing games that exploded with Yu Suzuki's masterpiece were born, and which today Aquiris brings back into vogue, not for technological limitations but for the principle of artisan rediscovery and culture to be handed down and renewed. Three-dimensional pop art that moves exquisitely two-dimensional driving sensations, relying on a plastic and toy low poly glance, very colorful and hyper-saturated, shot at 60 frames per second to give speed to all his author fakes (Il Pandino professional version opened my heart!). Engage in a world tour that replaces the OutRun journey with pure, tight competition, all shuttered, insulted and chased from the last position every, sacrosanct, race. And perhaps the Brazilian student has even surpassed the Japanese teacher.
Version tested: Nintendo Switch
Racing treadmill
The work Aquiris is a Neo-Impressionist arcade, as soft in its minimal panoramas, with few polygons and delightfully drawn backgrounds, without claustrophobic outlines, as in a velvety gameplay, on which to slide the replica of an Aventador between the chicanes of the port of Santorini, under its multi-admired sunset in red-purple hues. Overwhelming fluidity that glorifies the treadmill loop of the circuit, which runs very fast under the wheels of our racing car, teasing the reactivity and stimulating a pinch of clairvoyance to anticipate the ideal trajectory and overcome the curves at maximum revs. All taking into account opponents who do not give up anything, studying overtaking to the millimeter and performing maneuvers at the limit of off-track and consequent rollover quotations. A precision game at 300km / h that pumps adrenaline and cold blood in equal measure, ingredients of an emotional mixture that leads to do better and better, trying and trying again until you conquer the first place and all the coins, even in the most infamous corners and away from the rope points, to put yet another gold super trophy on the showcase. A variable that stimulates instant memorization and brings the risk element to the field, running above all for the glory of completism.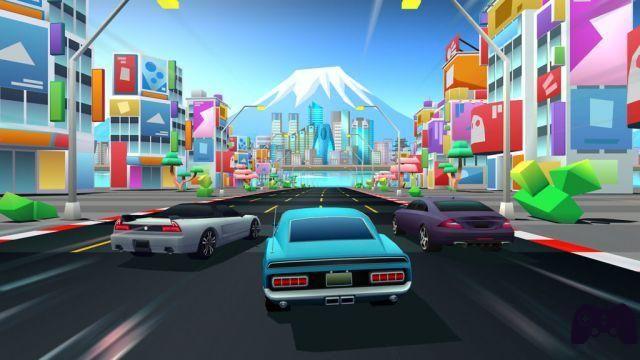 Not only collectible, however, arranged along the tracks there will also be precious petrol cans with which to feed our thirsty high-consumption V8 on the fly, which will ramp up exponentially once the devastating turbo is triggered, to be used sparingly and with great enjoyment. On the other hand, as Jeremy Clarkson says, even just the word "Turbo" is capable of enhancing the performance of a car and its driver, making everything incredibly cooler. A gameplay mousse that melts under your fingertips, with a control system that is as immediate as it is buttery and conditioned by the characteristics of the cars, fake authors who manage to have their own personality, however, they are so adorable, caricatured and snarling.
Every perfect curve is a caress, every overtaking a thrill, each screenshot a possible piece of furniture for the walls of the house, so sensational are the style and color palette, which seems to have been studied by leafing through a Pantone day and night. Essential postcards that trap the cultural and architectural identity of our stops in a few strokes; Brazil, Greece, Iceland, Japan, Chile, South Africa and many other locations, first of all some little exploited in the medium tout court, background of circuits with a great track design, also graced by an exceptional taste for atmospheric dynamism. Rain, snow, storms of lightning and sand, as well as day and night that play with the lighting and chase each other over 3 laps, throwing the most distracted driver into total darkness. Not only very fine aesthetic elements, but real obstacles to overcome in a challenge already calibrated to stimulate and make perfect, also because each race has its own global online ranking to deal with.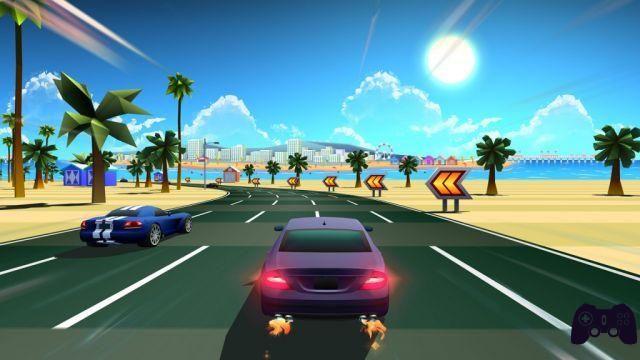 Whether they are world tours, tournaments, endurance races or the brand new Playground mode, which offers 5 challenges of increasing difficulty and the most bizarre variables, updated periodically, Horizon Chase Turbo is a seamless marvel, accompanied by the soundtrack of Barry Leitch, composer of such milestones as Top Gear and Lotus Turbo Challenge. Synthwave, synthrock, ethnic contaminations of the corner of the world we are traveling through, each track refers to the golden age of the genre without ever being a pimp and making us listen to something new and galvanizing, which comes from the ashes of the chiptune scores that were, reinterpreting audio-visual ideals of 2018 years ago in a 30 key. The only glimpse of such a vibrant rebirth is found in some impromptu and dramatic drop in frame rate, which halves the frames per second by breaking the toy into its supporting element, fluidity. A work of this kind rests its foundations on 60fps, which faithfully reproduces every micro-section of the track on the screen and when this happens, fortunately not often, you are thrown into an epileptic stop-motion race, particularly annoying for the eyes. . Will it be fixed with a patch? Probably. Just on the 28th, the day of the launch on Switch and Xbox One (on PS4, PC and mobile devices it has already been available for about a year), the title received an update and playing it I no longer noticed any problems whatsoever. Whether it was coincidence or not, it was right to report it.
Verdict 9/10 Magical golden shower Comment Horizon Chase Turbo is not a dull tribute without art or part to 80s (and partly 90s) racing games, but it is their latest heir, the sapiens-sapiens of a species that seemed extinct and who instead does not give a damn about photorealistic and simulative carnivores, sheltered in a low-poly ecosystem of rare wonder. A beauty to drive, illusory, very soft, very fast, and to look at, with a style full of color and caricatured personality. It is thus, with character and new gameplay contaminations, that one escapes nostalgia to shine with one's own light and look with optimism at a possible nouvelle vague of classic arcade racing. Pros and cons
✓
Overwhelming fluidity of action
✓
Aesthetically cla-mo-ro-so
✓
Lots to drive and rig
x
Some bad frame rate drops