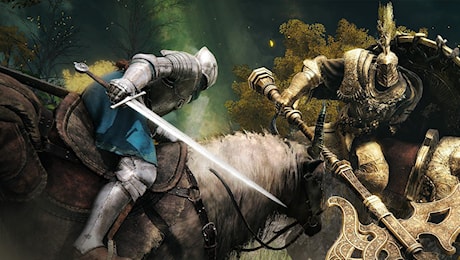 It wouldn't be a dream to play Elden Ring on the gigantic movie theater screen? Someone has seriously realized this vision by renting one just to play his favorite video game, and then testify everything on the web, leaving the community literally speechless.
Today, I hired out a cinema and the first thing I did was play Elden ring and get wrecked by Melania from Eldenring
A new photograph taken in a movie theater recently popped up on Reddit where you can see Elden Ring projected on the big screen. A work never seen before, at least on the web, created by the user SuportSloth07, accompanying it all with the following sentence: "Today I rented a cinema and the first thing I did was play Elden Ring and get torn to pieces by Malenia (Melania in the original post)".
Such a feat immediately raised the spirits of the community, with video game lovers immediately flocking to the comments, asking for as much information as possible from its author. In recounting the details behind the "screening of Elden Ring", the user revealed that it is a cinema in Queensland, Australia and that he spent around 300 Australian dollars. There is nothing surprising about such a dynamic. Cinemas have always worked in contact with the public following paths of this type, even if the screening of a video game is certainly out of the ordinary.
Mentioning a second to the current situation and future of Elden Ring, in recent months there have been many rumors regarding a new DLC, with leaks and experiments, speculations regarding future and probable bosses, towards which the most ardent fans seem to be extremely sure. For the moment, unfortunately, we still don't have any official news on the matter, even if the great success of this video game does not exclude new developments and expansions at all.
Before saying goodbye, we advise you to visit our YouTube channel, where you can find videos dedicated to the gaming world at 360 degrees.