The new update will soon be released, called Apex Legends Legacy, which will kick off season 9; in the meantime, let's analyze all the news through the official patch notes
The new big update of Apex Legends is arriving tomorrow, May 4th. It will bring many great news: as we have already seen in the various trailers that have come out so far, in addition to the two main attractions well known to fans, namely the new Valkyrie legend and the new 3 vs 3 call mode Arene, there will be many other new additions and changes to consider (such as, for example, the new Arco Bocek or the new map of Olympus updated). Below, therefore, we will analyze the notes of the Apex Legends: Legacy patch, so that we can better understand what awaits us in this new season 9.
Arenas, new permanent mode
Analyzing the various news through the Apex Legends Legacy patch notes, we cannot fail to mention the new mode that will be introduced with season 9. Arene is presented as a permanent game mode, and therefore will also be updated in the future. This is a real break from the concept of battle royale: instead of 20 teams, we will have simple clashes Vs. 3 3, much faster and more frenetic. Clearly Arene features a new set of custom maps, tailored for close combat (with new additions coming soon).
Teams will start each round in a dedicated spawn room, where you can buy and change weapons, equipment and skills based on the strategy that will be decided to adopt. To win a match, it will be necessary to win at least three rounds and have at least a two-point advantage over the opposing team. If, once it reaches 3 points, the team does not have a 2-point advantage over the opponents, it will proceed with the advantages. If you arrive at a score of 4 to 4, then you will go directly to the mode Sudden Death, in which whoever wins the round will take home the victory.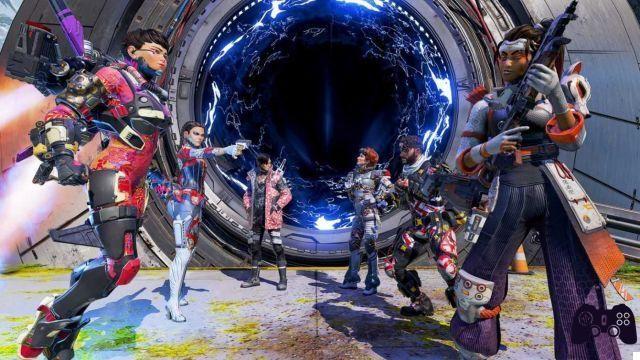 Custom Arenas - Apex Legends: Legacy season 9 patch notes
For this new mode we will find both new custom maps, and limited areas of existing maps. In addition to limited sections of the already well-known Kings Canyon, World's End and Olympus, we will also find two new maps created specifically for this new mode. The first map, called "Mood breaker", Occupies a luxurious plaza where players will be able to interact with the wreck of the Mirage Voyage and opulent two-story buildings. It is a very varied map, where each area has its strengths and offers a wide variety of options.
The second instead, called "Phase duct", is an experimental area hidden on top of a mountain. The center is very open and will allow players to spot enemies from great distances. Conversely, points of interest will favor close and medium range combat. Furthermore, starting from both spawn points, players will be able to use the so-called phasic duct prototype to have immediate access to certain areas and immediately get to the heart of the action.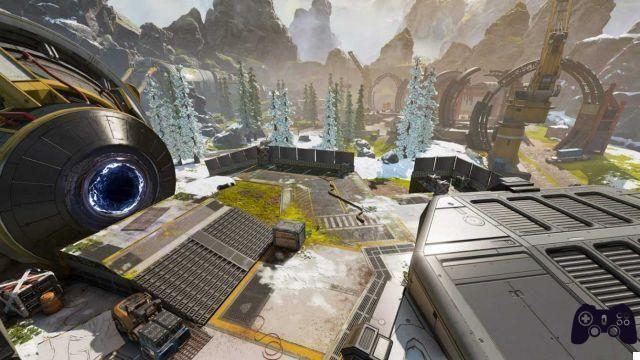 Valkyrie, new Legend - Apex Legends: Legacy, season 9 patch notes
Code name of Kairi Imahara, daughter of the Apex Predator Viper (appeared as one of the antagonists in Titanium case 2), Valkyrie seeks revenge on the one responsible for her father's death. In honor of his memory, he recovered the remains of his Titan Northstar and reused them to create his stylish jetpack. In fact, it will be a fundamental element of the gameplay that characterizes Valkyrie: as a passive skill we will have the jet VTOL, thanks to which the player will be able to fly for short periods (the fuel regenerates automatically once on the ground), allowing him to position himself in the best areas in a short time.
As a tactical skill we will be able to find the "Missile Storm", thanks to which it will be possible to fire a swarm of mini-rockets that will damage and disorient the opponents. If, on the other hand, we talk about Ultimate abilities, Valkyrie will have at his disposal "Ethereal momentum", which consists of a big leap in the air that will maximize the use of the jetpack (and also its allies will be able to hook up to the take-off systems to follow Valkyrie).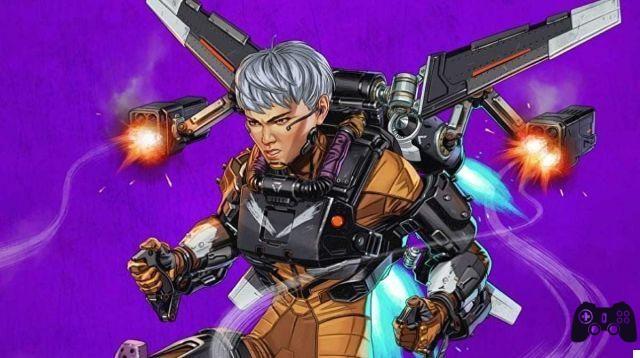 Arco Bocek, new weapon - Apex Legends: Legacy, season 9 patch notes
The bow Bocek is the new weapon that will be introduced in this season 9: from what we can read in the Apex Legends: Legacy patch notes, we know that it is a precision weapon, therefore more suitable for a safe and precise hand. Being a bow, we can decide how long to keep the string taut, changing trajectory and damage of the blow based on how much we decide to shoot. Trying to shoot the arrow at the precise moment in which the bow reaches its maximum tension will bring a considerable damage bonus.
A new type of ammunition will be introduced for this weapon, namely arrows. They will be rarer than usual to find on the battlefield, but not all evil comes to harm: the arrows shot that miss the target will stick to the hit surface and will consequently be recoverable, allowing the player to reuse them later. Various types of sights will be equipped in this weapon and two new hop-ups will be introduced, Shatter Caps e deadeye's time, both can be equipped simultaneously on the Bocek bow.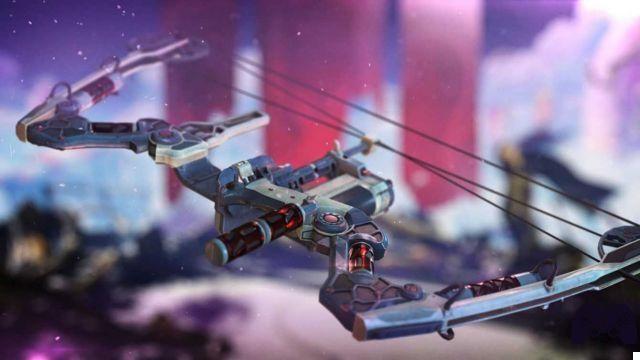 Olympus, new version Haunted with Icarus - Apex Legends: Legacy, season 9 patch notes
A mysterious fleet from outer space has entered Psamathe's atmosphere, and the main ship, Icarus, he docked on Olympus, bringing with him a robust parasitic plant of unknown origin. This plant has begun to haunt the entirety of the map, radically changing its structure. As specified by Dave Osei, level designer di Apex Legends, the development team was aware that Olympus had fewer points of interest than other maps, so they wanted to update it to fix this problem.
With Icarus' ship docked in the middle of the map, between Piazza dei Bonsai, Solar Power Station and Orbital Cannon: the dynamics and balances will change radically. Like the Crossroads section: formerly a sniper paradise, since Icarus will block much of the view, sniper rifle users will likely have to change tactics.
The interior of the ship will also be explorable. In particular, you can find a series of corpses: on one of them you will find an access key. This key will be essential, because it will allow you to access the front of the ship where the best equipment will be found. We will therefore also have to pay attention to the other players who will try to grab it.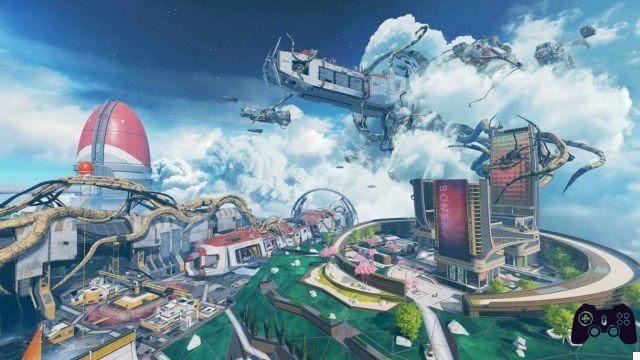 Starter Kit, Loot, Emote, Battle Pass – Apex Legends: Legacy, note della patch della season 9
So far we have talked about the innovations considered main: among the notes of the Apex Legends: Legacy patch we can actually find many elements that will be subject to changes in this season 9. In this and in the next paragraph, we will try to summarize them. First of all, it must be said that from now on the players will start the matches with a so-called "Starter Kit", thanks to which each will be provided with a level 1 EVO shield, along with two shield cells, two syringes and other useful items to start the game. Same EVO level 1 shields however, they will be more difficult to find around as a loot. Conversely, other types of items, such as weapons, ammunition, health will be a little easier to find.
In addition, the emote, previously still present on Apex Legends. Each Legend will have only one initial emote: to unlock the others you will need to find them in the Apex packs or craft them. Finally, you can find, as in every new season, the Origins Battle Pass, through which you can unlock brand new rewards, including new skins.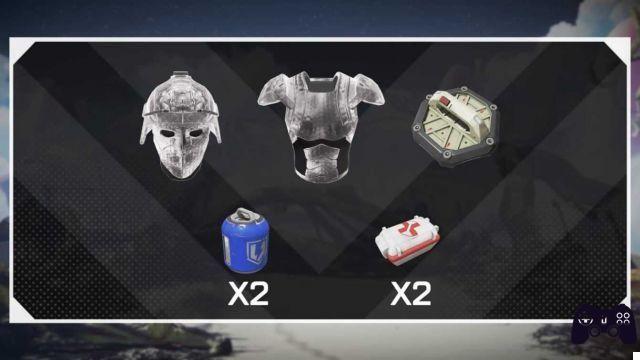 Final balances
Last but not least, let's talk about the balances that will be applied to Legends and weapons. In fact, not only will the abilities of individual characters be modified, but also the weapons and their rotation in the loot will undergo substantial changes. Let's try to summarize the most important elements below: if you want to see every single detail, the advice is to contact the official patch notes directly.
Regarding the Legends, the first information we are told is that it will no longer exist Low profile, and will then be removed from Wraith, Lifeline and Wattson. The traits and abilities of the following characters will also be changed: Lifeline, Octane, Loba, Horizon, Fuse, Bangalore, Bloodhound e Crypto.
Speaking of weapons instead, a new category will be introduced, called "Marksman Weapon", in which they will be inserted Bocek, G7 Scout, 30-30, Triple Take; according to the developers, these last three weapons were out of place in their previous categories. Marksman weapons will therefore be a cross between assault rifles and sniper rifles. Furthermore, the Peacekeeper will be removed as a drop of the care package, and will be replaced by the Triple Take.
With a renewed invitation to take a look at the official patch notes to get an even more precise idea of ​​the various changes, if you want to stay updated on Apex Legends and the videogame world in general, stay tuned to the pages of Holygamerz. If, on the other hand, you want to buy game keys at discounted prices, you can do so through our link to Instant Gaming.