If you play Project CARS 3 and wonder if your favorite car is in the game, we will take care of revealing the complete list of cars in the new racing game from Slightly Mad Studios
Project CARS 3 restarts from the excellent premises of the previous chapter, which boasted a fleet of 180 models, and makes a decidedly available list of cars impressive. Well 211 machines officially licensed virtual games will be available to you in the new title of Slightly Mad Studios. A true paradise for lovers racing, in conclusion. Soon we will go to list all the models available. The latter are divided into 3 categories: road cars, racing cars, open wheel cars. In short, there is something for everyone.
It does not end here. The developers of Slightly Mad Studios, in fact, they have already announced that in the future the roster automotive will be even expanded further with others expansions and updates. Furthermore also new circuits will arrive together at new cars. We will see all this in the months that follow. For now, nothing is known about the next contents, all that remains is to wait confidently.
Project CARS 3: a new concept of racing
Friday August 28th has arrived in all physical and virtual stores Project CARS 3, the new title in the successful car series. The major innovations of this third episode mainly concern the Career mode. The AI ​​of your opponents has been significantly improved. Available a virtual garage where players can manage and modify their own cars, with various spare parts and accessories.
Other than that, the title boasts the beauty of 140 tracks, the ability to compete for day and night in one of the four seasons. All, of course, in each weather condition possible and imaginable, sun that breaks the stones, pouring rain, treacherous ice and so on and so forth. Obviously all of this will affect the road holding of your racing car and other parameters that you will discover as you compete.
According to Ian Bell, CEO of Slightly Mad, the title in question is a successore spirituale di Need for Speed: Shift, also the latter developed by the same studio. Differently from the previous ones Project CARS 3 in this title the various stops at pit stop for changing tires or refueling. This attracted most of the critical comments from the community who read these details as one reduction of the general level of realism simulation. Someone has even labeled this chapter as "unrecognizable"In relation to the reference series.
With regard to auto, in the title you will immediately have access to all the cars in the mode multiplayer. However, in the mode Career you will have to compete and make good results in championships with the cars that interest you to unlock them in your garage. Let's now go to explore in detail the list of all the cars available in Project CARS 3.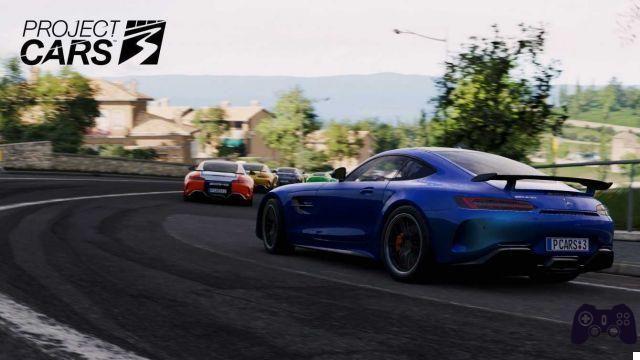 Road cars - Project CARS 3: the complete list of all the cars in the game
In this list there are cars that you can see run on the road normally. The category is very varied. They are not missing vintage patterns and true glories of the past like the BMW 2002 Turbo from 1973 or the '1600 Ford Escort RS72. Space also a very recent jewels such as 2019 Audi TTS Coupe or the Toyota GR Supra of this year. Here is the complete list with the names and years of release of the road cars of Project CARS 3:
Acura NSX '20 2020
Alpine A110S 2019
11 Aston Martin DB2017
Aston Martin Vantage GT12 2015
Aston Martin Vantage AMR 2019
Audi R8 V10 Plus 5.2 FSI quattro 2015
2019 Audi TTS Coupe
BAC Mono 2017
BMW 2002 Turbo 1973
Bugatti Chiron Sport 2019
Caterham Seven 620 R 2015
1 Chevrolet Camaro ZL-2017
Chevrolet Corvette Z06 2016
2020 Chevrolet Corvette Stingray
Dodge Challenger SRT Hellcat Redeye 2019
2017 Dodge Viper ACR
Ferrari 288 GTO 1984
Ferrari 458 Speciale A 2015
Ferrari Enzo 2003
Ferrari F12tdf 2016
Ferrari F40 1987
Ferrari LaFerrari 2015
Ford Escort RS1600 1972
Ford GT 2016
Ford Mustang 2+2 Fastback 1966
Ford Mustang GT 2015
Honda 2&4 Concept 2015
2016 Honda Civic Type R
Jaguar F-Type SVR Coupé 2018
Jaguar XJ220 S 1994
Koenigsegg Jesko 2020
KTM X-Bow R 2015
Lamborghini Aventador 2016th
Lamborghini Huracán 2016
Lamborghini Sesto Element 2010
Lamborghini Veneno 2013
Lotus Evija 2020
Lotus Exige Cup 430 2018
McLaren 570S Coupe 2016
McLaren 720S Coupe 2017
McLaren F1 1992
McLaren P1™ 2014
Mercedes-AMG A 45 4MATIC 2016
63 Mercedes-AMG C 2016 Coupe S
Mercedes-AMG GT R 2020
Mitsubishi Lancer Evolution VI TME 1999
Mitsubishi Lancer Evolution IX FQ-360 2006
Nissan GT-R Nismo (R35) 2017
Nissan Skyline GT-R (R34) 1999
Pagani Huayra 2012
Pagani Zonda Cinque Roadster 2010
Porsche 911 Carrera S (992) 2019
Porsche RS 911 GT3 2016
Porsche 918 Spyder Weissach 2015
Porsche 959 S 1987
Porsche Carrera GT 2004
Radical RXC Turbo 2020
Renault Mégane RS Trophy 2018
Rimac C Two 2018
Toyota GT-86 2013
Toyota GR Supra 2020

Racing cars - Project CARS 3: the complete list of all the cars in the game
Here you will find perfect models for compete on the track. This is a list of cars in that Project CARS 3 it is really very long. Here too we have glories of the past (the Aston Martin DBR1/300 del 1959 above all). At the same time, racing cars that have inflamed the asphalt more recently such as the 8 Chevrolet Corvette C2020.R. Let's see the complete list:
Acura NSX GT3 2017
Alpine A110 GT4 2018
Alpine A442B 1978
Aston Martin DB11 Racing 2017
Aston Martin DBR1/300 1959
Aston Martin Vantage GT3 2013
Aston Martin Vantage GTE 2019
Aston Martin Vulcan AMR Pro
2018 Audi 90 quattro IMSA GTO 1989
Audi R18 2016
Audi R8 (LMP900) 2002
Audi R8 LMS 2015
Audi TTS Coupé Racing 2019
Audi V8 quattro DTM 1991
Bentley Continental GT3 2016
Bentley Speed 8 2003
BMW 2002 Racing 1973
BMW 320 TC (E90) 2012
BMW 320 Turbo Group 5 1978
BMW M1 Procar 1981
BMW M3 Sport Evo Group A 1991
BMW M6 GT3 2016
BMW V12 LMR 1999
BMW Z4 GT3 2012
Cadillac ATS-V.R GT3 2015
Caterham Seven 620 R Racing 2015
Caterham SP/300.R 2012
Chevrolet Camaro Z/28 '69 Trans Am 1969
Chevrolet Camaro ZL-1 GT4.R 2018
Chevrolet Corvette C7.R 2016
Chevrolet Corvette C8.R 2020
Dodge Challenger SRT Hellcat Racing 2019
Dodge Viper ACR Racing 2017
Ferrari 250 GT Berlinetta 1961
Ferrari 250 Testa Rossa 1957
Ferrari 330 P4 1967
Ferrari 333 SP 1996
Ferrari 365 GTB4 Competition 1971
Ferrari 488 Challenge 2017
Ferrari 488 GT3 2016
Ferrari 512 BB LM 1978
Ferrari 512 M 1970
Ferrari 512 S 1970
Ferrari F355 Challenge 2001
Ferrari F40 LM 1990
Ferrari F50 GT 1996
Ferrari FXX K 2015
Ford Escort RS1600 Racing 1972
Ford Falcon FG V8 Supercar 2013
Ford Fiesta OMSE Supercar Lites 2016
Ford Fusion Stockcar 2016
Ford GT LM GTE 2016
Ford MkIV 1967
Ford Mustang 2+2 Fastback Racing 1966
Ford Mustang Cobra Trans Am 1997
Ford Mustang GT Racing 2015
Ford Sierra Cosworth RS500 Group A 1988
Ford Zakspeed Capri Gr.5 1980
Ginetta G40 GT5 2012
Ginetta G55 GT4 2012
Ginetta G55 GT3 2012
Ginetta LMP3 2016
Honda Civic Type R Racing 2016
Jaguar E-Type V12 Group44 1974
Jaguar F-Type SVR Racing 2018
Jaguar XJ220 S Racing 1994
Jaguar XJR-9 1988
KTM X-Bow GT4 2016
Lamborghini Aventador SVJ Racing 2018
Lamborghini Diablo GTR 1999
Lamborghini Huracán GT3 2016
Ligier JS P2 2016
Ligier JS P3 2016
Lotus Exige Cup 430 Racing 2018
Lotus (CTL) Type 40 Ford 1965
McLaren 570S GT4 2018
McLaren 720S GT3 2018
McLaren F1 GTR Long Tail 1997
McLaren P1™ GTR 2015
Mercedes-AMG A 45 Touring 2016
Mercedes-AMG C 63 Coupé Racing 2016
Mercedes-AMG GT3 2015
Mercedes-Benz 190E 2.5-16 Evolution 2 DTM 1991
Mercedes-Benz 300 SEL 6.8 AMG 1971
Mercedes-Benz 300 SL (W194) 1952
Mercedes-Benz CLK-LM 1998
Mercedes-Benz Sauber C9 Mercedes-Benz 1989
Mitsubishi Lancer Evolution VI TME Racing 1999
Mitsubishi Lancer Evolution IX FQ-360 Racing 2006
Nissan 280ZX IMSA GTX 1981
Nissan 300ZX Turbo IMSA 1994
Nissan Fairlady 240ZG GTS-II 1973
Nissan GTP ZX-Turbo 1988
Nissan GT-R Nismo GT3 (R35) 2016
Nissan R390 GT1 1998
Nissan R89C 1989
Nissan Skyline Super Silhouette 1982
Nissan Skyline GT-R (BNR32) Group A 1990
Nissan Skyline GT-R (R34) Racing 1999
Opel Astra TCR 2016
Pagani Huayra BC 2016
Pagani Zonda Revolution 2013
Panoz Esperante GTR-1 1998
Porsche 908/03 Spyder 1971
Porsche 911 Carrera RSR 2.8 1973
Porsche 935 (991) 2019
Porsche 911 GT1-98 1998
Porsche 911 GT3 R 2016
Porsche RSR 911 2017
Porsche 917/10 1972
917 Porsche 1970K
Porsche 917 LH 1971
Porsche 918 Spyder Weissach Racing 2015
Porsche 919 Hybrid 2016
Porsche 924 Carrera GTP 1980
Porsche 935/80 1979
Porsche 935/77 1977
Porsche 935/78 1978
Porsche 935/78-81 1981
Porsche 936 Spyder 1977
Porsche 961 1986
Porsche 962C 1987
Porsche 962C Langheck 1988
Porsche Carrera GT Racing 2004
Porsche Cayman GT4 Clubsport MR 2016
Radical SR3 RS 2011
Renault 5 Maxi Turbo 1984
Renault Mégane RS TCR 2018
Renault Megane Trophy V6 2011
Renault Sport R.S. 01 2015
SMS Formula B 2019
SMS Stadium Super Truck 2018
Toyota GT-86 Racing 2015
Toyota GT-One 1998
Toyota GR Supra Racing 2020
Toyota TS050 Hybrid 2016

Open wheel cars - Project CARS 3: the complete list of all the cars in the game
Here is the last list. The latter is much shorter than the previous ones. As you can guess from the title, these are models that in the real world you will see racing only and exclusively on the tracks of the Formula 1 world championship. This of all is the list in which more cars of the past stand out: Lotus (CTL) Type 25 Climax anno 1963, Lotus (CTL) Type 38 Ford of 1965, Lotus (CTL) Type 49 Cosworth of 1967 and many other single-seaters that have stood out in the past of automobile championship. Here is the list of Open Wheel Cars in Project CARS 3:
Agajanian Watson Roadster 1963
Dallara IR-18 Indycar 2019
Lotus (CTL) Type 25 Climax 1963
Lotus (CTL) Type 38 Ford 1965
Lotus (CTL) Type 49 Cosworth 1967
Lotus (CTL) Type 49C Cosworth 1970
Lotus (CTL) Type 51 1967
Lotus (CTL) Type 56 1968
Lotus (CTL) Type 72D Cosworth 1972
Lotus (CTL) Type 78 Cosworth 1977
Lotus (CTL) Type 98T Renault Turbo 1986
SMS Formula Rookie n.d.
SMS Formula X 2018
Spark SRT_05e Formula E 2019

4 wheels and 211 models
You have come to the end of this list of cars in Project CARS 3. As you have seen the variety is really great. Currently the game in question offers one of the car parks richer than ever and, as we mentioned earlier, the roster it will expand further in the future. Now it's up to you to compete in the various championships to be able to get the ones that interest you or maybe, why not, all of them.
Thank you for reading this guide. Stay tuned to Holygamerz for all the news and curiosities from the gaming world and beyond.