Instagram continues to introduce tools for traders: a few hours ago the arrival of a new section recognized as Shop. The latter will work alongside the Shopping function, introduced in 2018.
Social networks are used more and more by merchants, brands and companies who would like to promote their products. Instagram will offer them a tool even more interesting. In the section "Explore"An area has been added where users will be able to discover the latest trends and receive targeted suggestions based on the accounts they follow.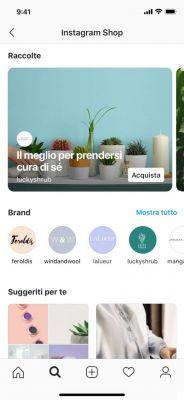 In Instagram Shop three areas have been added: "Collections", In which there are grouped products,"Brand", Or the brands followed from which it is possible to make purchases, and"Suggested for you", Where users will find recommendations based on their preferences.
During this year, Instagram will further improve the section, making it immediately reachable. The company will add in the navigation bar a button that will allow you to immediately access the "Shop" section.
This is yet another novelty introduced by the developers of the social network. A few weeks ago, a Spark AR update arrived, with which i filters they have become more dynamic and fun.
Motorola Edge 5G, with 6 GB of RAM and 128 GB of internal memory, is available for purchase on Amazon.