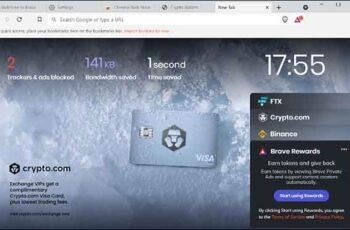 Cornered by Google Chrome and Microsoft Edge, both Brave and Firefox browsers are focusing on privacy and security as their main strength. In many ways, Firefox and Brave look identical on paper, but dig deeper you'll find all the obvious differences between the two. Let's compare Firefox with Brave and find out which browser is best for you on Windows 10.
How to change the home page in Mozilla Firefox
Solutions for when Twitch won't load in Chrome or Firefox
How to fix Firefox not playing videos
Firefox vs. Brave
The comparison below is based on cross-platform availability, UI, news integration, features, privacy add-ons, and more. Let's begin.
Cross-platform availability
While both Brave and Firefox are available on all major platforms including iOS, Android, Windows and Mac, Firefox outperforms its rival with a native app on the Linux platform.
User Interface
Firefox recently received a huge makeover on Android and iPhone. Even on the desktop, the company has made significant changes to the user interface to keep up with modern trends.
The default theme looks good and the whole iconography is spot on too. You can always go to the theme store and change the whole browser look. You can also create your own theme using the built-in theme engine.
If you're coming from Google Chrome or Microsoft Edge, you'll find yourself at home with Brave on Windows 10. The browser uses the familiar gray / white theme and you can change it to dark mode from Settings.
Since the Brave browser is based on a Chromium engine, you can enjoy all the themes available from the Chrome Web Store.
News integration
Almost every browser out there offers news integration in one way or another. It is the overall implementation that makes or breaks the user experience.
Brave offers something called Brave News. It collects news from different sources in vertical cards. We like the look and customization options it offers.
You can enable / disable different news categories, change background images and even disable Brave News completely.
Firefox takes a different route to deliver news to users. The company partnered with Pocket to deliver relevant news articles to users. How does it work then and is it effective?
First, you must be an active Pocket user to take advantage of Firefox news. Based on the articles saved in the Pocket service, you will receive recommended suggestions directly on the Firefox home screen.
We like Firefox's approach here. It provides relevant tips as Pocket already knows your reading habits. The only downside is that you have to be an active Pocker user. Otherwise, it won't seem so useful to you.
Password management and functionality
We won't talk about page load speeds here as they are nearly identical on both Firefox and Brave. Instead, let's explore the unique features that make Brave and Firefox useful in the desktop browser market.
Firefox has packed its browser offering with a good amount of company-branded features.
Firefox Lockwise is the company's answer to third-party password managers. It's built into the browser, and Firefox also offers dedicated mobile apps for iOS and Android.
Firefox Monitor is another cool add-on that monitors your passwords and login information and warns you if you've been involved in a recent data breach.
In terms of privacy, Firefox offers a dedicated Security Dashboard. Using it, you can view a detailed report on the number trackers that Firefox has stopped while browsing the web. Let's move on to the Brave browser, shall we?
Brave offers something called Brave Rewards. By default, Brave blocks ads, but you can earn tokens by viewing Brave's private ads and automatically supporting content creators.
Those who have invested in cryptocurrency will find Brave Crypto Wallet a useful addition. Crypto Wallets allows you to work with cryptocurrency and related assets in Brave. Crypto Wallets supports Ethereum tokens such as ETH and BAT as well as collectibles and allows you to work with Ðapp and other smart contracts.
Brave recently announced its approach to Google search with Brave Search. The main goal is to be a private and transparent alternative to Google search with its own independent index. Brave Search is still in beta for now, but you can try it out from Brave's settings.
Password management is standard like other Chromium browsers out there. Firefox easily takes the crown in the password management category.
Support for extensions
It's a tie here. Firefox, being the oldest of the competition, has a huge number of extensions / add-ons from developers. You won't have a hard time finding the relevant extension from the store.
Brave is based on the Chromium open source project. This means that it is compatible with all available Chrome Web Store extensions. All your favorite Google Chrome or Microsoft Edge extensions are already available on the Brave browser.
Bottom line: Firefox vs Brave
Are you still confused between Firefox and Brave on Windows 10? We simplify the answer for you. Choose Firefox if you want better news integration and a password manager.
Mark your choice on the Brave browser if you want better privacy features, a unique rewards program, and crypto wallet integration.
Further Reading:
The 5 best alternatives to the Samsung Internet Browser for Android
How to change the default web browser
Install third-party browsers on Chromebooks
How to synchronize browsers between phone and PC: the complete guide
The best browsers for iPhone