PC
Codes
In the main menu, press SHIFT + ALT + A and then press the codes below.
ALT + Y
All enemies turn into butter sauce
ALT + C
Unlock all missions
ALT + K
Destroy the enemy Fortress
ALT + G
Destroys the main stronghold
ALT + Z
Destroy the selected enemy
ALT + D
Enable Debug mode
ALT + P
Increase the character level
ALT + X
Increase popularity by 100 and money by 1000
ALT + Q
Time Compression
ALT + S
Time shift
ALT + F
Free improvements
Glitch

Infinite Archers in a Tower
If your rook is full, have the archers move to the other side of the rook and then press Stop to block them and be able to place more.
Secret action
Open the Market or the Barracks and press P to pause. You can still create units or buy / sell while the game is stopped.

The version of the game for which the trick is reported is the American one, there may be differences with different versions or in case of patches or updates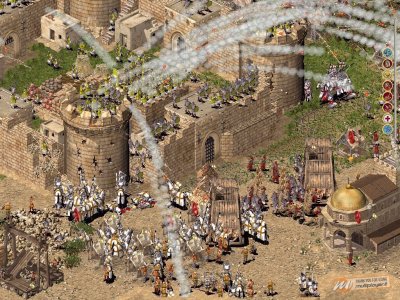 Stronghold Crusader: Extreme pc
Exit date: March 20 2009