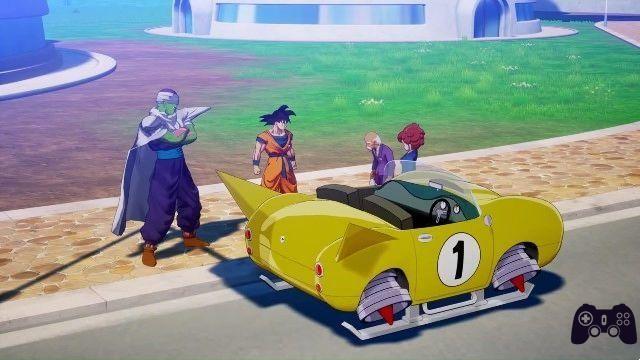 Page 5: Dragon Ball Z: Kakarot | How to unlock and upgrade the machine and the bipedal robot
Page 1 : Dragon Ball Z: Kakarot, the complete guide
Page 2 :Dragon Ball Z Kakarot | All the recipes of the Complete Menus
Page 3:Dragon Ball Z: Kakarot | Guide to Emblems and the Community Board
Page 4 : Dragon Ball Z: Kakarot | How will I complete the Encyclopedia Z to 100%
Page 5:Dragon Ball Z: Kakarot | How to unlock and upgrade the machine and the bipedal robot
Page 6:Dragon Ball Z: Kakarot | Postgame (Secret Boss, Arale, Super attacks)
Tired of flying around or on the speedy cloud? In Dragon Ball Z Kakarot you can also visit the game world aboard some of them vehicles typical of the series, such as the car and the bipedal robot.
But first you'll need to obtain the license and building materials necessary for the Capsule Corporation to manufacture them. Let's find out how to do this complete guide.
How to unlock the car?
Even if from the first maps you will find NPCs who will challenge you to some car races, to unlock the car you will have to wait for the third saga, that of the Androids. In fact, during one of the missions of that saga, Chi-Chi will ask you to get the licence and from then on you can go to the Capsule Corporation to start the development of the car.
Bulma he will ask you to provide him with materials (which you can also buy at the West City shop) to create the car and also 10.000 Women. Once done, you can call your car anywhere in the game world thanks to the directional arrows just like you do with Goku's golden cloud.
You will also be able to upgrade the car, making it go faster but you will need to have additional materials, which you can always buy from the dedicated shop in West City.
How to Get Materials Fast (Alternate Method)
If you have few Zeni and don't want to spend hours on the game maps looking for materials, you can also enter and exit the laboratory several times, collecting the items you need around the Capsule Corporation, as shown in the following video:
How to unlock the biped robot?
After unlocking the car you can proceed to development of the bipedal robot. Also in this case you can upgrade the robot by always bringing the required materials to Bulma.
IMPORTANT: Remember to use the community inventor board to maximize vehicle development.
Join Goku and his companions and explore the world of Dragon Ball like never before by purchasing Dragon Ball Z Kakarot on Amazon.