If among the choices of the characters of Back 4 Blood you are determined to save lives, as well as send them to the other world, the role of the doctor is what he will do for you; in this guide we will reveal how to best use Doc
In Back 4 Blood we will have a roster of characters characterized by both Exterminators, or humans, and Infested, that is zombies. Each of them will have their own abilities that will make them unique and distinguishable, belonging to different "classes" due to the type of weapon and fighting style they will use. Are present eight Exterminators e four Infested, but the possibility of the list being expanded further over the next few months is more than plausible. In this Back 4 Blood guide, we will focus on how to best use Doc.
Is there a doctor in the room?
Some of the existing and impersonable Back 4 Blood characters will need to be unlocked concluding the first chapter of the game's story, divided into four levels. Instead, immediately it will be possible to play with Evangelo, Walker, Holly and Mà. In case we want to play with Doc, we will have to start the game and finish the first four missions within Act 1. Doc is a career woman, independent, pragmatic and rigorous, and by choosing her we will also have to learn how to use her healing skills, as the enemies in Back 4 Blood will feel no mercy during the fight.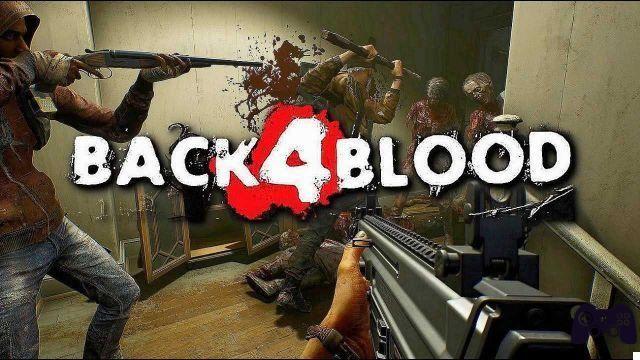 The role of Doc - Back 4 Blood: how to best use Doc. Tips and strategies
Doc is, above all else, a combat medic: this is evident, both in the name and in the uniform. And it's just as obvious as it is hard and incisive when there is some Infested to kill. Moreover, she always represents a salvation for her companions, thanks to the healing abilities she possesses. The idea behind the character is based on the inexperience factor in the battle that she is aware she has. To remedy this, Doc has decided to wear her doctor's uniform, as it is a figure of high relief, especially during a zombie apocalypse.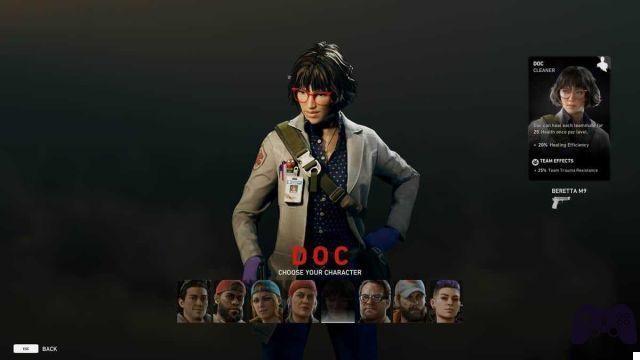 Doc's Skills - Back 4 Blood: How to Best Use Doc Tips and strategies
As mentioned, Doc possesses passive abilities based on healing teammates. Knowing how to use his skills will bring numerous advantages, especially on the general health of Back 4 Blood characters:
Doc can heal each companion with 25 health points at a time per level
Gives 20% more healing efficiency
Squad Effect: +25 trauma resistance for the entire squad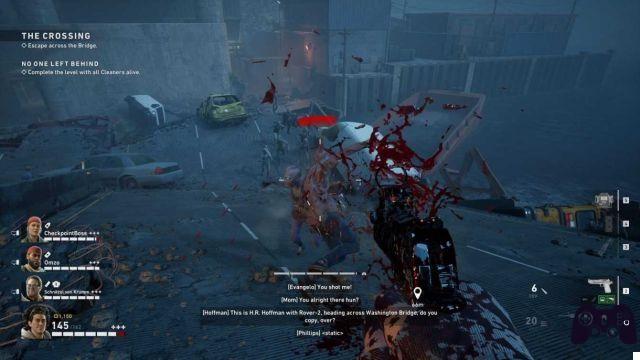 Best Weapons - Back 4 Blood: How to use Doc to the fullest. Tips and strategies
To know what kind of weapon to use with Doc, we will first have to consider how our team will be structured in the match in Back 4 Blood. She would actually be able to use it any weapon, since it does not specialize in an established typology; However, it is optimal to equip weapons that fall within a range similar to that of your companions, so that you can always be around to heal them. So if he's with someone with ranged weapons in their hands, he should use assault rifles, and maybe even a long-range pistol. For shorter distances, it will clearly have to adjust according to the situation.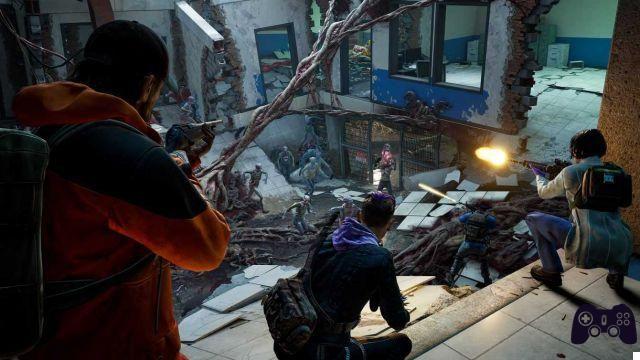 Best cards to equip - Back 4 Blood: how to best use Doc. Tips and strategies
Since Doc has a curator role, she owns a high care efficiency: this means that the medicines you use on yourself and other people are more potent. In addition, it also provides good resistance to trauma damage, making the team more adept at taking any potential damage. In order to take full advantage of this power, we will have to carefully decide how and which Back 4 Blood cards to use. Fortunately, with this list you will be able to know which ones suit our favorite doctor the most:
Reflex Cards: Expert Doctor - Screwdriver - Pep talk - Military Doctor - Stimulants - Miraculous Healing - Multi-Tool - Band Magnifier
Discipline Cards: Crouched - Revenge for the Fallen - Pious Soul - Group Therapy - Professional Doctor - Field Surgeon - Motivating Sacrifice - Wrap - Antibiotic Ointment - Ground! - Support Predator - Expert Paramedic - First Aid Bag
Vigor cards: Liquid Courage - Scar - Sniper
Luck Cards: Convalescence in the Refuge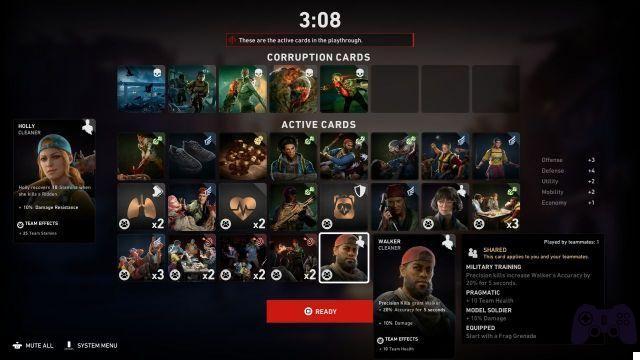 Following the Hippocratic Oath
Thus ends this little guide on how to use Doc, a paramedic character and therefore among the most important to have in the team. Dedicating to others to save them from death is not everyone's task, and for this you will need to be sure you know how to use Doc effectively, contributing as much as possible to the support of the team as you face the various zombie waves of Back 4 Blood. You will find more guides on Back 4 Blood, including using other characters and unlocking new cards, on our site, as well as our impressions of the game.
Then continue to follow us on Holygamerz for other new guides, as well as for the daily videogame updates. And if you are interested in new games at an affordable price, don't hold back from visiting the Instant Gaming store.