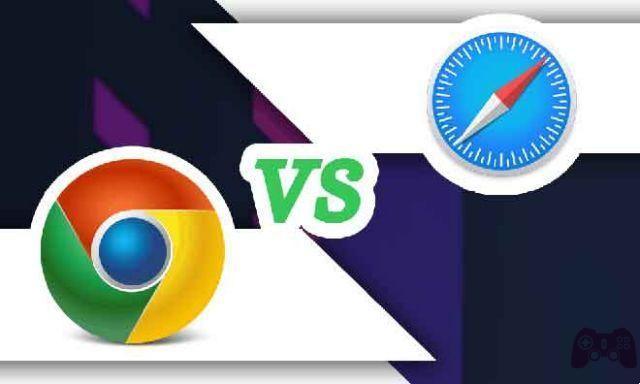 Safari is a great web browser on iOS. It's tailor-made for iPhone and iPad, supports ad blocking, and integrates well into the Apple ecosystem. It goes without saying that this alone makes Safari formidable in the eyes of its competitors. So what does Microsoft Edge have in store to think about going head-to-head with this browser beast?
Apple imposes its WebKit rendering engine on all third-party browsers. So it's virtually impossible to get a performance advantage over Safari. So to excel, Microsoft Edge really has a lot to offer to stand a chance against Safari. So what's up? Well, you will find out.
Final report:
iOS weaves Safari into the system so that it cannot be removed or downloaded again. On the other hand, you can download and install Microsoft Edge from the App Store.
User interface and navigation
Both web browsers feature crisp user interfaces albeit with a slightly different aesthetic. It all depends on what you prefer: Safari's slightly rounded curves to Edge's hard edges (no pun intended).
Edge Chromium vs Google Chrome: You should switch to Microsoft's new browser
Navigation controls are conveniently located at the bottom of the screen on both browsers, with precisely placed tab selectors to allow instant access to navigating between tabs.
When it comes to accessing your bookmarks, reading list and history, Safari offers the ability to get there with a simple tap on the book icon located right next to the tab selector. Oddly, Edge places it in the top right corner of the screen, which could create problems when navigating with one hand. It's a bit odd since Microsoft could always position it a little lower.
This is where things get interesting - Edge also has a dedicated browser menu. And instead of having to rely on the tab selector solely like on Safari, it presents a super easy way to open both new and InPrivate tabs. Additionally, the ability to bookmark sites, add pages to your reading list, and access the Settings panel requires less effort than the Apple browser.
Ad blocking
iOS provides native support for ad blocking on Safari, which is a far cry from what Google does with Chrome on Android. However, a third-party content blocker needs to be downloaded separately - although there are many on the App Store, the whole procedure can be quite confusing.
Additionally, Apple has very limited ad blockers for third-party browsers on the App Store. This means that you have to rely on various workarounds to stop advertising on browsers like Chrome for iOS. But not with Edge.
Microsoft was smart enough to get around Apple's restrictions by integrating the ad blocking functionality directly into the browser itself. And it's none other than Adblock Plus, which is one of the best ad blockers in town.
No more messing with third parties as all it takes is a short visit to the Edge Settings screen to start blocking ads. The browser also allows you to whitelist your favorite sites, which is a cool feature to have around.
Dark mode
Reversing the color scheme on iOS is an option, even if it doesn't work as expected and results in hideous artifacts most of the time. Not to mention, you have to put up with system-wide color inversion to boot.
With Edge, however, expect a full-fledged dark theme that you can readily switch to whenever you want. As it turns out, Microsoft has really pushed the distance by applying the theme evenly across all corners and crevices of the browser. Very good!
Final report: To enable the dark theme in Edge, go to the Settings screen, then tap Dark under Theme. And to clarify, the Default and Light themes provided are pretty much the same.
Navigation data management
Have you accidentally browsed through something personal on a regular tab? Or are you facing specific problems with a site due to an outdated web cache? On Safari, you have to navigate through various menus within the Settings app. Its poor implementation distracts you from your browsing experience.
But with Edge, you have everything integrated right into the browser itself. A brief visit to the Settings panel via the Edge menu should allow you to easily delete your browsing data in the blink of an eye.
Safari vs Google Chrome: Which Browser Is Better on Mac
The fight continues on the PC
Safari is great if you own a Mac because you can easily continue your big screen browsing activity with Handoff. But that feature doesn't work outside of Apple's ecosystem.
If you're using a PC, Edge offers the upper hand. Includes a built-in Continue on PC feature that allows seamless continuation on PC. And to make things even better, you can do it with a simple tap on the Continue on PC icon found directly within the UI itself.
That's not to say you can't continue browsing on PC through Safari - download the Continue on PC app from the App Store and you can do it from virtually any web browser. However, Edge doesn't require such additions, which is a definite plus.
Supported platforms and devices
While you can easily sync your browsing history and personal data with other Apple devices, Edge is leading the way thanks to the large number of platforms it supports.
Safari only works on macOS and iOS. Compared to that, Edge supports Windows 10, iOS, and Android. If you want that extra convenience of logging in and continuing to browse pretty much anywhere, Edge offers the best chance of making it happen. After all, you can find a Windows 10 or Android device pretty much anywhere, right?
Now only if Edge also supported macOS. This would have made the decision much easier.
How to save a webpage as PDF on Microsoft Edge
Search engines available
By default, Safari provides three search engines: Google, Bing, and Yahoo, with the first standard default. Compare that to Edge, which apparently only provides Bing at first glance, however, you can also find Google listed under Others on the Set Search Engine screen.
Both browsers have no built-in means to manually add new search engines. Safari is the default browser on iOS, which means the chances of integrating privacy-oriented engines like DuckDuckGo are more likely.
In short, Safari supports multiple search engines and uses Google to generate superior search results instantly.
Loading sites in desktop mode
Hate restrictive mobile websites? Both browsers offer the ability to load a desktop version of a site. But what if you want it to always be like this?
While Safari offers no way, Microsoft Edge allows you to configure the default user agent to do this easily. If you're using an iPad or iPad Pro, this feature should be very useful on the larger mobile screen.
Scan the QR code
QR codes are everywhere. Scan one and you will be able to visit the websites encoded in those codes. Safari requires you to use the Camera app for the actual scan. With Edge, you can do this directly within the browser itself.
See the QR code icon on the search bar New tab? Just tap on it and you'll have access to a built-in QR scanner. Nice enough of Microsoft to have this small, but useful feature, just a tap away.
So who wins?
Well it depends. If you are already immersed in the Apple ecosystem, you will obviously find Safari more affordable. Syncing things between devices is vital for a seamless experience, and staying on supported devices makes sense.
However, Microsoft has really hit on a lot of Safari's weaknesses: a dedicated dark mode, the ability to manage browsing data directly, and a better user interface when it comes to browsing is no laughing matter. Do you already use Edge on a PC or Android? So consider giving it a try - you may end up falling in love.
Further Reading:
How to add a web page to the iPhone home screen
Microsoft Edge vs Google Chrome: Which Safari Alternative Is Better on Mac
How to change the default web browser
How to remove your profile picture from Microsoft Teams on mobile and PC
Edge Chromium vs Google Chrome: You should switch to Microsoft's new browser