The weekend event in the Super Smash Bros Ultimate Spirit Board is literally called "Rhythm": we explain what it consists of
Also this Wednesday we have a preview of the next one weekend event di Super Smash Bros. Ultimate. This time to be interested will be the Spirits board, and the title leaves no room for the imagination: "Rhythm"! The protagonists will therefore be all the Spirits who stand out for theirs singing or dancing skills. Being a collection of over 1000 elements, the room for maneuver to perform skimming is certainly not lacking, and also the rewards will be generous for those of us who are trying to do to evolve some Spirits to unlock the next ones.
The pace of the weekend in the next Super Smash Bros. Ultimate event
We remind you, for driving reasons, that the reward of the next Super Smash Bros. Ultimate weekend event will be snack. With these items, sacrificing some of our hard earned money Spirit points, we will be able to feed our Spirits in order to accelerate their growth. There are small, medium and large ones, the last of which can lead a newly obtained Spirit to grow even twenty levels. Whereas some of these unlock others once you reach level 99, you will have an extra incentive to get busy: you could unlock new content and make it easier for you to carry on your collection!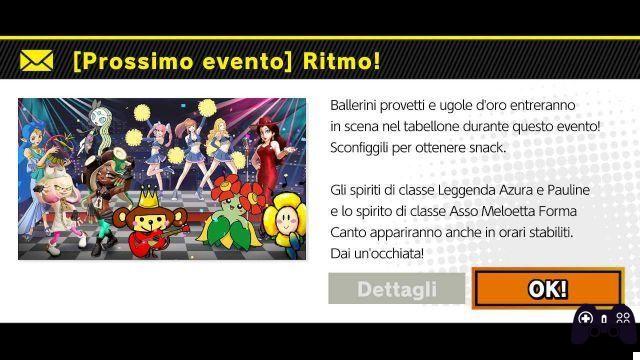 Of course, as you see in the in-game notification above, again there are Spirits of multiple types and classes, such as the Legends very difficult (including the dreaded Pauline). However, if you remember what Masahiro Sakurai told us when introducing Min Min, you should know that for every Spirit, experiencing can prove to be vital. We leave you in the company of the highlight of the video below. As for this weekend's event, you will have time from the day after tomorrow, Friday May 7, at eight in the morning. The curtain will fall Monday 10 at the same time, so time will not be lacking.
Now it's up to you to tell us yours: did our news / guide help you? Let us know below, and as always don't forget to stay on Holygamerz for all the most important news for gamers and more. For your purely gaming needs, you can instead find the best discounts in digital format on Instant Gaming.