An internal member of Xiaomi would have anticipated the price and launch date of the brand new My 10. While this is not official information, it is very reliable, as it comes from one internal person to the group.
The world is curious to discover the new Xiaomi smartphones. The Mi 10 series will arrive this year and during the past few weeks there have been quite a few rumors. The latest, published on Weibo, they come directly from a team member, that is Thomas, he Product Director.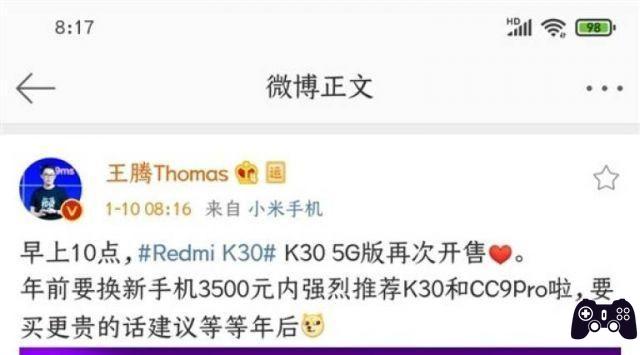 According to this person, the device should already get to February, beating Samsung and its next top of the range. The price should be between 3.500 CNY (approx 455 €) and 4.000 CNY (520 €). The possibility of one is not excluded Pro version, which would certainly be more expensive.
The post was then promptly deleted. Furthermore, a store has recently included Xiaomi Mi 10 in its online catalog, revealing the possible ones technical specifications. We therefore speak of the processor Snapdragon 865 (flanked perhaps by 12 GB of RAM), of the Adreno 650 GPU, of a 6,57-inch AMOLED with double hole (where the 32MP and 8MP sensors would be placed), compatibility with the 5G and the Qualcomm Spectra 480 ISP image processor.
Xiaomi Mi 9 Lite, with 6 GB of RAM and 128 GB internal memory, is available at a discount on Amazon. this address.